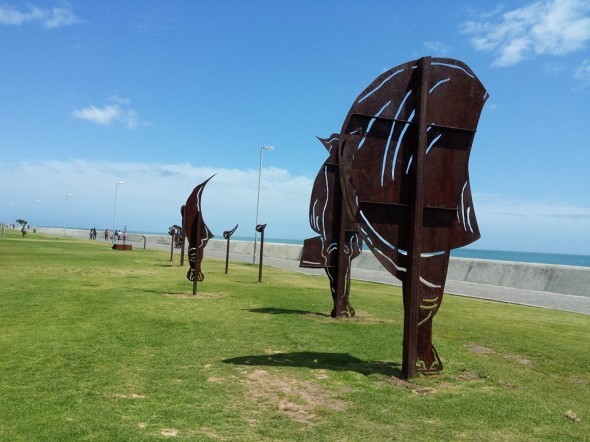 Cool Rhinosaur Artwork Rocks Sea Point, Cape Town
A very cool art installation has been erected on the Sea Point Promenade in Cape Town. It's called Rhinosaur, and when you first see it you won't know why.  Bev Tromp,  a South African expat who recently holidayed in Cape Town from her new base in the UK, took these photos and said, "At first it looks like a […]

A very cool art installation has been erected on the Sea Point Promenade in Cape Town. It's called Rhinosaur, and when you first see it you won't know why. 
Bev Tromp,  a South African expat who recently holidayed in Cape Town from her new base in the UK, took these photos and said, "At first it looks like a whole bunch of completely unrecognisable huge metal shapes sticking out of the ground…but when you walk around it, and get to a particular spot they all align to form a very unexpected sculpture…
"The point of the installation is to raise awareness of the threat to Africa's rhino population and to promote conservation. Amazing eh?"
The installation is part of the City of Cape Town's art54 public art programme which was launched last year. Eleven artists were selected this year to have their art displayed along the Promenade.
'Rhinosaur' is the brain child of André Carl van der Merwe.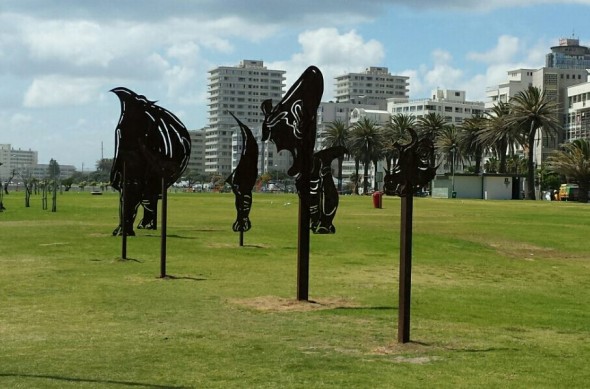 In a message erected on the site, André reveals that this artwork, known as the Rhinosaur, was first shown at Afrikaburn in timber. He believes the work is even more important where it is now.
"At AfrikaBurn, you are preaching to the converted," he told Future Cape Town. "Now we are engaging thousands of people from all different backgrounds. Even while we were busy setting it up, there was a queue of people waiting to see the sculpture on the platform."
When visitors reach the viewing platform they can look through a viewfinder, which offers the sense of peering through the crosshairs of a rifle. And suddenly the installation one had been walking around becomes a one-dimensional image…reminding us that the three-dimensional rhino could be lost to poaching…and that all we will have left is a one-dimensional image.
The artist says he is aware that the iconic rhino is not the only animal facing extinction, nor is it perhaps the most important in terms of maintaining the sustainability of the planet, but that "if somebody cannot care about a rhino, how are they going to care about a lizard or an insect?"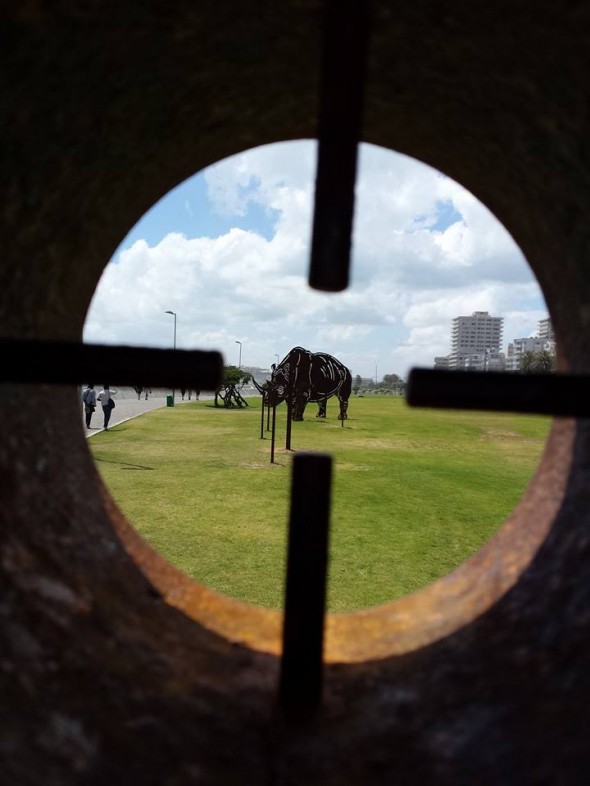 Included in André's message at the site, is a list of people who André has thanked for their contribution to this "group effort", including Brett Cage, Nick Hishin, architect Anton de Kock (who created the layout through a computer programme), Sandy Wolff, Chris Weir, Pieter Steyn and Marnitz Jansen van Rensburg.
He is also grateful to Woolworths who bought the sculpture which had not been completely funded by the art54 project. In a message at the site, Woolworths encourage viewers to support The Endangered Wildlife Trust-MyPlanet Rhino Fund and visit myplanet.co.za.