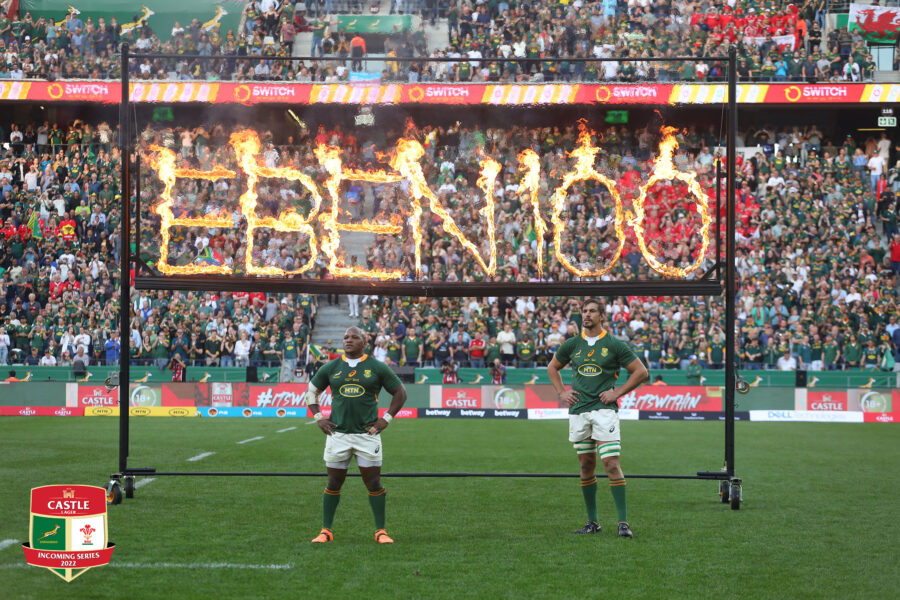 Goosebumps: Celebrating Etzebeth and Mbonambi; Springboks Lead Against Wales at Half Time
Today's Castle Incoming Series Test decider between Wales and South Africa (who both have one win behind them) kicked off with very emotional renditions of the two countries' anthems… and an incredibly warm welcome for Eben Etzebeth and Bongi Mbonambi. This is Eben's 100th Test for South Africa (only the seventh national player in history to […]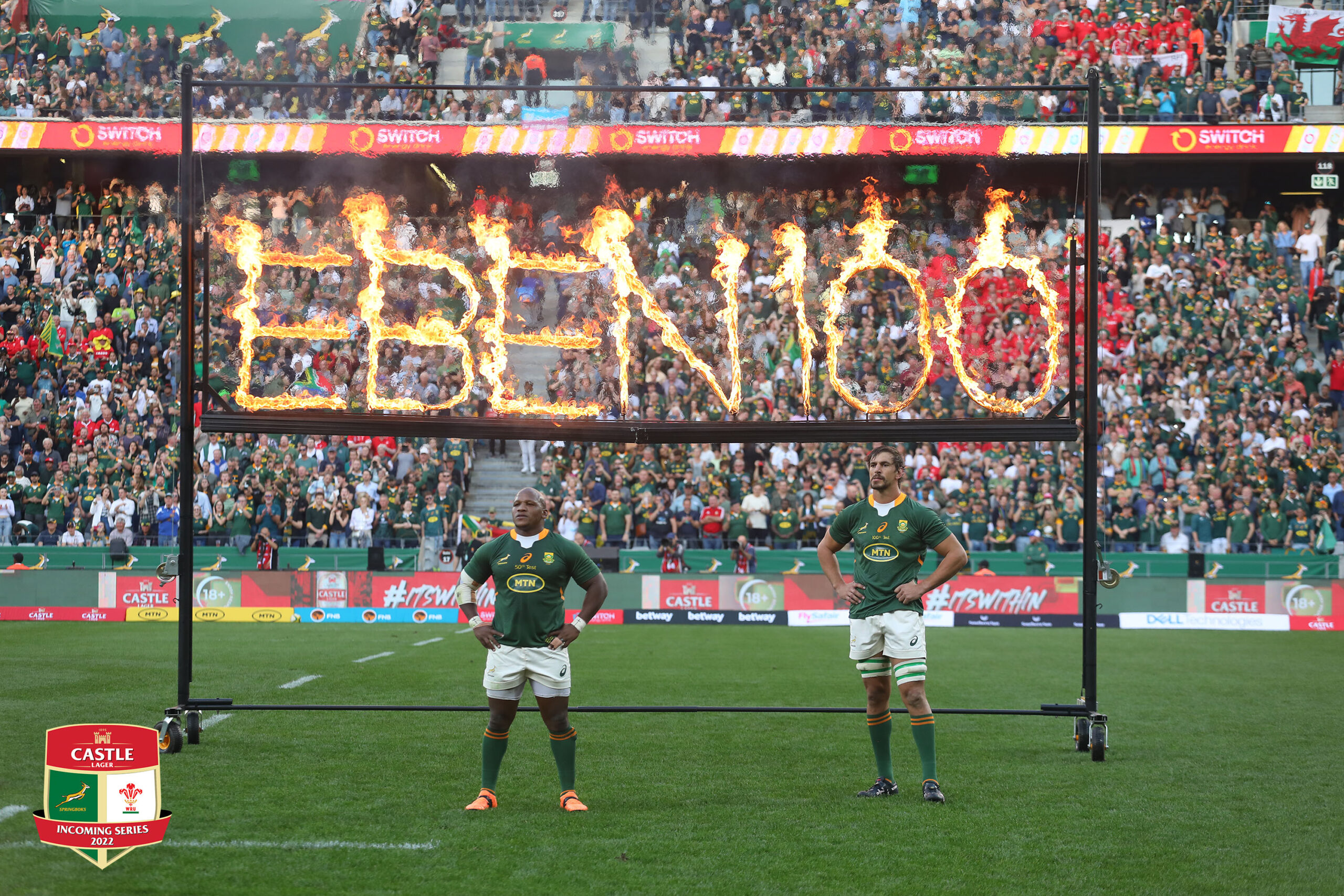 Today's Castle Incoming Series Test decider between Wales and South Africa (who both have one win behind them) kicked off with very emotional renditions of the two countries' anthems… and an incredibly warm welcome for Eben Etzebeth and Bongi Mbonambi. This is Eben's 100th Test for South Africa (only the seventh national player in history to celebrate 100 caps), and Bongi's 50th!
WATCH THE HEROES' WELCOMES HERE:
Here. We. Go. #RSAVWAL #StrongerTogether #StrongerForever pic.twitter.com/7bJfPtc9Q7

— kfmza (@KFMza) July 16, 2022
Too good not to post!@MattP555 welcomes Eben and Bongi onto the pitch for their milestone matches.

#RSAvWAL pic.twitter.com/ZQAf5LTs8w

— Jared Wright (@jaredwright17) July 16, 2022
Springboks vs Wales First Half
At half time in Cape Town, the Springboks were leading against Wales 17-8, having scored two tries to one.
Within 15 minutes of kick-off, Handré Pollard had pushed South Africa ahead with 10-0 – by first scoring a penalty penalty goal from right in front, followed by the first try of the Test which he then converted! Here's the moment Pollard scored the first try of the Test:
South Africa's next try – after a powerful maul from the Springboks – came fittingly from Mbonambi – scoring his 11th try for South Africa in his 50th Test. Pollard added the extras to get South Africa to 17-8 by half-time.
And the match is made even more special in front of a packed stadium again with both Springbok and Wales' fans out in full force:
#StrongerTogether #StrongerForever #SAvWAL #CastleIncomingSeries
⚡ The moment Pollard scored the first try of the Test. Kolbe has gone off, replaced by Willie le Roux.#StrongerTogether #StrongerForever #SAvWAL #CastleIncomingSeries pic.twitter.com/AYd54ixXgy

— Springboks (@Springboks) July 16, 2022
💪 The big guys are out! #StrongerTogether #StrongerForever #SAvWAL #CastleIncomingSeries pic.twitter.com/xNRm4ZxHsG

— Springboks (@Springboks) July 16, 2022
South Africa is special 😂 #RSAvWAL pic.twitter.com/aiPfwa5Ib5

— Mia (@marielouise_82) July 16, 2022
Bongi's Proud Parents:
Proud parents on Bongi's special day. 🇿🇦💚#SAvWAL #StrongerTogether #StrongerForever #CastleIncomingSeries pic.twitter.com/kq7ZCUE23Z

— Springboks (@Springboks) July 16, 2022