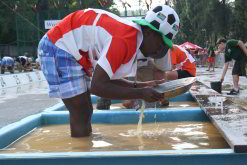 SA gold panners shine in Poland
Although the term gold panning evokes centuries-old images of dusty shanty towns and hopeful prospectors, the activity is still very much part of the new millennium – and even practised as a national sport in South Africa. The national team recently participated in the 2011 World Gold Panning Championships in Zlotoryja, Poland, and – although […]
Although the term gold panning evokes centuries-old images of dusty shanty towns and hopeful prospectors, the activity is still very much part of the new millennium – and even practised as a national sport in South Africa.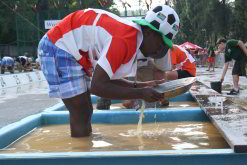 The national team recently participated in the 2011 World Gold Panning Championships in Zlotoryja, Poland, and – although they did not return with prized nuggets – they won over Polish hearts during their stay, says Sibongile Nkosi, spokesperson for culture, sport and recreation in Mpumalanga province.
South Africa fielded a squad of 32 members, among them Surprise Thulelo who was crowned junior champion in Italy in 2009. Despite not reaching the podium this year, more than 10 South Africans made it into the finals of the different panning categories, including that for proficient men and women.
More than 150 panners from 22 countries – Australia, Austria, Belgium, Brazil, Canada, Czech Republic, Finland, France, Germany, UK, Italy, Japan, Netherlands, New Zealand, Norway, Poland, Slovakia, Spain, Sweden, Switzerland and the US – participated in the 2011 event.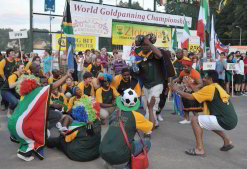 MEC for Culture, Sport and Recreation in Mpumalanga Sibongile Manana attended the competition and said the team gave it their all in the different categories.
"We are extremely proud of the men and women who represented the country well at the championships."
Hosts in 2012
South Africa will host the 2012 World Gold Panning Championships in Pilgrims Rest, as it did in 2005. Before kicking off this year's event, the South African delegation showcased the country and its many attractions to fellow participants and spectators.
A multicultural ensemble from Mpumalanga gave spirited performances of Shoshaloza and Impi, two traditional Zulu songs today strongly associated with sporting events, much to the delight of the 500-strong crowd.
The delegation also used the opportunity to entice visitors to the province, which is one of South Africa's prime tourist destinations.
They highlighted popular spots like Pilgrim's Rest, Blyde River Canyon and Kruger Park among other choice options available to local and overseas visitors.
Manana said South Africa was excited about welcoming spectators to the 2012 championships.
"Our people are waiting to share their hospitality with all of you. South Africa is ready for you. Wozani!" (isiZulu, meaning "come").
Italy and Sweden will be the host countries in 2013 and 2014 respectively.
Competition panning
Gold panning is a recreational sport with a strong family-fun component to it. Everybody can participate, from five- to 80-year-olds, says René Reinders, South African Gold Panning Association representative.
The South African Gold Panning Association (Sagpa) was formed in 1997, and at the same time joined the World Gold Panning Association. The local organisation aims to promote and maintain the tradition of gold panning in South Africa.
Sagpa also feels gold panning has great potential as an all-inclusive heritage activity, which can valuably contribute to nation-building and cross-cultural understanding.
Working closely with the Mpumalanga Department of Culture, Sport and Recreation, Sagpa holds the annual South African National Championships, from which a team is selected to participate in international competitions.
Reinders says the sport is gaining popularity steadily, with panning associations now represented in almost all nine provinces.
"We are trying to build up participant numbers as we go along. It is a heritage activity which stays alive through these competitions and which we would like to continue to see taking place for years to come."
How to pan
Participants receive a gold pan and a bucket full of sand in which a specific number of gold nuggets are hidden. The amount of nuggets in each bucket is only known to the judges. Participants enter pools of water and start washing the sand in search of the nuggets.
The winner is the participant who finds the most nuggets in the shortest space of time. Panners are also penalised for lost nuggets.
"Once participants step into the pool of water, they become very serious, often competing with their own, custom-designed boards which they swear by," adds Reinders.
In international competitions, panning takes place in several categories and also includes the use of various types of pans, such as the traditional klondike pan which was used by prospectors of old, the bateau pan which originates from Eastern Europe or the less-familiar wooden Japanese yurita pan.
Pilgrims Rest
Taciturn Alec "Wheelbarrow" Patterson, the opportunistic prospector and discover of the first gold nugget in Pilgrims Creek in the 1870s, would probably have frowned upon these modern-day panning efforts
Patterson was so nicknamed after he arrived at the Mac Mac digs near Sabie in Mpumalanga, at the time the only viable prospecting field in the area, accompanied only by his wheelbarrow in which he pushed his worldly belongings.
As he was secretive and reticent, not much is known about the man, but it is believed he became so encumbered after he sold his donkey – because the animal had kicked him.
Loner Patterson soon found the crowded Mac Mac site too much for his liking and decided to try his luck elsewhere. He opted for the small, tree-lined Pilgrims Creek, which eventually joins the mighty Blyde River. Here he struck gold.
But it was another prospector, William Trafford, who is credited with starting the rush to Pilgrims Rest and for inadvertently naming the village that would spring up as a result.
After following Patterson to Pilgrims Creek, he also found gold in the little stream and immediately registered his claim at the Mac Mac office of the Gold Commissioner.
He is quoted as saying at the time: "Here a pilgrim can come to rest."
On 22 September 1873 Pilgrims Rest was officially proclaimed a gold field.
Gold prospectors there first stayed in tents, but by 1876 most of these were replaced by more permanent structures of zinc and wood. These dwellings can still be seen today, almost intact, making Pilgrims Rest a favourite tourist attraction in Mpumalanga.
A visit there is not complete without staying, or at least having a drink, at the rustic Victorian Royal Hotel. Pilgrims Rest also offers a nine-hole golf course, museums, tours and, of course, gold panning excursions.
In 1986 the entire village of Pilgrims Rest was declared a national monument, a living tribute to South Africa's gold-rush days of the 1800 and 1900s.
Source: www.mediaclubsouthafrica.com