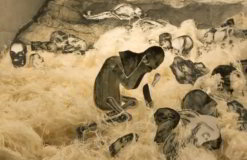 SA short films in international festival
Three South African short films have been selected for the prestigious Internationale Kurzfilmtage Oberhausen, or Oberhausen International Short Film Festival, to be held in May in the river city of that name in the Ruhr region of Germany. The films are Atrophy by Palesa Shongwe, Balance by Colleen Alborough and Steglitz House by Bridget Baker. The Kurzfilmtage is […]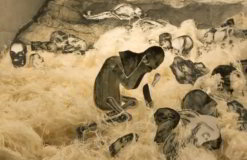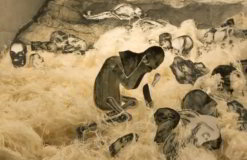 Three South African short films have been selected for the prestigious Internationale Kurzfilmtage Oberhausen, or Oberhausen International Short Film Festival, to be held in May in the river city of that name in the Ruhr region of Germany.
The films are Atrophy by Palesa Shongwe, Balance by Colleen Alborough and Steglitz House by Bridget Baker.
The Kurzfilmtage is among the oldest film festivals in the world, active since 1954. Short films and video works across all genres are accepted but there is a notable emphasis on creative innovation and artistry. Hundreds of awards are given annually to the amount of €40 500 (almost R400 000).
The festival has given a push start to many well-known filmmakers. Martin Scorsese, George Lucas, Roman Polanski and Werner Herzog first presented films here.
The renowned Wim Wenders is quoted on the festival website: "I smoked my first cigarette here. For years, I saw every single film at the Kurzfilmtage, looking forward to those days in Oberhausen every year. These events were important for me, for my decision to become a filmmaker."
More recently such greats as Jean-Pierre Jeunet, who made Delicatessen (1991) and Amélie (2001), and François Ozon, director of last year's Potiche and the big 2002 French hit 8 Women, have debuted at the festival.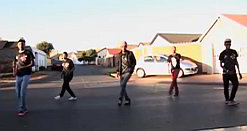 Festival organiser Hilke Doering is enthusiastic about South Africa's participation. "It's the first time that we will screen so many films from South Africa in the competition and that we've had so many submissions from there."
This was due in part to Doering's visit to the country last year to publicise the festival and the efforts of people she met who encouraged local filmmakers to enter.
The festival has a tradition of setting trends. Its mission is to recognise new talent, support the avant-garde in short films and music videos, and nurture the exploration of new digital formats in a broad-minded association of art and short-form video. So conceptual work is often the mainstay of festival content.
It is no surprise then that two of South Africa's entrants are fine artists.
Balance
Colleen Alborough works in multimedia using video installation, stop-frame animation, video manipulation and printmaking – her interest is the intersection of traditional art media and new technologies.
Alborough's film Balance is a stop-frame animation piece. This form of animation is constructed with successive photographs of objects as they are moved over space and time. It is the oldest animation technique, even predating cartoons, where drawings replace three-dimensional objects.
"I search for ways to include elements of the handmade in the making process, as a means to import haptic [tactile] qualities into the digital realm," she says. "In the stop-frame animation, the sets and characters are made from cut-out dry point and monotype prints."
Although Balance is to be screened at the Kurzfilmtage as a standalone piece, it was originally exhibited as part of a larger work exhibited at the Standard Bank Gallery.
Balance features a headless man trying to find his place (and his balance) in a shifting cotton landscape that is the chaotic detritus of seething Johannesburg. In the shadow of an impenetrable city skyline, he tries on a number of discarded heads but none seem to fit, and then sinks into a subterranean chasm, chased by gauze phantoms.
The monochrome world Alborough creates is contradictory: soft but alien. It is her intention that the figures appear to be lost, "on an endless struggle to escape the nameless terrors and break free of the anarchic mass". She adds that she hopes to highlight elements of the absurd that are present in the strange worlds of imagined fears. Here Alborough is consciously reflecting on the "negotiations and manoeuvres we make within the complex, at times disconcerting and chaotic space of South Africa".
Balance has a soundtrack created by the process-oriented composer and musician João Orecchia. He recorded the sounds in and around Alborough's studio at Arts on Main in Johannesburg while she worked. This included the sound of equipment like the printing press, the computer CPU and a digital camera. The sounds were then mixed to produce a haunting soundscape that extends the disconcerting atmosphere of a peculiar and unnerving world.
Steglitz House
The other fine artist is Bridget Baker with her film Steglitz House, which was filmed inside a scale model of a 1930s West Berlin home at the Arikalex Miniature Museum in Steglitz, Berlin.
Baker used macro-lenses and slow tracking shots, beautifully crafted by cinematographer Moritz Kaethner, to teasingly explore what appears to be a recently abandoned home. Breakfast is laid out; there is a hat on the front door steps; letters have just been opened on the study desk bureau.
There is an eerie evocation here to Nazi persecution of the era and the effect is a suggestive edginess like you would find in a spy thriller, albeit stripped of human presence. Baker on her website recalls growing up in South Africa during apartheid where the death of her father at an early age "set forth an ambiguous future tainted by absence".
According to Baker, her work "weaves together re-inventions of the personal and the historical, while associating failure, invisibility, memory loss, displacement and desire as threads to discover these traces". So there are surprise personal artefacts like a certificate from Stellenbosch University and a South African passport in the one-in-12 scale model. By combining found locations, fabricated objects, photographs and personal effects, she constructs inventories, invents memory, and juxtaposes fiction and authenticity.
Again, the soundtrack to Steglitz House is key to the tone of the film and comes in the form of an ambient drone created by sound designer Braam du Toit. The music oscillates between dramatic foreboding and ethereal reflection.
Atrophy
The third film to be selected for the Kurzfilmtage is Atrophy by Palesa Shongwe, an emerging filmmaker. Shongwe has produced a number of respected documentaries focusing on human rights, social development and xenophobia. In 2009 she made Our Broken Dreams, about the plight of unaccompanied migrant children in southern Africa.
She also recently graduated from the MultiChoice Film Talent Incubator – a programme launched in 2007 to develop local film talent from the previously disadvantaged community run by satellite broadcaster MultiChoice and training partner Big Fish School of Digital Filmmaking. Atrophy is her first film and was awarded the prize for best directing.
"My work is creating films, both dramatic and documentary, about social development and human rights," says Shongwe. My passion lies in the power of story to create social awareness and connections across borders and social boundaries."
In August 2010 she attended the President's Forum with Young African Leaders, hosted by Barack Obama. She was invited in recognition of her work along with 120 young Africans from various sectors across Africa to discuss the future of the continent and ways to expand opportunities for all Africans.
Atrophy is a mood piece where picture, poetry, voice and music come together in a contemplative narrative about the lingering recollections of youth. Shongwe uses dance as a metaphor for life: it is both an expression of youthful exuberance and collective memory. She reflects on the sadness of how growing up and moving on can unexpectedly stifle freedom and creativity.
Against archive footage of newly built apartheid townships, the narrator muses: "But we were colonies of dreamers, negotiating the politics of space. In backyards and passageways, mastering the choreography of confinement."
A provocative question lingers through the piece: "Does gaining the freedom of movement dispose of its necessity?"
Big event
The International Short Film Festival Oberhausen is not a small event: attendance figures top 16 000. To put that in perspective, 30 000 people go to Cannes and the Berlin Film Festival pulls in the region of 20 000 cinephiles.
Of the 5 256 films that were submitted to Kurzfilmtage, only 375 were selected for screening. That makes the appearance of these three South African films all the more meaningful.
Go to www.kurzfilmtage.de/en/competitions/selection.html for a complete list of films selected for all five competitions – International Competition, German Competition, NRW Competition, International Children's and Youth Films Competition and MuVi Award for the best German Music Video.
The entire programme with all 500 films is now online. Visit the festival website at www.kurzfilmtage.de.