South African Teen Puseletso Mabote Sets New World Record at Para Athletics Champs in Switzerland
A teenager from South Africa – who was run over by a truck when he was just 5-years-old – has broken a world record at the World Para Athletics Junior Championships in Switzerland. An excited World Para Athletics said: "NEW WORLD RECORD for the 14-year-old South African Puseletso Mabote on the first day of our […]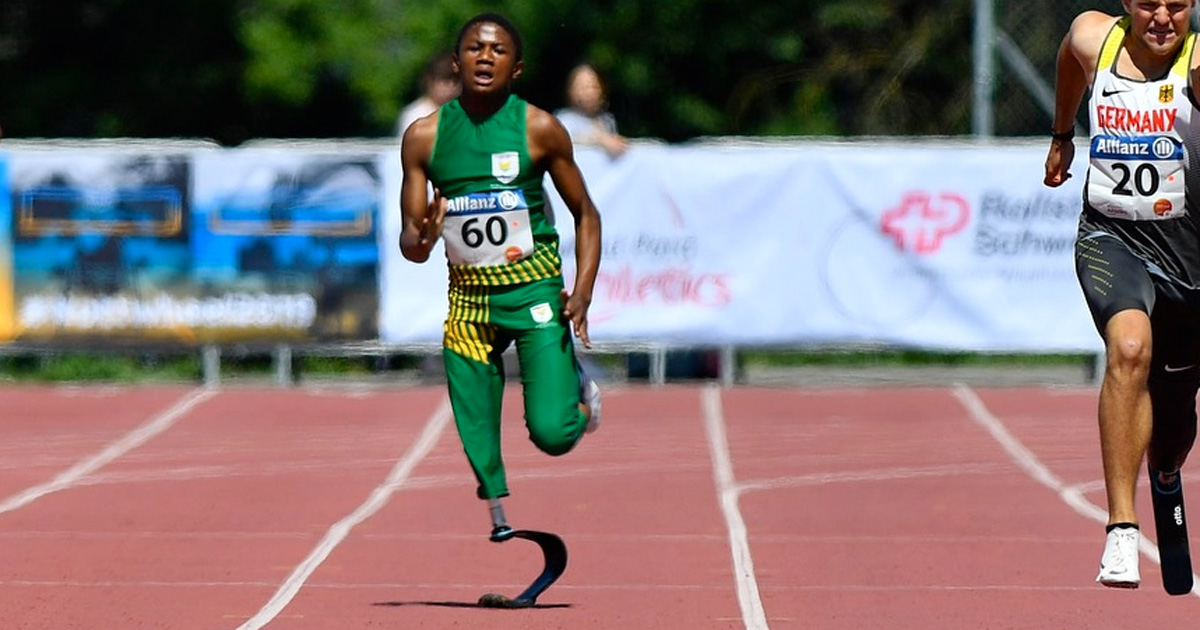 A teenager from South Africa – who was run over by a truck when he was just 5-years-old – has broken a world record at the World Para Athletics Junior Championships in Switzerland.
An excited World Para Athletics said: "NEW WORLD RECORD for the 14-year-old South African Puseletso Mabote on the first day of our Junior Worlds in Nottwil! ???‍♂"
Mabote himself was shocked and said: "Wow! That is a real honour for me to call myself a world record-holder. I never thought I would be a world record holder. Now I am. I knew I was on good form but not that much."
The young South African – who set the new record in the men's 200m T45-64 – humbly revealed he had been inspired by his teammate, Ntando Mahlangu, the double-amputee who won silver at the 2016 Paralympic Games in Rio (and Gold at the Swiss event two years ago, making a record he broke again this week).
Until the Games, Mabote hadn't thought about competing in sport.
Mabote was just five when he had to have his right leg amputated above the knee after being knocked over on his way to school. The first two years were "tough" but he adapted, using crutches until he was eight.
At ten, he was introduced to sport by Johan Snyders, South Africa's team manager and the man behind Jumping Kids, an organisation that provides prosthetic limbs for children.
This week Mabote said Mahlangu (a Jumping Kids 'old boy') and Snyders motivated him. "They were behind me 100 per cent," said the teen.
Yesterday a proud Snyders posted photos from Switzerland and said: "Well done Puseletso Mabote and Ntando Mahlangu for making us proud and spreading the word about Ability ?"
He said their achievements are "what it's all about".
Mabote told local reporters it was a "real honour" to be at the world champs, "especially for my school because they are going to call the newspaper people and stuff like that so they are going to put me out there.
"So I am doing this for my country and for everybody."
Mahlangu, who is only 17 himself, told Paralympics.org that "it's nice" being a role model for others.
Back home he's been racing able-bodied athletes too, "giving me a chance to show people out there what I can do" and that "if I can do it that means other kids can do it too…"
It's an incredible achievement for a youngster who was confined to a wheelchair since birth until he was at least 10. Mahlangu suffered from hemimelia, a condition which resulted in his legs never developing fully beneath the knees. Thanks to the incredible non-profit organisation, Jumping Kids, he got a pair of cheetah blades and hasn't looked back!
The World Junior Championships can be watched live on World Para Athletics website and their Facebook page.
More than 300 athletes from 42 countries are gathered at the four day event. Athletes between the ages of 14 and 19 compete, and are divided into two age categories: u20 and u17.
South Africa has been producing great results with at least three gold medals, silver (19-year-old Sadah Felix from Port Elizabeth won silver in the u20 long jump event) and bronze (Cape Town athlete Rouvaun Wallace came third in the u20 200m T38 race).
https://www.facebook.com/ParaAthletics/posts/2689999614343922/