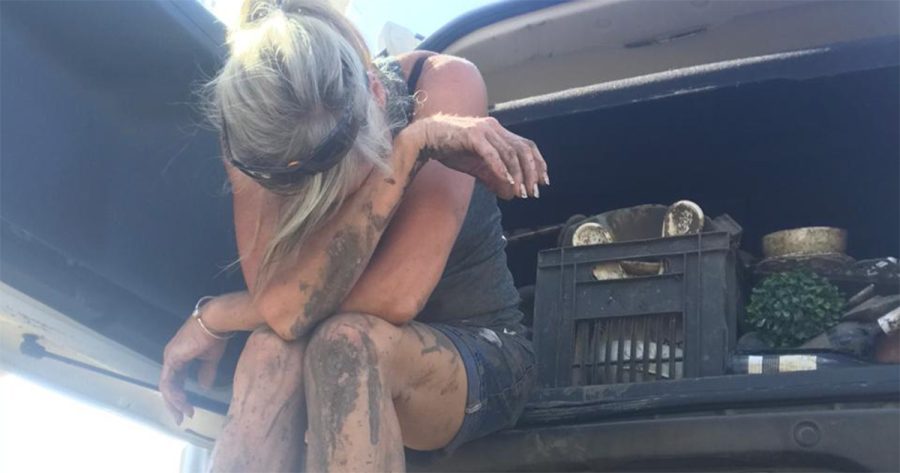 South Africans show Vaal River flood victim, who lost everything, how much they care
Shirlene (Smith) Vermaak tragically lost everything when the Vaal River burst its banks and her home was totally flooded. But in less than 24 hours, since a friend of hers posted a plea for help yesterday, offers have 'flooded' in, showing just how much South Africans care and like to 'helpmekaar' (help each other). In […]
Shirlene (Smith) Vermaak tragically lost everything when the Vaal River burst its banks and her home was totally flooded. But in less than 24 hours, since a friend of hers posted a plea for help yesterday, offers have 'flooded' in, showing just how much South Africans care and like to 'helpmekaar' (help each other).
In an emotional post that's impossible to read without shedding a tear, Shirlene's old friend from Potchefstroom days – Pretoria photographer Peter Morey – reached out for the first time in his life, for assistance. He's been good friends with Shirlene for over 50 years, and his heart was broken by the "really bad run of luck" she has experienced lately. Here's what Peter wrote:
"Last year she had an accident when somebody drove into the back of her car. After promising to pay for the damages (R 0 000.00), he promptly disappeared and was never to be found again.
A few months later, at work, she dislocated her neck while assisting an old man to get up.
She had to have immediate surgery.
She works long hours, lives alone outside Potch, and thankfully has a lovely small home at the edge of the Vaal where she can relax, recharge and recover, before getting up at the crack of dawn everyday to get to work.
Two weeks ago, she called me and said the Vaal River was rising and she was concerned. She was alone, and I suggested it wouldn't rise much higher, but that she should lift her valuables and put them on the sink or cupboards to gain some height just in case…"
But then the unimaginable happened…
"Within hours her home was TOTALLY underwater, absolutely flooded, the water level was 30CM FROM THE CEILING.
She fled to a nearby house and stayed there for 2 days (on the upstairs level) while the water destroyed everything in its path.
Unfortunately she has absolutely NO INSURANCE (just cannot afford it on her meagre salary).
It took nearly a week before she could get back to her place.
EVERYTHING was flooded, soiled, and damaged… wet, stinking and rotten from the mud and silt.
She has lost beds, mattresses, kettle, couches, fridge, microwave you name it; everything is damaged and destroyed.
All the cupboards and shelving are rotten and broken out."
Shirlene's house now has to stand empty in order dry out for three months before she can even attempt to move back and start from scratch… Peter says she fortunately managed to retrieve some clothes, which she has washed repeatedly, and they are now almost wearable.
"This is a true and terrible tragedy… Can you imagine for a moment sitting in your beautiful home, and the next minute the water is there?
You are a woman alone. What do you save, how do you even pick it up, and where do you take it?
Your car is already partly underwater… too terrible to imagine.
If anybody can in ANY WAY assist, to find it in your heart to react and help this poor woman, who now has virtually nothing, I assure you it will be greatly appreciated.
This is 1 starfish we need to help. Not tomorrow, not next week, but today… I appeal to you: Please share this story far and wide and hopefully we can assist Shirlene to get back on her feet…"
He ended his post thanking everyone for taking the time to read it, and added: "I hope you can assist. I hope we can show her we care."
Within hours of posting, South Africans had shown Peter how much they cared! Offers tumbled in from Lombardy East to Durban and around the country, with people offering to collect and transport goods for Shirlene, and donations being made to help with pet food (she has two small dogs) and to refit her cupboards etc.
Peter said:
"To everybody so far that is getting involved and collecting and donating, thank u so so much. I cannot believe the generosity and kindness. Please keep commenting, i will co-ordinate and convey your love and kindness. Wow… teary eyes this side, thanks everyone."
Peter has spoken to Shirlene who "is in tears and totally overwhelmed".
As Sandra Gale Kietzmann Toweel said:
"How wonderful is our WORLD SO many willing to GIVE ??????  Beautiful Souls out there…"
If you would like to help Shirlene
Peter says, if you feel it in your heart to make a donation, Shirlene's banking details are :
SJ Vermaak
ABSA BRANCH 632005
ACCOUNT NO 38111 020 245