South Africa's Unique Cocktail Drinks Using Indigenous Ingredients Like Fynbos
Local brewers and mixologists are capitalising on the opportunity which South Africa's rich plant life presents by developing unique beverages for local and international markets… enhancing sensory experiences for tourists and locals alike. Find out more below including their fabulous recipes for Rooibos Spritz and Table Mountain cocktail! SA's first black female brew-master creates new […]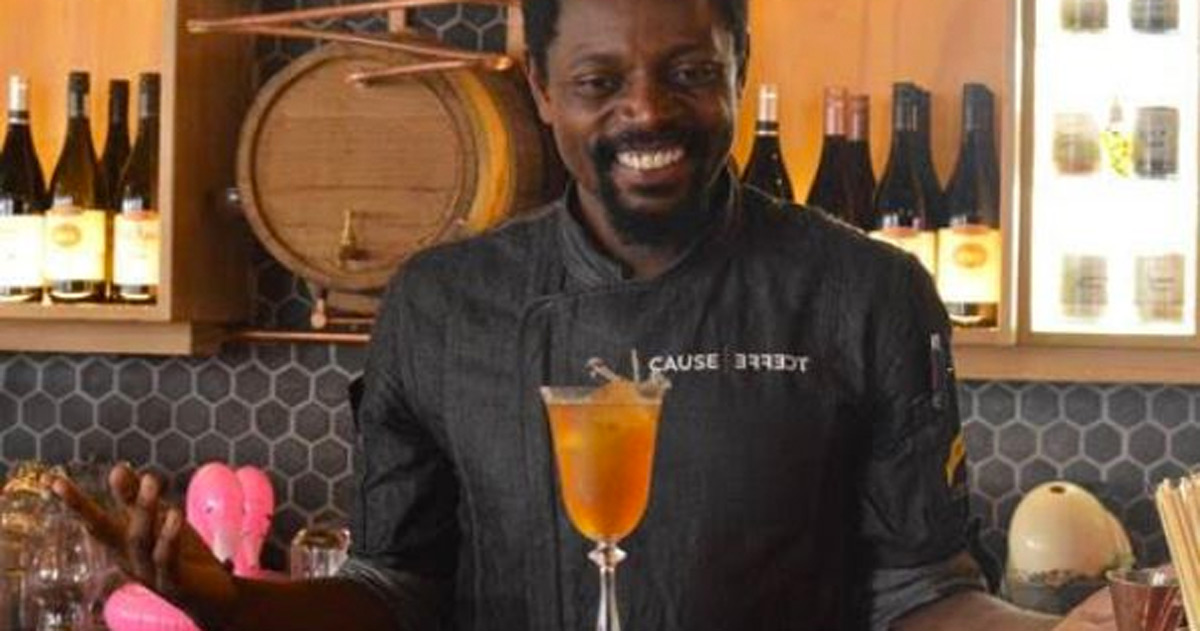 Local brewers and mixologists are capitalising on the opportunity which South Africa's rich plant life presents by developing unique beverages for local and international markets… enhancing sensory experiences for tourists and locals alike. Find out more below including their fabulous recipes for Rooibos Spritz and Table Mountain cocktail!
SA's first black female brew-master creates new style of beer using sorghum and Rooibos
Thirty-five-year-old entrepreneur, Apiwe Nxusani-Mawela from Roodepoort is one of SA's first black female brew-masters who is creating a new style of beer using sorghum and Rooibos.
Her passion for the trade began eight years ago when she joined a brewing company to train as a brewer after completing a BSc Honours in microbiology.
"I've always been passionate about using local ingredients and want people to taste beers that they've never tasted before. Rooibos is my favourite tea! I just love the way it smells and tastes and have always wanted to try it in a beer. After tasting the Rooibos extract, I just knew it would work well with the cider recipe I had been working on. I basically ferment my cider base and blend it with a Rooibos extract and berry juice after fermentation. The Rooibos taste doesn't overwhelm the palate, but it's there and gives it a truly unique South African flavour," says Nxusani-Mawela.
She also uses hibiscus in a non-alcoholic variant and has just launched a pineapple cider which she conjured up during lockdown.
Cause & Effect's Unique South African drinks…
Want to make it at home? Here's how:
Rooibos Spritz Recipe
You will need:
A wine or spritzer glass
Two blocks of ice
Ingredients:
1 x shot of Rooibos sugar syrup
½ shot of Martini Rosso
1 x shot of soda water
1 x teaspoon of citrus mix or lemon juice
Top up with Prosecco or Méthode Cap Classique
Combine all the ingredients above and stir
To garnish:
A dehydrated slice of lemon
Any fynbos
Anyone who has visited the Cause & Effect Cocktail Kitchen in Cape Town will attest that it is an experience for the senses. The alcohol emporium's interactive use of aroma, flavour, texture and creative presentation of drinks has earned it the top Bartending Accolades and Recognition (BAR) Award in SA and it currently ranks 75th in the world's top 100 bars.
Kurt Schlechter, owner of Cause & Effect, says fynbos is the backbone of their tinctures, bitters and vermouth, and is what's given them the edge.
"Using uniquely South African herbs and plants, such as Rooibos gives our drinks its own identity. Tourists want to experience authentic local lifestyles, customs and cultures of the destinations they visit. Here they can taste the Cape floral kingdom, Atlantic Ocean and Table Mountain in a drink. We use all sorts of fynbos, including slangbos, spekboom and Rooibos in our mixes, which have become a mainstay on our drinks menu. We make our own Rooibos cordial syrup, which is organic and has no artificial additives.
"Rooibos is naturally sweet, which reduces the need for sugar in these cocktails. It adds a different flavour and dimension to a drink, which many haven't necessarily explored with or tasted in an alcoholic beverage."
With the holidays winking and festivities kicking into high gear, bartending duo from Cause & Effect, Michael Mudzenda and Busiswa Mabhenxa shares a few tips on how to wow friends and family with your own indigenous cocktails this summer.
Zimbabwean-born Mudzena has travelled the globe – bartending at some of the top hotels and restaurants in the world. He says experimenting with local ingredients always makes for a surprising cocktail.
"I love infusing spekboom into sweet vermouth to make a 'spekboom spritz'. We also use lemon pelargonium to make our famous lemon sea salt for margaritas.
"Rooibos on the other hand pairs well with any type of spirit, but it depends on whether you want a smoky, sour or bitter note. Rooibos complements sweeter spirits, such as rum, as well as deeper, more pitted brandies and whiskies, and vodka, which is a neutral spirit.
"A cocktail that's ideal for a breezy summer evening is a Rooibos spritz. It's light and easy to make and only has a handful of ingredients."
Mabhenxa, who grew up in a bar owned by her family in East London, says mixing a great drink and adding a bit of "South Africanness" to it just has a certain kind of satisfaction.
"Spirits have natural sugars, so there's really no need to use sugary mixes in any of these drinks. One of our signature cocktails is the "Table Mountain", which includes brandy, mint, bitters, Rooibos syrup, soda water and a squish of lemon to bind all the flavours together," says Mabhenxa.
Here's what you need to make it at home: 
Table Mountain Cocktail Recipe
Ingredients
1.5 shots of Brandy
*25ml Rooibos syrup (recipe provided below)
10 torn mint leaves
3 dashes aromatic bitters
10ml lemon juice
75ml soda water
1x shot of pineapple juice
Method
Shake well with ice and serve in a Collins glass
Garnish with fynbos and flowers
*Rooibos syrup recipe
500g white sugar
500ml strong Rooibos tea
*Method
Dissolve sugar in the Rooibos in a pan and bring to the boil
Cool and bottle
Adele du Toit, spokesperson for the SA Rooibos Council says the value of indigenous plants are starting to be recognised the world over. 
"There is a growing awareness of the importance of indigenous plants in new product development and the differentiation it offers marketers. Their use in alcoholic beverages is arguably among the most exciting developments and opens up new opportunities for beer, wine and brandy producers alike.  
"South Africa is the third most biological diverse country in the world with more than 120 plant species that could be explored for commercial use. Rooibos is but one indigenous herb that has become an important commercial asset for the country. The promotion of local flora has major economic value and could, in turn, improve the outlook for rural communities where many of these species abound," says du Toit.