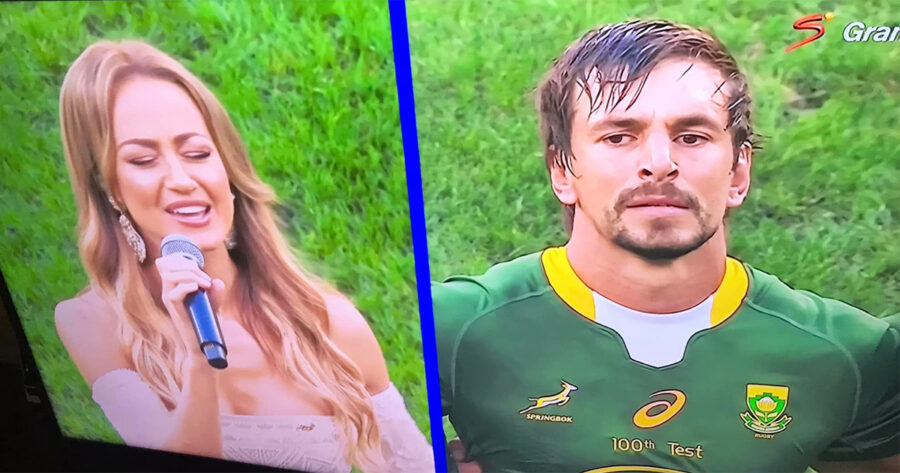 WATCH Eben Etzebeth's Future Wife Sings SA's National Anthem for His 100th Test
Today was always going to be emotional for Eben Etzebeth. His 100th Test match for South Africa's Springboks, becoming only the seventh SA rugby player to achieve this milestone, and the youngest (30). But if you wondered why he was so emotional during the national anthem… it's because that was his future wife singing it […]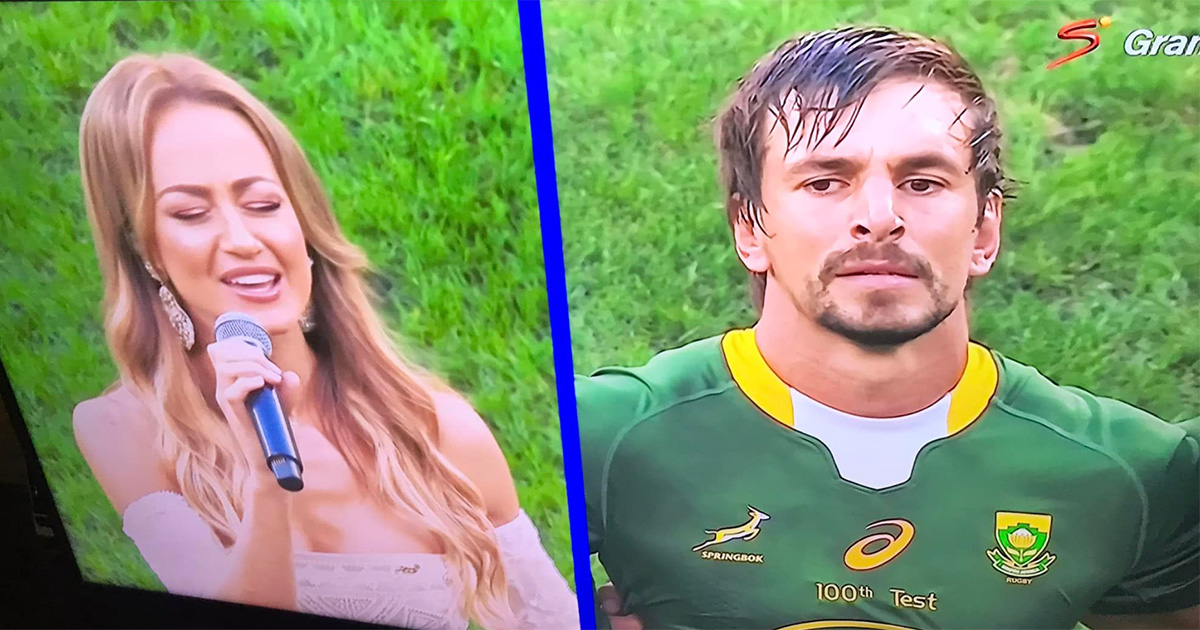 Today was always going to be emotional for Eben Etzebeth. His 100th Test match for South Africa's Springboks, becoming only the seventh SA rugby player to achieve this milestone, and the youngest (30). But if you wondered why he was so emotional during the national anthem… it's because that was his future wife singing it so beautifully!
Singer and actress Anlia van Rensburg was singing with all her heart, from her heart, to the man she loves for his 100th test.  It was an incredibly special moment for the couple who got engaged in March. His family were also there to support him. But discovering that his fiancée was singing the anthem was a total surprise for Etzebeth, he said in his post-match interview.
The engagement in March coincided with her birthday on the 24th. Afterwards Anlia wrote on Instagram: "By far the BEST day of my life!. By far the BEST day of my life! Thank you for giving me an unforgettable birthday! It was a Holy moment and I do not know if I have ever been so speechless… You are just everything @ebenetzebeth4 On life with you!"
Anlia, who has an Honours degree in Performing Arts, made her debut on SA screens playing Sasha Richter in Getroud Met Rugby (something that's coming true for her!), and more recently starred in Raised by Wolves as well as several other projects.
Earlier today, Anlia had posted a beautiful message for Eben wishing him luck, telling him how proud she was of him playing his 100th test, that he has a heart of Gold and that he should go out on the "go big and enjoy every single moment for you, your team, your family and our land". And then she surprised him in real life with this:
WATCH 
SA National Anthem ahead of 3rd test vs Wales – sung by Eben Etzebeth's fiancée Anlia van Rensburg
A former colleague of Anlia's, Joseph van Wyk, wrote on YouTube: "I worked with Anlia on Getroud met Rugby. So awesome to see her sing our Anthem, Also the BEST EVER SUNG!!!"
Kolisi on Etzebeth: I obviously love him with all my heart
Anlia's not the only one who loves Eben. Springbok Captain Siya Kolisi had this to say before the match: "We've come a long way together… we met at Craven Week, we were both 18. He's one of the reasons I moved to Western Province, and was one of the first friends I had who spoke Afrikaans.
"Our families are close and although rugby has given us an opportunity to become friends, it extends beyond the field of play. I obviously love him with all my heart.
"He's a guy you can rely on, on the field. He's there in the trenches and even when people intimidate me, he stands up for me on the field. We're ecstatic for him. He's worked hard. Not many people have put on this jersey that many times. I am honoured to be playing in the same team with those guys who have worn this jersey with pride over and over again."
WATCH Eben Etzebeth runs on for his 100th test match in Cape Town
WATCH Anlia's tribute to Eben
View this post on Instagram
Eben Etzebeth and Anlia van Rensburg:
View this post on Instagram
When the couple got engaged:
View this post on Instagram