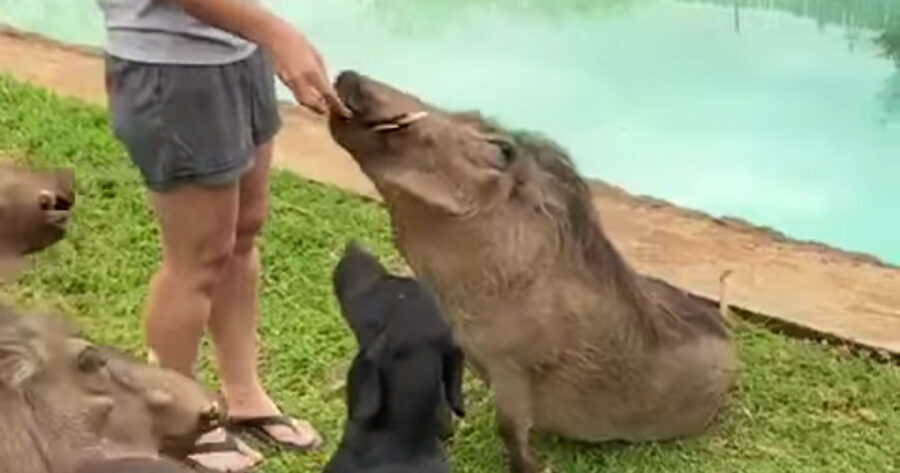 WATCH Warthogs Sit Obediently for Treats Alongside Pet Dogs
It looks like an ordinary domestic scene of pet dogs being fed beside a swimming pool in South Africa, until you look a little closer and realise amongst the dogs are some very obedient warthogs who've learnt how to sit obediently to receive their snacks! "Sit Varkie (Piggy)," the woman feeding the animals can be […]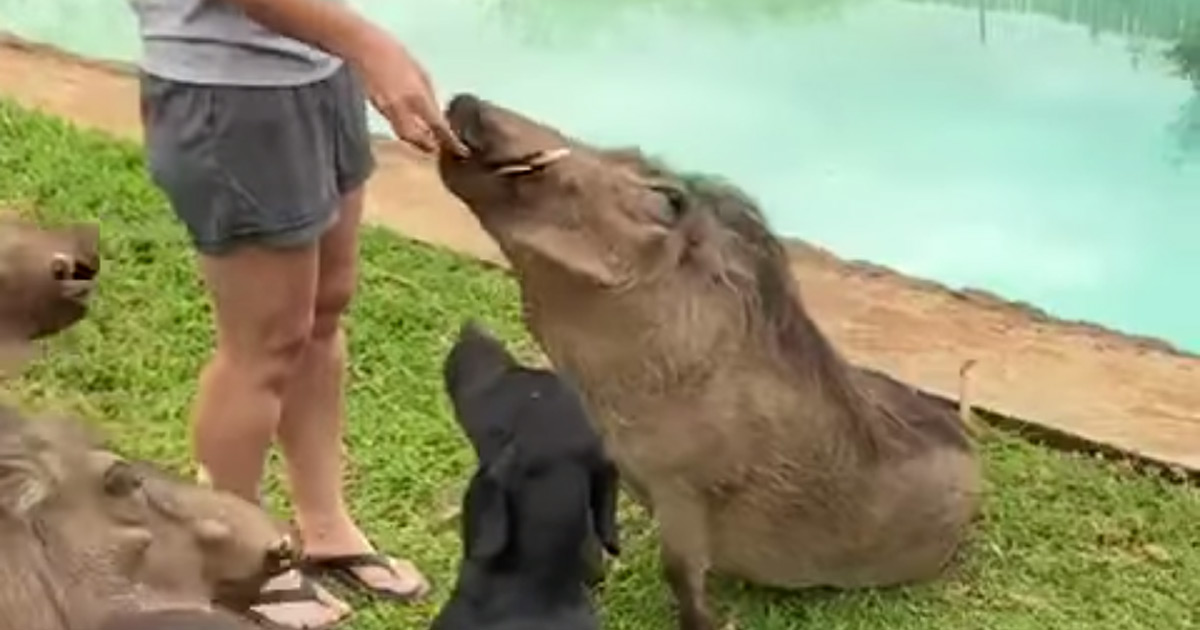 It looks like an ordinary domestic scene of pet dogs being fed beside a swimming pool in South Africa, until you look a little closer and realise amongst the dogs are some very obedient warthogs who've learnt how to sit obediently to receive their snacks!
"Sit Varkie (Piggy)," the woman feeding the animals can be heard saying. And Varkie sits!
Warthogs are a member of the pig family, and according to a BBC programme (see further below) they are so named because of the patches on their face which resemble warts… but which are just thick patches of skin.
Warthogs usually eat fruit like apples, grass, berries and mielies (corn)… although these appear to be eating Marie biscuits!
Thousands of social media users in the past few days have been sharing  the video and asking their parents or partners if they too can have their own Pumbaa (the warthog in The Lion King).
WATCH VIDEO: Tame Warthogs sit patiently for treats
Unfortunately we've been unable to trace the original source of this adorable video, but it seemed too good to not share. It was first posted to Facebook in November 2020. a year ago. If you know the people in the video, or the farm/reserve on which this took place, please let us know.
These tame warthogs are not unique. Last year the BBC featured the following three warthogs in a rehab centre:
WATCH Adorable House-Pet Warthog Learns How to Behave Like a Wild Warthog!