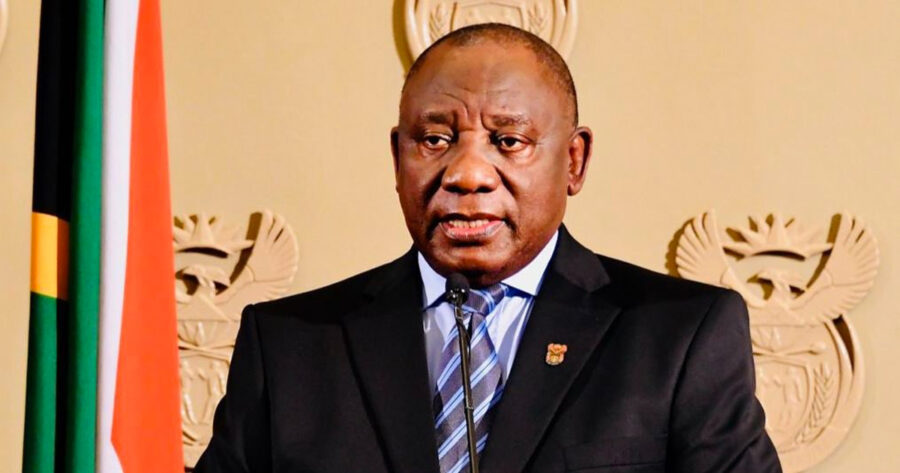 Back to School as South Africa Moves to Adjusted Alert Level 3
Young South Africans will return to school tomorrow and restrictions on the sale of alcohol will be eased, as President Cyril Ramaphosa tonight announced the country is moving from Adjusted Alert Level 4 to Adjusted Alert Level 3, with immediate effect as soon as it is gazetted this evening. The President said since he spoke […]
Young South Africans will return to school tomorrow and restrictions on the sale of alcohol will be eased, as President Cyril Ramaphosa tonight announced the country is moving from Adjusted Alert Level 4 to Adjusted Alert Level 3, with immediate effect as soon as it is gazetted this evening.
The President said since he spoke two weeks ago, SA has been fighting a battle on two fronts – the Covid-19 Pandemic, and the recent unrest and violence in KwaZulu-Natal and Gauteng. He said thanks to an increased deployment of the South African Police Service and the SA National Defence Force, peace and stability has been restored in the country and there have been no further incidents of violence.
Focusing first on the threat of Covid-19, Ramaphosa said SA has largely moved past the peak of the third wave although some areas of the country remain of concern where infection rates have not yet shown signs of decline.
For the past 28 days, the Lockdown measures taken by the government along with the adherence of South Africans to health precautions, have been effective, he said.
The average number of daily new infections has dropped by 20% from last week to 12,000 new infections per day. In the last two weeks, in Gauteng, which was the epicentre, there has been a steady decline in case. However cases are on the rise in the Western Cape, Eastern Cape, KwaZulu-Natal and Northern Cape, he said.
Most of the infections in SA are driven by the more transmissible Delta variant. In announcing the new more relaxed measures the President said that now more than ever, South Africans need to adhere to basic precautions to limit the spread from one person to another.
Indoor gatherings, he said, have been the major cause of outbreaks and super-spreader events. He said citizens must continue to wear masks in public, keep distance from others, ensure windows open and constant flow of fresh air.
Based on recommendations from the Covid-19 council and leaders in SA, the Cabinet has decided on the following recommendations for Adjusted Alert Level 3:
Hours of curfew remain the same: 10pm to 4am
Interprovincial travel for leisure may resume
Non-essential establishments like fitness centres, restaurants and bars may open but they must close by 9pm to allow employees and patrons to travel home
Gathering (religious, political, social etc.) are allowed but limited to 50 indoors and 100 outdoors. Where a venue is too small to accommodate that many people then they must be no more than 50% capacity full
The 50% capacity applies to fitness centres, gyms, restaurants and bars too
Attendance at funerals and cremations must be no more than 50 people. Attendees must social distance. After funeral gatherings and night vigils are still not allowed
The sale of alcohol for off-site consumption is allowed between 10am to 6pm Monday to Thursday
The sale of alcohol for onside consumption is permitted as per license conditions up to 8pm
Schools will reopen tomorrow Monday 26 July, according to strict protocols announced by the Minister of Education
It is still compulsory for every person to wear a mask that always covers their nose and mouth at all times when in public spaces.
Owners and managers of publics buildings like shops, offices, shopping centres etc – as well as taxi drivers are responsible for ensuring that people on their premises or in their vehicle wear masks, and that proper social distance is in place and adhered to. It's important to remember that it's a criminal offence if the number of customers/employees is exceeded, the President reminded SA.
Vaccination most effective 'weapon' against Covid-19
The President said infections are still high, and the most effective weapon against Covid-19 is a comprehensive vaccine programme.
Ramaphosa announced SA has made "great strides" in the past few weeks with over 240,000 people being vaccinated per weekday now, compared to a month ago when it was 100,000. His aim is for the country to get to 300,000 per week day.
Over 6.3-million vaccines have been administered, with over 10% of the population now having received a vaccine dose. He said this is thanks to close collaboration between the government and the private sector, and other social partners.
In the coming weeks the rates of vaccination are due to substantially increase with more sites and improved registration, as well as increased capability at the weekend.
From 1 September those aged 18 to 34 will also be able to get vaccinated, in addition to everyone over 35 who is currently eligible. South Africans are now able to present themselves at vaccination sites without appointment to be registered and vaccinated, thanks to improvements in the supply of vaccine doses.
Over 31 million additional doses from Pfizer and J&J are due over the next three months; with talks underway with other manufacturers like the Chinese. There is a sufficient number of doses available for the rest of the year, he said.
Aspen in Gqeberha (formerly Port Elizabeth) will in October start manufacturing doses for SA and the rest of Africa. The World Health Organisation recently chose SA as the hub for Africa. Biovac in Cape Town has been appointed to manufacture Pfizer doses for distribution within Africa.
SA Unrest
The President said more than 300 lives were lost due to the recent violent protests and unrest, and that the damage to infrastructure and business disruption has greatly impacted SA's economic recovery.
With the deployment of SAPS and the SANDF, order has been restored and the transport of goods is now operational again.
Investigations are ongoing to find the instigators behind the violence.
In order to bring relief to the poor, the social relief grant of R350/month is being reinstated until the end of March 2022 (made possible by a slight improvement in revenue collection). Unemployed caregivers can now also apply for it.
The President announced several other ways in which the government will be helping the country to recover, including R400-million to help businesses rebuild.
He acknowledged that the response to the violence was too slow, but said the country is now better prepared, and that a concerted effort will now be made to rebuild investor confidence.
South Africans he said "demonstrated to the world that we are committed to democratic government, that we oppose violence and criminality and that we will stand up to anyone who seeks to disturb the peace in our country. Our greatest strength lies in our Constitution," he said.
The President urged everyone to "all join hands to build the South Africa of our dreams", and to help improve the quality of life of all citizens.