Carte Blanche: Surviving SA Prisons When You're a Female Warden
You can watch the show on Sunday 06 February in South Africa on DStv Now or stream it overseas in most countries from 08 February if you're abroad. INVESTIGATIONS Surviving Prison Working in some of South Africa's most notorious male prisons is tough – and for some women, it's a calling where they hope to […]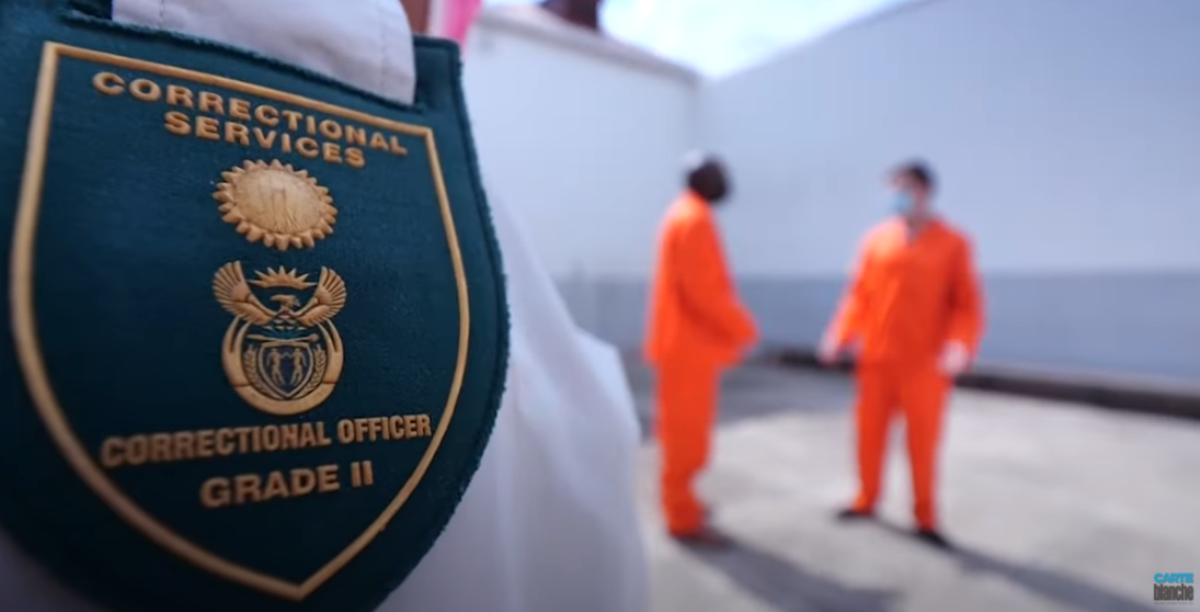 You can watch the show on Sunday 06 February in South Africa on DStv Now or stream it overseas in most countries from 08 February if you're abroad.
INVESTIGATIONS
Working in some of South Africa's most notorious male prisons is tough – and for some women, it's a calling where they hope to make a difference in the lives of inmates who often have nothing left to lose. But, increasingly, female wardens – armed with nothing more than tasers and batons – have fallen victim to assault, rape and even murder. Carte Blanche goes behind bars as the women, tasked with keeping violent criminals in check, describe a life of fear, violence and harassment on the job. (Producer & Presenter: Busisiwe Gumede-Chizhanje) 
Presenter Busisiwe Gumede-Chizhanje says: "The female wardens I spoke to went into this profession years ago with the intention of making a difference. But what seemed like a dream come true, turned into a nightmare. They discovered disheartening work conditions and a department, they say, which has failed to protect them. I'm inspired by these women's ability to survive facilities riddled with hardened criminals. All this while fighting for transformation."
Watch the show overseas | Watch in SA on DStv Now
Rape, assault and murder… with the perpetrators already behind bars. How can female prison wardens protect themselves inside some of South Africa's most violent prisons? Join us for 90 minutes of #CarteBlanche this Sunday at 7pm on @MNet channel 101 as we go inside SA prisons. pic.twitter.com/2TvKKNGWXn

— Carte Blanche (@carteblanchetv) February 2, 2022
The Zondo Commission into State Capture has just handed over the second part of its three-part report to the Presidency. In it, whistleblowers who bravely stepped forward to fight for a better country are vindicated. In one-on-one interviews, Carte Blanche presses Justice Minister, Ronald Lamola, and National Director of Public Prosecutions, Advocate Shamila Batohi, on the likelihood of those implicated ever facing justice. (Producer: Nicky Troll | Presenter: Masa Kekana)
Watch the show overseas | Watch in SA on DStv Now
Volume two of the #StateCaptureReport is out and we sit down for a one-on-one with Justice Minister @RonaldLamola. What's in store for citizens desperate to see the corruptors face justice? @MasaKekana finds out Sunday on 90 minutes of #CarteBlanche. #StateCapture pic.twitter.com/zoi8diahLH

— Carte Blanche (@carteblanchetv) February 3, 2022
Make-up tutorials are a dime a dozen on social media. You can learn to perfectly arch your brow or blend your foundation flawlessly with easy-to-follow routines. But on your wedding day, only a professional artist will do. That's why some brides, in planning their special day, pinned their hopes on what they thought was a popular hair and make-up guru– only to be left in the lurch. Carte Blanche investigates how an unscrupulous service provider has been dashing hopes of a dream-wedding.(Producer: Tarryn Crossman | Presenter: Claire Mawisa)
Watch the show overseas | Watch in SA on DStv Now
Perfect hair, perfect make-up, perfect dress. It's the basics of any unforgettable #wedding day. So, why were a number of brides left in tears on their big day? @clairemawisa finds out this Sunday at 7pm on #CarteBlanche on #MNet101. pic.twitter.com/YY62SdFKFN

— Carte Blanche (@carteblanchetv) February 1, 2022
Loadshedding is back on the schedule this weekend for electricity users who rely on Eskom – a strong argument in favour of becoming self-reliant. After being licenced to set up their own infrastructure, a group of farmers has successfully operated a 320 km power distribution network, dubbed Damplaas Kragbron, for more than 40 years. Now, the system is under threat as the South African Local Government Association (SALGA) has launched a court battle to wrest control of the system and place it in the hands of the local – and failing – municipality. What's driving the sudden interest in Damplaas, as what's at stake for the farmers and their thousands of workers if SALGA wins the day? (Producer: Eugene Botha | Presenter: Derek Watts)
EXPLORATIONS
For a world in the grip of climate change, electric vehicles are seen as a significant way of reducing carbon emissions. But with many of their raw materials sourced through mining, are they truly environmentally friendly? As South Africa prepares to roll out more of these cars of the future, Carte Blanche examines what's really under the bonnet of these "green" machines. (Producer: Neil Shaw | Presenter: Claire Mawisa)
Watch the show overseas | Watch in SA on DStv Now
South Africans know how toxic the legacy of mining has been for the environment and communities. As SA is set to roll out #ElectricVehicles that depend on several critical minerals, are we setting ourselves up for a renewed cycle of dirty mining? Your thoughts… #CarteBlanche pic.twitter.com/mZafeqYsUA

— Carte Blanche (@carteblanchetv) February 2, 2022
Harnessing the genetic programming of dogs to hunt, their handlers are refining the art of searching for, and tracking down, humans.  Often, averting tragedy. Carte Blanche puts some of these working breeds to the test to trail the scent molecules people leave behind – skills that leave little room for criminals to out- manoeuvre these crafty canines. (Producer: Sasha Schwendenwein | Presenter: Macfarlane Moleli)
Watch the show overseas | Watch in SA on DStv Now
If you're in SA – you can watch Carte Blanche on DStv Now.
If you're overseas – you can watch #CarteBlanche from Tuesdays, and thousands of other popular local South African shows & movies by subscribing to Showmax International now. You can try it FREE for 14 days. 
Carte Blanche is on M-Net & M-Net HD [101], 06 February 2022  at 19:00 & & again on M-Net Plus 1 [901] at 20:00
***
Please note: Carte Blanche is only available to international Showmax subscribers in Andorra, Australia, Austria, Belgium, Denmark, Finland, France, Germany, Greece, Iceland, Indonesia, Ireland, Italy, Liechtenstein, Luxembourg, Malta, Monaco, Netherlands, New Zealand, Norway, Portugal, San Marino, Spain, Sweden, Switzerland, United Kingdom. Not all titles are available in all territories. Showmax brings you the best South African series and movies, from the classics to the latest releases, from complete box sets to kids' favourites.