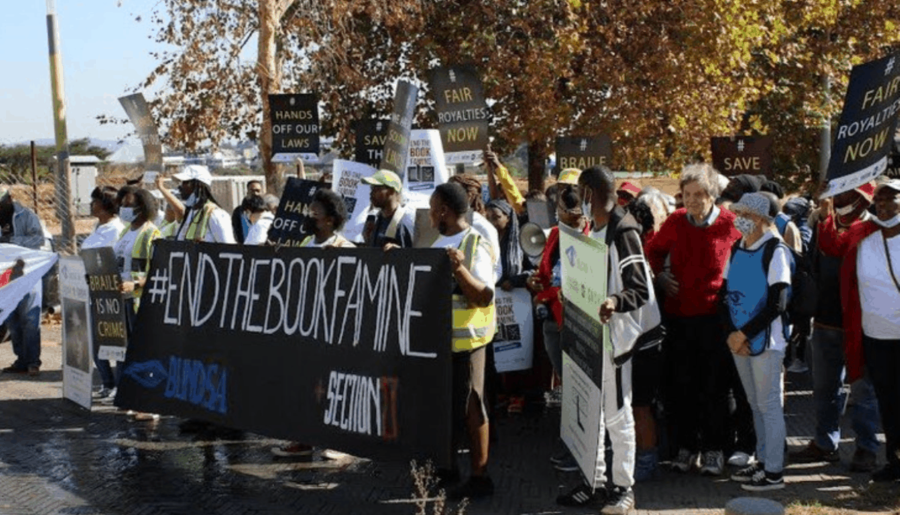 Concourt to Rule on Access to Books for Blind People
Over 200 people marched from Empire Road in Parktown to picket outside the Constitutional Court on Thursday, where a landmark case is being heard that will determine whether blind people in South Africa get better access to versions of published works in, for example, braille. Blind SA, represented by SECTION27 is arguing in support of […]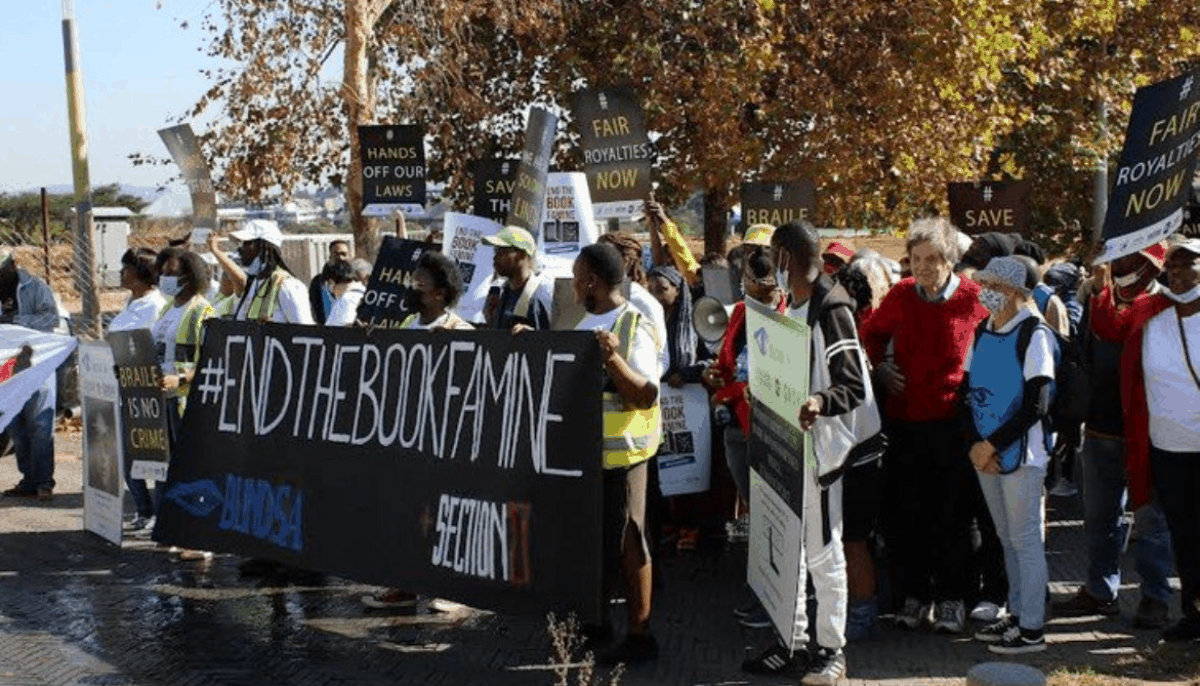 Over 200 people marched from Empire Road in Parktown to picket outside the Constitutional Court on Thursday, where a landmark case is being heard that will determine whether blind people in South Africa get better access to versions of published works in, for example, braille.
Blind SA, represented by SECTION27 is arguing in support of amendments to the Copyright Act that, once enacted, will provide for the required access. The Copyright Act Amendment Bill was first introduced five years ago but is still before the National Assembly as a result of controversy around other provisions in the act.
The case follows a High Court order in September 2021 which found the Copyright Act of 1978 to be unconstitutional as it impedes blind or visually impaired persons from converting books into accessible formats like Braille. Converting books to, for example, Braille currently results in an infringement of copyright law.
Joining the picket on Thursday was Lungile Mdingi who is a blind second year UNISA law student from Rietfontein. Activists from Blind SA, SECTION27 and Right2Know also joined the picketers.
Mdingi told GroundUp that he almost failed his first year due to unavailability of books in Braille for his faculty. He says he was able to pull through, but studying remains a challenge because he has to ask family members to read textbooks to him. This makes it difficult to keep up with his classmates as his relatives often have other commitments and can't always read for him.
"This court case is important for me to be able to convert the books I need for my law studies. Right now the only thing standing between me and completing my studies is the law which we are here to challenge," Mdingi said.
Mandla Sithole and Rosina Mahindi from Hammanskraal both said they are still in the process of learning to read and write Braille. Sithole said not having books or libraries which offer these books has made the learning process slow. "My dream is to read and write Braille properly. As blind people we have been marginalised for a long time and have limited entertainment resources available to us. Sometimes a simple read is all we need to put a smile on our faces," said Sithole.
Blind SA's Christo De Klerk said so far there are only 30,000 books for blind persons in the country. "We are hoping to get an order to allow us to have access to publications without having to go through publishers for permission. The process of obtaining permission often takes a long time. Nine times out of ten we do not get permission and those books remain outside our grasp. It is our right to have access to reading material, we should not have to ask in order to access our rights," he said.
Research and Advocacy officer at SECTION27, Julia Chaskalson, said the Copyright Act is inconsistent with the values of the Constitution. "Today is a procedural step of confirming that the Act is indeed unconstitutional. What is being decided in today's court case is the appropriate remedy."