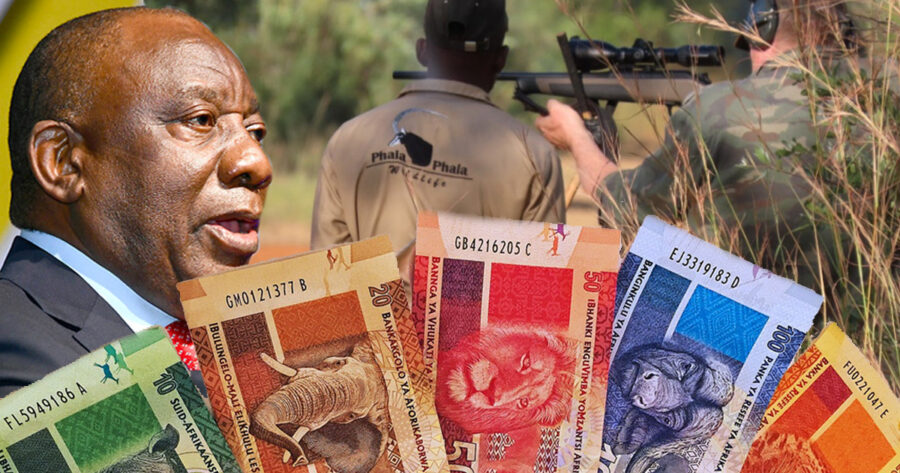 PETA: Ramaphosa Issues More Denials of Links to Trophy-Hunting Businesses
Perhaps it is fitting that the portraits of the "Big 5" animals are featured on South Africa's banknotes because there is a price on their heads, as well as a price on their severed tails, feet, horns, and other dismembered body parts… writes Ingrid Newkirk, president and founder of People for the Ethical Treatment of […]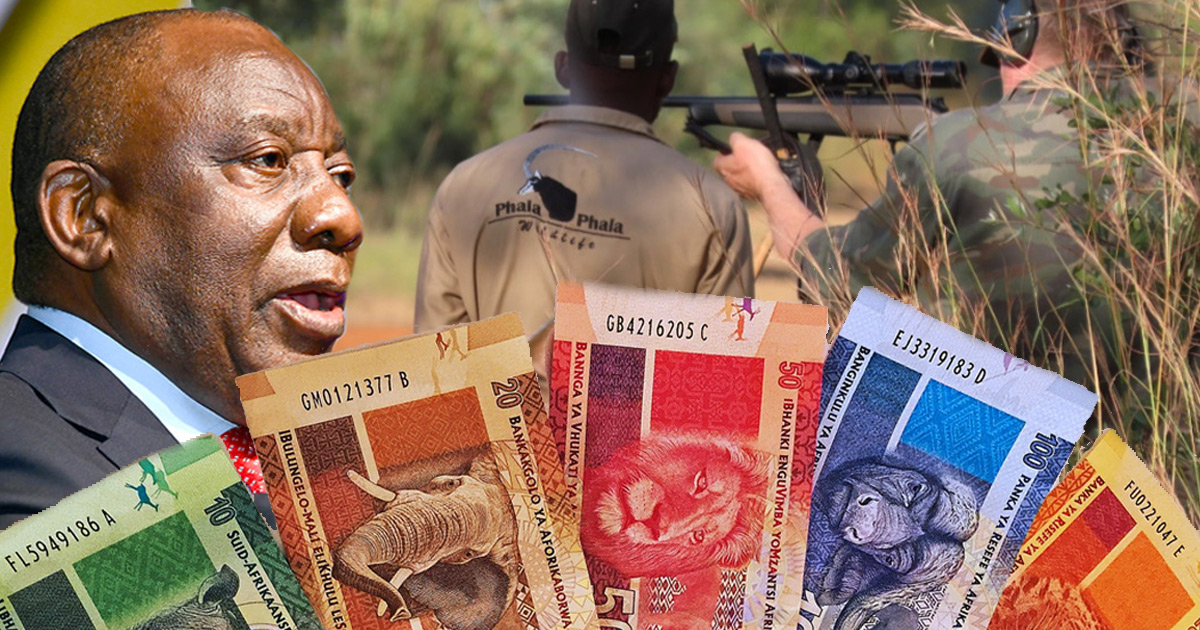 Perhaps it is fitting that the portraits of the "Big 5" animals are featured on South Africa's banknotes because there is a price on their heads, as well as a price on their severed tails, feet, horns, and other dismembered body parts… writes Ingrid Newkirk, president and founder of People for the Ethical Treatment of Animals (PETA), in response to the latest hunting-related statement from President Cyril Ramaphosa.
Last year, PETA revealed that President Ramaphosa personally profits from this "pleasure killing" of South Africa's precious and unique wildlife. PETA's undercover investigative footage included admissions from several of Ramaphosa's own business partners. The evidence could not have been clearer.
"[Ramaphosa] bought 50% in our company so we [are] 50%, or full partners in it, yes," said Tsala Hunting Safaris co-owner Rouan Nel in one recording.
The Big 5 and dozens of other species could be shot on Ramaphosa's properties or through arrangements with other hunting operators. Nel boasted to PETA's investigator that he could even acquire a white rhino to gun down on Ramaphosa's Diepdrift property, which had been converted from a "game" farm to a hunting tract.
Ramaphosa concocted an excuse last November that his only tie to Tsala Hunting Safaris was a contract to conduct "culls" on the Phala Phala breeding farm. He released a formal statement to the media that he was "terminating this hunting arrangement" with Tsala because the company had also engaged in the hunting of threatened or protected species on other properties.
But this humiliating controversy never went away, and on January 29, 2021, Ramaphosa issued a new statement claiming that PETA's investigation was designed to "cause embarrassment to the office of the President and to the country." Again he denied PETA's allegations, claiming they were "unsubstantiated." And again, he failed to address the most damning evidence: that he instructed his business partners in a scheme to conceal his trophy hunting businesses from the South African public, as he knew this would be disastrous politically.
Hendrik von Wielligh, the property manager at Phala Phala, told PETA's investigator on March 13, 2020:
[Phala Phala and Tsala] work together as a joint venture, basically…[W]e go under his [Tsala] brand because we are afraid for the green guys. That they will, that will attract some publicity. . . . The Phala Phala brand, they connect to the President …. But no one connects us, Phala Phala, to Tsala Safaris.  … So we try to keep the President's name actually out of the hunting thing because why, because of all the greenies. … So, um, that's why we will keep always Phala Phala and Diepdrift and Tsala Safaris sort of separate from our Phala Phala brand. In particular for the overseas people. Um, even South African, they don't know all of that.
Ramaphosa also tried to hide his tracks about his investments in pigeon racing, but PETA caught him in that as well. Hendrik von Wielligh was filmed by PETA explaining: "[L]ots of things I do … are under the radar. Because we don't want to be in the newspaper — the president buy a dove for a million rand .… He don't feed the poor and now he buys a dove for a million rand. … Ja, none of the things he buys can go under his name."
From elephants to pigeons, no animal is too big or too small to be exploited for Ramaphosa's financial gain.
Ramaphosa asserts: "[N]either Phala Phala nor I have a stake in the trophy hunting industry. It is furthermore also patently false that Phala Phala breeds game for the purpose of being sold to trophy hunters." However, in its descriptions of animals for sale, Phala Phala lists animals' SCI scores (Safari Club International horn measurement scores, which are of primary interest to trophy hunters), sells animals in annual auctions called "Hunting & Breeding Auction," and lists many animals for sale for "breeding or hunting."
Ramaphosa tries to excuse his breeding enterprise by claiming, "Phala Phala's breeding programme focuses on enhancing the genetic material of some of South Africa's most iconic species that once faced extinction …" However, of the 10 animals listed as Phala Phala's "specialities," six are novelty mutation colours bred specifically for the auction and trophy hunting market with no "conservation value," and three are native to other countries in Africa.
Ramaphosa's statement also includes a litany of shameful attempted justifications for trophy hunting—all of which have been debunked – including that this serial murder killing is somehow good for "conservation."
Ramaphosa brands anti-hunting outrage as 'a form of cultural imperialism'
The final and most laughable defence that Ramaphosa invokes is to assert that any international outrage about trophy hunting is "a form of cultural imperialism." The real cultural imperialism is on full display on the walls of the international hunters who plunder African wildlife. Trophy hunters fetishize these perverse killings, even pursuing disturbing custom collections when they have exhausted the imperialistic Safari Club's "Big 5." Hunters can gun down the "Tiny Ten" (ten smallest antelope species) or the "Small Cat Grand Slam" (caracal, serval, civet, African wildcat, genet) to mount as exotic souvenirs of their domination and decimation of South African wildlife. And if they want to appropriate a cultural symbol of South Africa itself, they can slaughter the "Springbok Grand Slam."
President Ramaphosa will be remembered for obfuscation but, far worse, for profiting from and hiding behind the skirts of those who line their pockets by abetting or actually carrying out the slaughter of Africa's wildlife. He can try to dismiss PETA's claims, but they are 100% accurate and verifiable as well as profoundly embarrassing to him. Ramaphosa and those who sell out South Africa's unique wildlife should feel deeply ashamed for catering to those who would dominate and despoil it, rather than to those who seek to admire, photograph, respect and cherish it.
By Ingrid Newkirk
Ingrid Newkirk is the president and founder of People for the Ethical Treatment of Animals. Her latest book is "Animalkind: Remarkable Discoveries about Animals and Revolutionary New Ways to Show Them Compassion."
READ ALSO: President Ramaphosa Claims Hunting Industry is Key to Economic Growth and Transformation