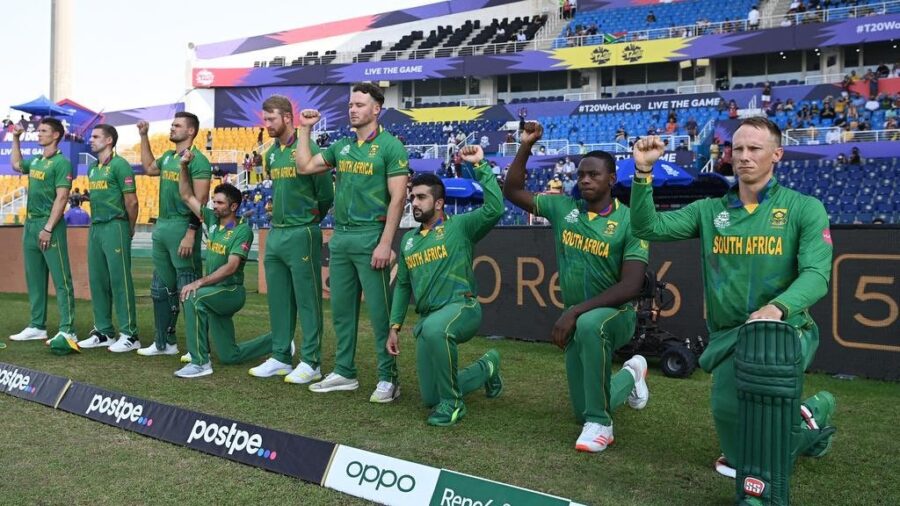 South Africa Wins Despite Quinton de Kock's Withdrawal After 'Take a Knee' Directive
South Africa rose to an eight-wicket victory at the Dubai International Stadium on Tuesday against defending champions, the West Indies, in their second Super 12 match of the ICC T20 (Twenty20) World Cup. The victory came following an upset to the team when wicketkeeper Quinton de Kock allegedly refused to obey a team directive to […]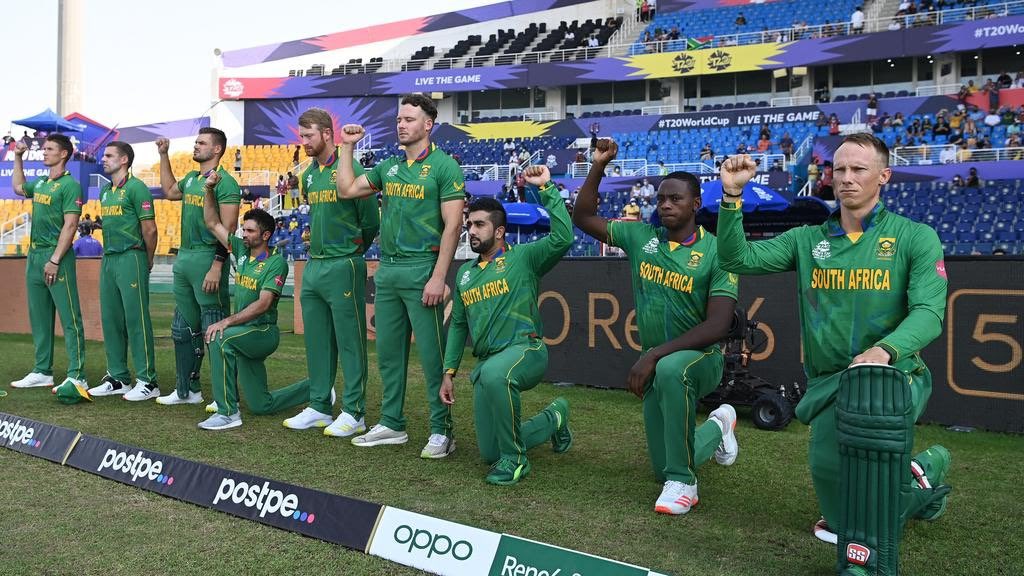 South Africa rose to an eight-wicket victory at the Dubai International Stadium on Tuesday against defending champions, the West Indies, in their second Super 12 match of the ICC T20 (Twenty20) World Cup.
The victory came following an upset to the team when wicketkeeper Quinton de Kock allegedly refused to obey a team directive to 'take a knee' (as a sign against racism), and instead withdrew from the match. Captain Temba Bavuma told the press after the match that De Kock had "personal reasons" for defying the order. De Kock has not as yet issued a statement on any of his social media channels. Bavuma said "we respect Quinton De Kock's decision. We respect his convictions. Quinton is a big player for the team."
The Daily Mail's cricket reporter Lawrence Booth said afterwards: "Seriously impressed by the way Temba Bavuma conducted himself in that post-match press conference. Lots of tough questions about Quinton de Kock, but he handled them all with honesty and aplomb. Not easy being captain of South Africa."
Please note: all text below was written on 26 October, before Quinton de Kock's statement.
CSA considering next steps regarding Quinton de Kock
Meanwhile Cricket South Africa (CSA) says it is considering its next steps after receiving the report that De Kock had decided not to 'take the knee'.
CSA said in a statement: "All players had been required, in line with a directive of the CSA Board on Monday evening, to 'take the knee' in a united and consistent stance against racism. This is also the global gesture against racism that has been adopted by sportspeople across sporting codes because they recognise the power of sport to bring people together."
The decision came after concerns had been raised that the different postures taken by team members, in support of the BLM (Black Lives Matter) initiative, created an unitended perception of disparity.
CSA said: "After considering all relevant issues, including the freedom of choice of players, the Board had made it clear it was imperative for the team to be seen taking a stand against racism, especially given SA's history. The Board's view was that while diversity can and should find expression in many facets of daily lives, this did not apply when it came to taking a stand against racism.
"The Board will await a further report from team management before deciding on the next steps. All players are expected to follow this directive for the remaining games of the World Cup.
"CSA thanks all other Proteas players for agreeing to unite and make such an important public stand against racism."
CSA Board Chairperson, Lawson Naidoo had said earlier: "A commitment to overcoming racism is the glue that should unite, bind and strengthen us. Race should not be manipulated to amplify our weaknesses. Diversity can and should find expression in many facets of our daily lives, but not when it comes to taking a stand against racism."
Cricket is the second most watched sport globally and the ICC Men's T20 World Cup, being held in the UAE and Oman, is the ideal platform for the Proteas to highlight the national resolve to heal the divisions of the past, the CSA said.
AfriForum support Quinton de Kock's decision
While many have questioned De Kock's decision, AfriForum say they support him and "strongly condemn" the directive. They said in terms of the directive failure to take the knee before games "will presumably lead to being dropped from the team and facing sanction from CSA".
Ronald Peters, AfriForum's Manager of Sport, said in a statement on Tuesday: "The unanimous decision, made by the CSA Board on 25 October is an ultra-vires abuse of authority. The decision will certainly not pass Constitutional muster if challenged by a court of law as it violates a whole host of rights protected in the Constitution. These violated rights include the right to equality and the right to not be unfairly discriminated against, freedom and security of the person, freedom of religion, belief and opinion, freedom of expression, freedom of association and the right to make political choices.
"The decision to take the knee should remain precisely that. Many top athletes from many different cultural, national and racial backgrounds have expressed their reasons for refusing to take the knee. More recently, many who took the knee initially have decided to stop doing so. Many have argued that the gesture is no longer powerful because everyone does it, yet actual change is slow to occur, or nothing changes at all. AfriForum agrees that a gesture loses all merit and meaning when it is forced on people. Forcing professional athletes to forego their rights and freedoms is unacceptable."
AfriForum said they believe the position taken by the CSA is "unfair and violates several human rights", and revealed they will liaise with their legal team to consider the way forward.
Today's win for SA comes after being defeated by Australia on Saturday. Bavuma said: "After the first game we knew that there were areas that we had to improve within our game, more particularly with the bat. To go out there and be clinical with the bat, that's a good step in the right direction."
Cricket South Africa also congratulated Reeza Hendricks Tuesday evening on surpassing the 1000-run career T20I mark.
Twitter reactions to Quinton de Kock allegedly refusing to 'take the knee'
People need to understand that Quinton De Kock refusing to play because of being ordered to 'take the knee' doesn't make him a racist.

It just means he's man enough to not bow down to a political movement he disagrees with, and good on him.

— Abhiishek Singh🇮🇳 (@EsotericAbhii22) October 26, 2021
Quinton de Kock being so committed to not being anti-racist that he'd rather not play for his national side than take part in the anti-racism gesture is very telling of him as an individual, rightly called out by the commentators early on too, excellent from Pommie and Sammy.

— Kieran (@kieran_cricket) October 26, 2021
Quinton de Kock is showing the world what kind of people we have to deal with here in SA.

— Sharné Zoë (@Zoe_SZi) October 26, 2021
Imagine being so opposed to an anti-racism gesture that you'd risk your future in international cricket.

— Karthik Krishnaswamy (@the_kk) October 26, 2021
The only sign or symbol that you will see from Quinton de Kock is for the Rhinos. For everything else, he STANDS his ground. pic.twitter.com/wVPCscmEl7

— Blacks in Whites (@BlaqsInCricket) October 26, 2021
https://twitter.com/MrSinha_/status/1452951571537399818
I am entirely with CSA on this one. And it's a shame that a player like Quinton de Kock finds it so hard to understand & support this movement, if that is indeed the reason for his withdrawal. #BlackLivesMatter https://t.co/kBUdqJcoMl

— Raunak Kapoor (@RaunakRK) October 26, 2021
Quinton De Kock is a racist,the proteas must come back home…..we aren't going to support racists in our national team. How painful this picture is #T20WorldCup21 #BlackLivesMatter ❤🏏 pic.twitter.com/Zt2XeAytg0

— ❤✌🇿🇦 (@Bravomotlokwa) October 26, 2021
New Zealand's captain:
As the team prepare to take the knee before today's @T20WorldCup match against Pakistan, hear from captain Kane Williamson about why the team will be doing so ahead of each match during the tournament. #GiveNothingToRacism pic.twitter.com/YPMDOdoDo7

— BLACKCAPS (@BLACKCAPS) October 26, 2021