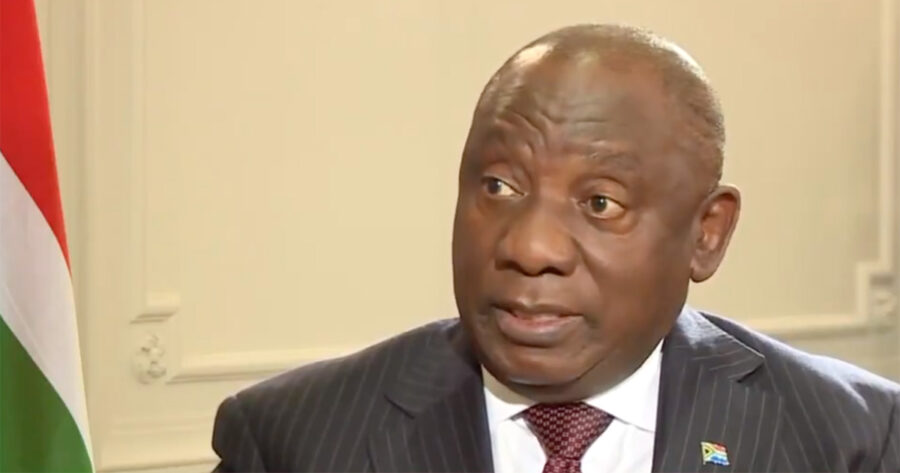 WATCH Ramaphosa: South Africa Can Help in Gaza Situation
While the situation in Gaza – where fighting has entered a tenth day – is "most worrying", there is hope and South Africa could play a vital role, according to South Africa's President Cyril Ramaphosa, who has likened some of the current events to South Africa under apartheid. Last night more Israeli air strikes hit […]
While the situation in Gaza – where fighting has entered a tenth day – is "most worrying", there is hope and South Africa could play a vital role, according to South Africa's President Cyril Ramaphosa, who has likened some of the current events to South Africa under apartheid.
Last night more Israeli air strikes hit targets in Gaza, as defence sources told the BBC today that "there is still no ceasefire on the table". Hamas officials said ceasefire efforts "are serious and continuing" but that demands by the Palestinians must be met.
Speaking to Marc Perelman on France 24 TV station, President Ramaphosa stressed that the only way to deal with the situation is for both parties to sit down and negotiate.
"We've been calling for a negotiated settlement. The problem there might seem intractable, it might seem to be a problem that doesn't seem to have a solution – but we were in the same position in South Africa. The whole world thought that the apartheid problem was unsolve-able but we were able to find a solution."
We can't but side with the Palestinians
Ramaphosa said the images coming out of the area – of people being prevented from moving around, of being driven out of their homes before they're bombed – "brings back very terrible memories of our own history under apartheid when people were forcibly moved from their homes which they'd occupied for generations, when their homes were destroyed… so this for us is very close to our own suffering under apartheid, and when we see those images… we can't but side with the Palestinians."
At a Cabinet meeting last week, the SA Cabinet expressed strong condemnation for the Israeli attacks on Palestinian protesters, and the "unlawful evictions of Palestinians from their homes in the Sheikh al Jarrah in the annexed East Jerusalem to make way for Israeli settlements".
The SA President said: "Our support as a country for the Palestinians is based on principle." He said the Palestinians want their own self-determination rights, their own state, to have freedom to run their own affairs and not be restricted to move around.
Of Hamas militants who have been firing rockets at cities in southern Israel, Ramaphosa said the situation is a tinderbox, and that just like when the ANC took up arms against the apartheid government, the Palestinians feel they have the right to defend themselves… and be on the offensive.
"We were cast in the same mould when the ANC took up arms," said Ramahosa, adding that they were similarly "fighting against an authority which was using the law and absolute terror against people who were fighting for their own rights."
He said "one could quite easily categorise (Israel) as being an apartheid-type of state".
Emphasising the need for both parties to negotiate, Ramaphosa said: "We are prepared, as South Africa, as a nation that has gone through this type of situation, to play a role in which we can help the two sides get together."
Meanwhile the Israeli Defense Forces tweeted half an hour ago (16h00 SA Time): "4 rockets were just fired from Lebanon at northern Israel, 1 of which was intercepted by the Iron Dome. In response, IDF artillery forces are striking a number of targets in Lebanon. We are prepared for any scenario on any front."
WATCH President Ramaphosa on Gaza
The situation in Gaza is most worrying. As South Africans we are concerned because what we have seen brings back terrible memories of our own history under apartheid. We side with the Palestinians & our support is based on principle of protecting the right to self-determination. pic.twitter.com/Ygk9M61W1B

— Cyril Ramaphosa 🇿🇦 (@CyrilRamaphosa) May 19, 2021
WATCH France 24's Full Interview with SA President Cyril Ramaposa