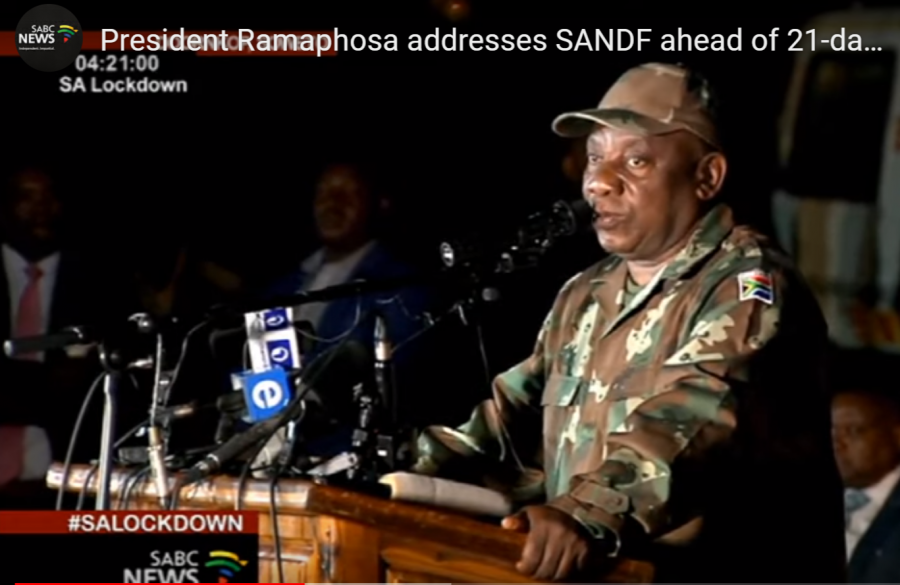 Ramaphosa Calls Army's Mission "Most Important in History" of South Africa
With the words "You are the defender of the lives of our people," President Cyril Ramaphosa, dressed in army fatigues as the commander in chief of the South African National Defence Force, addressed soldiers last night before they began their task of assisting the police enforce the 21-day lockdown starting across the country at midnight. […]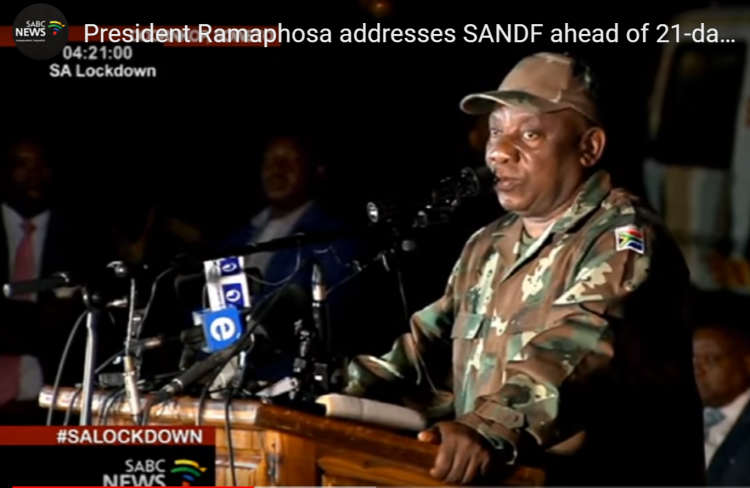 With the words "You are the defender of the lives of our people," President Cyril Ramaphosa, dressed in army fatigues as the commander in chief of the South African National Defence Force, addressed soldiers last night before they began their task of assisting the police enforce the 21-day lockdown starting across the country at midnight.
"This is an important evening not only for yourselves but also for the entire country," Ramaphosa said to an audience of ministers and soldiers at a base outside Soweto. He said he was wearing fatigues to signify his "total support and solidarity" with the armed forces, "as you begin this most important mission in the history of our country."
He said the Coronavirus outbreak was unprecedented, "not only in our democracy but in the history of our country," for the soldiers had to go out and "wage war against an invisible enemy."
The SANDF said in a statement that together with the police it would "play an important role in supporting and enforcing the nations' compliance with the restriction of movement of people under the National State of Disaster and lockdown."
Ramaphosa said in his speech, "You are expected … to go out and defend our people against this virus. Your mission is mission save lives.
"Your mission is to restore the lives of the people of South Africa.
"You are required to do this in the most understanding … respectful … and supportive way," he said.