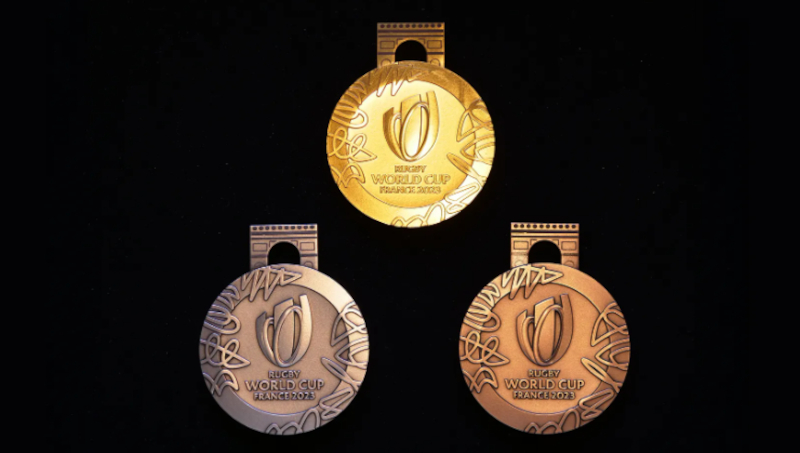 Rugby World Cup 2023 medals unveiled – PICTURE
The design and manufacturing of the Rugby World Cup 2023 medals mean they will be the first of their kind in the sport. With an ambitious plan aimed at reducing the 2023 Rugby World Cup's ecological impact, World Rugby has confirmed the medals at the tournament will environmentally-friendly. With that goal in mind, the France […]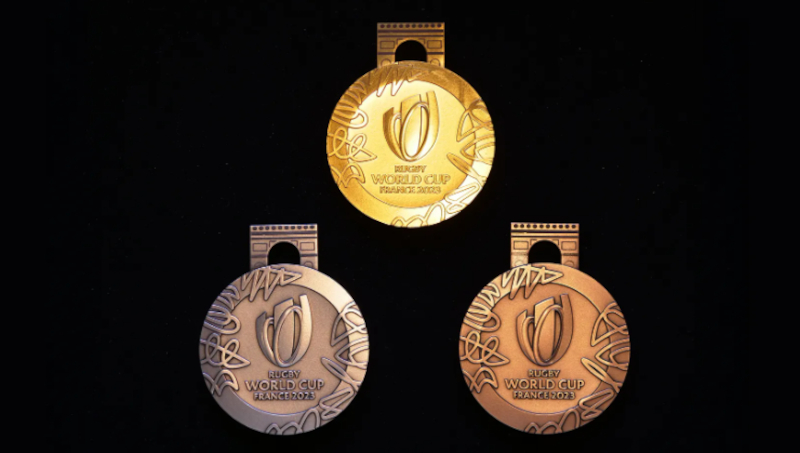 The design and manufacturing of the Rugby World Cup 2023 medals mean they will be the first of their kind in the sport.
With an ambitious plan aimed at reducing the 2023 Rugby World Cup's ecological impact, World Rugby has confirmed the medals at the tournament will environmentally-friendly.
With that goal in mind, the France 2023 organisers have teamed up several other stakeholders to create sustainable gold, silver and bronze medals for the tournament from recycled mobile phone components.
ALSO READ: Rugby World Cup 2023 Trophy Car has been revealed
Iconic symbols of the sport, the medals will be awarded to players and coaches from the teams taking the top three places at Rugby World Cup 2023: the winners of the Webb Ellis Cup, the runners-up and the winners of the third-place bronze playoff.
Participation medals will also be presented to all the players taking part in the tournament.
Working closely with the France 2023 teams, the Monnaie de Paris, France's oldest and most illustrious minting institution, designed, engraved and struck the medals at its workshop.
They will be presented to the players taking part in Rugby World Cup 2023 in an environmentally friendly case and attached to a ribbon made from recycled material.
RUGBY WORLD CUP MEDALS COMBINE BOLDNESS AND TRADITION
The Möbius strip that wraps around the Rugby World Cup 2023 logo on the front of the medal is a unique and continuous link connecting the players to the fans, rugby to society, and France to the world.
And because World Cup 2023 draws its strength from the regions of France, their uniqueness and specific characteristics, the ten host cities are represented through their very own signature.
The iconic Webb Ellis Cup featured on the back of the medal is the ultimate prize for every rugby player and has been awarded to the Rugby World Cup winners every four years since 1987.
It is named after William Webb Ellis, a student at Rugby School in England, who made sporting history in the autumn of 1823 by picking up the ball during a football match and running with it, flouting the rules in force at the time.
It was a disruptive action that defied the norms, and its 200th anniversary is being celebrated in 2023.
Bold yet traditional and combining nods to its history and avant-garde spirit, the medal embodies France and rugby at their strongest.
It is topped by a depiction of the Arc de Triomphe, the monument where the country celebrates its greatest achievements and the scene of unforgettable outpourings of joy.
ALSO READ: Springbok legend hands over Rugby World Cup trophy – PICTURE
KEY MEDAL PRODUCTION FACTS AND FIGURES
1 491 medals (gold, silver, bronze and participation medals)
206 000 used mobile phones collected
2 953kg of metal recovered from 31 tons of phones
138 phones to make each medal
220 participating clubs and organisations