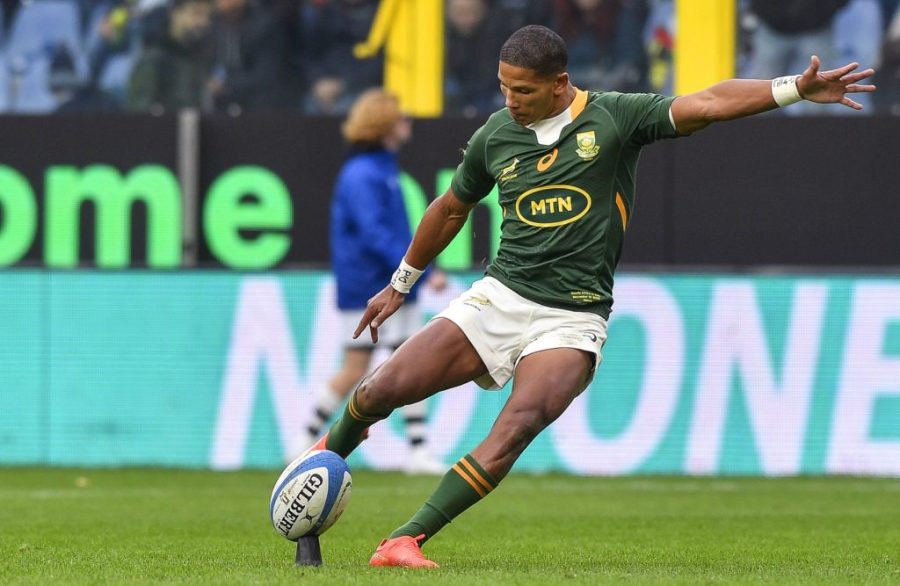 Springboks goal-kicking takes a risky turn
The Springboks are shaking things up with their risky Springboks goal-kicking strategy for their must-win Rugby Championship match against New Zealand. Ditching a recognized kicker in their starting lineup, the team will instead rely on Damian Willemse, Cheslin Kolbe, and Faf de Klerk to share kicking duties. ALSO READ: Springboks-All Blacks: Team line-ups, stats, facts and kick-off […]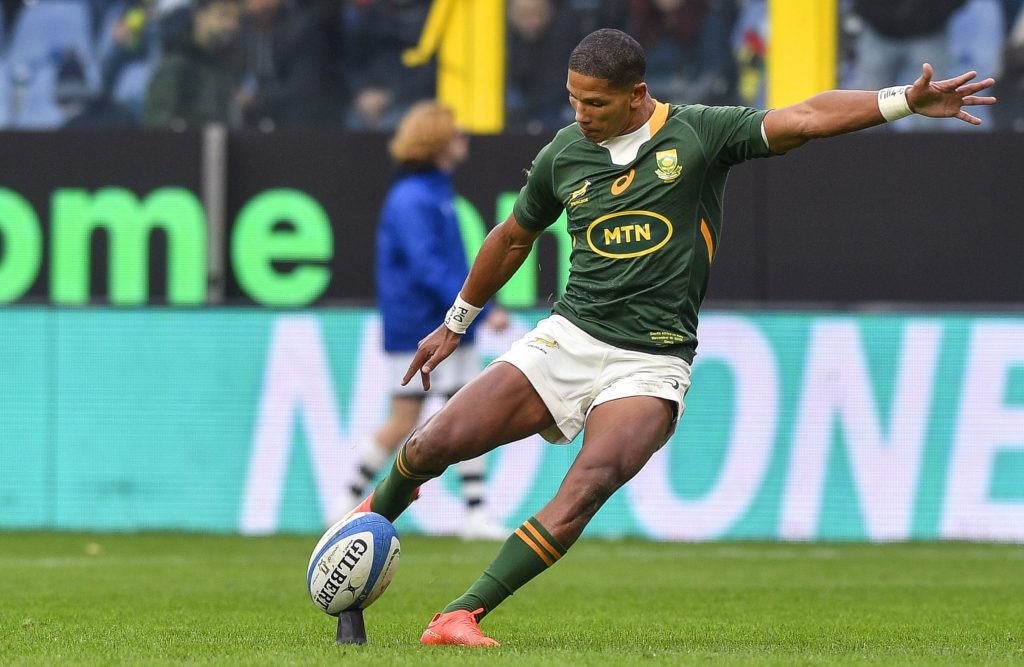 The Springboks are shaking things up with their risky Springboks goal-kicking strategy for their must-win Rugby Championship match against New Zealand. Ditching a recognized kicker in their starting lineup, the team will instead rely on Damian Willemse, Cheslin Kolbe, and Faf de Klerk to share kicking duties.
ALSO READ: Springboks-All Blacks: Team line-ups, stats, facts and kick-off time
Manie Libbok, a proven goal-kicker, will wait in the wings on the bench as insurance. This unconventional approach could have fans on the edge of their seats, wondering if it'll pay off or end in disaster.
A BOLD STRATEGY
Jacques Nienaber, known for his pragmatism, has chosen to gamble by selecting utility back Damian Willemse as the starting flyhalf in Handre Pollard's absence and Manie Libbok as his potential replacement. If Nienaber wanted a more reliable kicker, he would have had to start Libbok, who would be playing in only his fifth test, against the mighty All Blacks.
ALSO READ: BOKS, TJOPS & DOPS: Frans Steyn hangs up his boots
Going with experience means turning the kicking tee into a floating trophy between Willemse, scrumhalf Faf de Klerk, and winger Cheslin Kolbe, as was the case during last year's end-of-year tour.
ALSO READ: All Blacks reveal new-look side to face Springboks
South African fans worried about the Springboks goal-kicking strategy of facing the old enemy without a recognized kicker might feel uneasy knowing Nienaber has sounded rather casual about the whole situation, admitting they still hadn't named a kicker internally when announcing the team.
NIENABER'S APPROACH TO SPRINGBOKS GOAL-KICKING
Nienaber revealed they're considering several options for the goal-kicking role. "At the end-of-year tour last year, we said Damian Willemse, Cheslin, and Faf can kick for poles, so they're kicking for poles… We're measuring their training, their kicks at poles, and who's in good form and rhythm," he said. With input from assistant coach Mzwandile Stick, they'll decide who takes on the responsibility.
ALSO READ: Updated World Rugby rankings after Springboks and All Blacks win
A designated goal-kicker with a success rate above 80% is essential, as matches between the Boks and All Blacks are often determined by a few points. The Wellington fixture four years ago, for example, required a last-minute conversion by Pollard.
ASSESSING THE SPRINGBOKS GOAL-KICKING TRIO
In this Springboks goal-kicking strategy, Willemse, Kolbe, and De Klerk each bring distinct attributes to the role. Kolbe has a natural footballer's pure strike of the ball, while De Klerk's left-footed approach to kicking for posts is as cavalier as the rest of his game.
ALSO READ: Why Springboks didn't select superstar Arendse this week
Although frequently inaccurate, Willemse is the most practiced of the trio. Consequently, he is likely to be first in terms of kicking order. However, this could be risky, as Willemse has a habit of dropping his general play when his place-kicking is off.