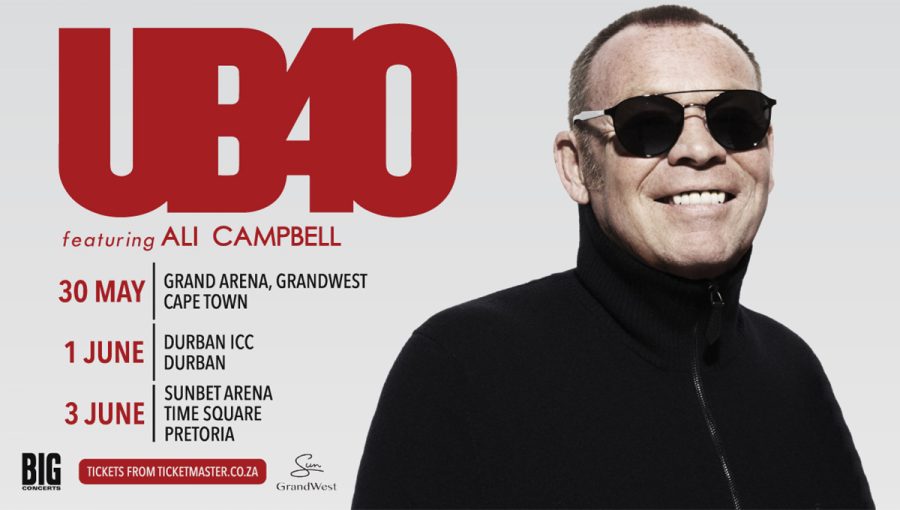 UB40 to Tour South Africa in 2023
Big Concerts International confirmed today that UB40 will be returning to South Africa in 2023. They will be performing in Cape Town on 30 May at Grand Arena, GrandWest, Durban on 1 June at the Durban ICC, and on 3 June at SunBet Arena, Time Square in Pretoria. UB40 Featuring Ali Campbell will add another […]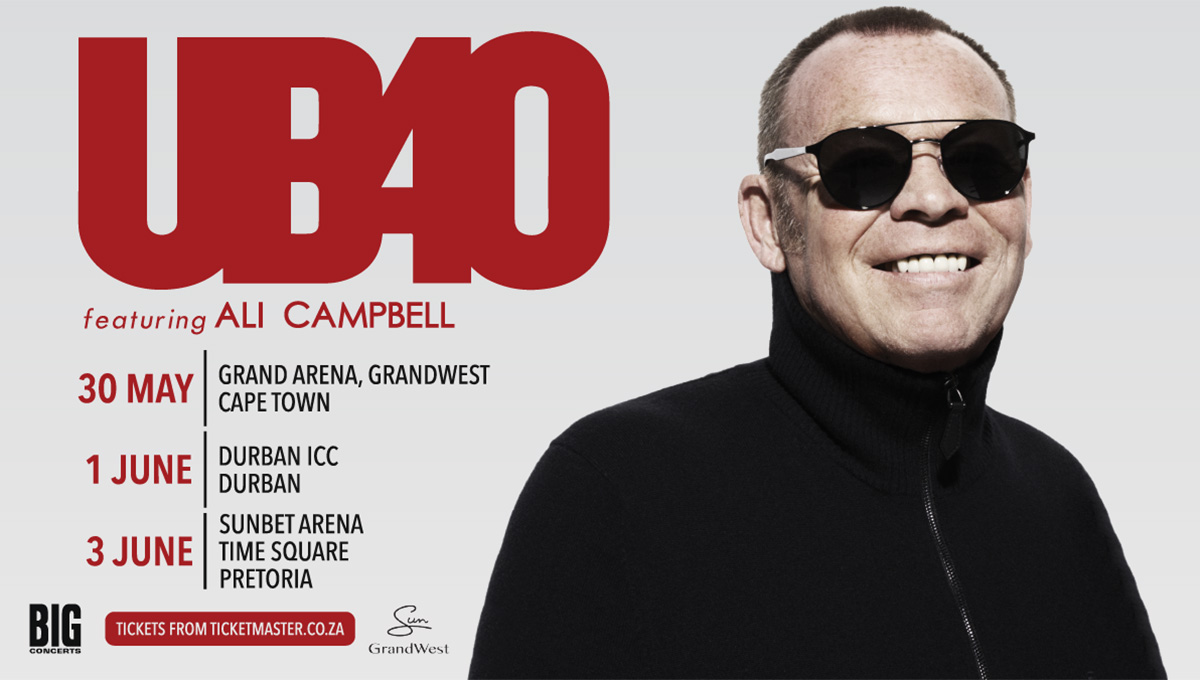 Big Concerts International confirmed today that UB40 will be returning to South Africa in 2023. They will be performing in Cape Town on 30 May at Grand Arena, GrandWest, Durban on 1 June at the Durban ICC, and on 3 June at SunBet Arena, Time Square in Pretoria.
UB40 Featuring Ali Campbell will add another chapter to a story that began in the Birmingham suburb of Moseley in 1979 when UB40, taking their name from the form given to individuals claiming unemployment benefit, started putting an indigenous British slant on Jamaican reggae.
After reaching number four in the charts with King / Food For Thought, the multi-racial band released their debut album Signing Off in 1980. During their career they have sold in excess of 70 million records and topped the UK singles chart on three occasions – with Red Red Wine in 1983; I Got You Babe (a duet between Ali and Pretenders singer and long-standing UB40 champion Chrissie Hynde) in 1985; and (I Can't Help) Falling In Love With You in 1993. Two of those hits, Red Red Wine and (I Can't Help) Falling In Love With You, also went to number one in the USA.
Lead singer Ali Campbell joined Birmingham singer and toaster Pato Banton to top the UK charts again with Baby Come Back in 1994. Paying homage to the songs that inspired them, UB40 also released three volumes of the Labour Of Love series, covering Jamaican standards such as Eric Donaldson's Cherry Oh Baby and Lord Creator's Kingston Town.
Ali is joined by his incredible 9-piece band and will be honouring long-time member Astro who sadly passed away in 2021. Whilst a handful of songs from the forthcoming album will feature alongside favourites from the Labour Of Love series, Ali is keen to include older numbers such as King (about the legacy of American Civil Rights leader Martin Luther King) and One In Ten (about unemployment in the UK) that are, unfortunately, as timely today as when they were first sung in 1980 and 1981. Ali says:
'We put King back into the set because it's so bloody appropriate. We wrote it 40 years ago, but it's still representative of what's happening in America. It's depressing that nothing has changed. It's the same with One In Ten in the UK. With the impact the coronavirus had on jobs, we could soon be looking at unemployment figures on a par with the early Eighties. Those songs will feature in a show we've been honing for the past 12 years.

'We'll always play the classics, like Red Red Wine and (I Can't Help) Falling In Love With You, but we like to change the beginning and end of the show. We'll play Lean On Me and maybe add three or four new songs. The band members are all fantastic musicians and we've climbed back up to the biggest venues in the past 12 years.'
WATCH UB40 perform RED RED WINE for Nelson Mandela's 70th Birthday Tribute Concert on June 11, 1988 at Wembley Stadium
The Discovery Bank pre-sale for the South Africa dates begin Wednesday 7 December at 9:00 AM local time through to Friday 9 December at 8:59 AM from www.ticketmaster.co.za. 
Tickets go on sale to the general public starting Friday 9 December at 9:00 AM local time from www.ticketmaster.co.za.