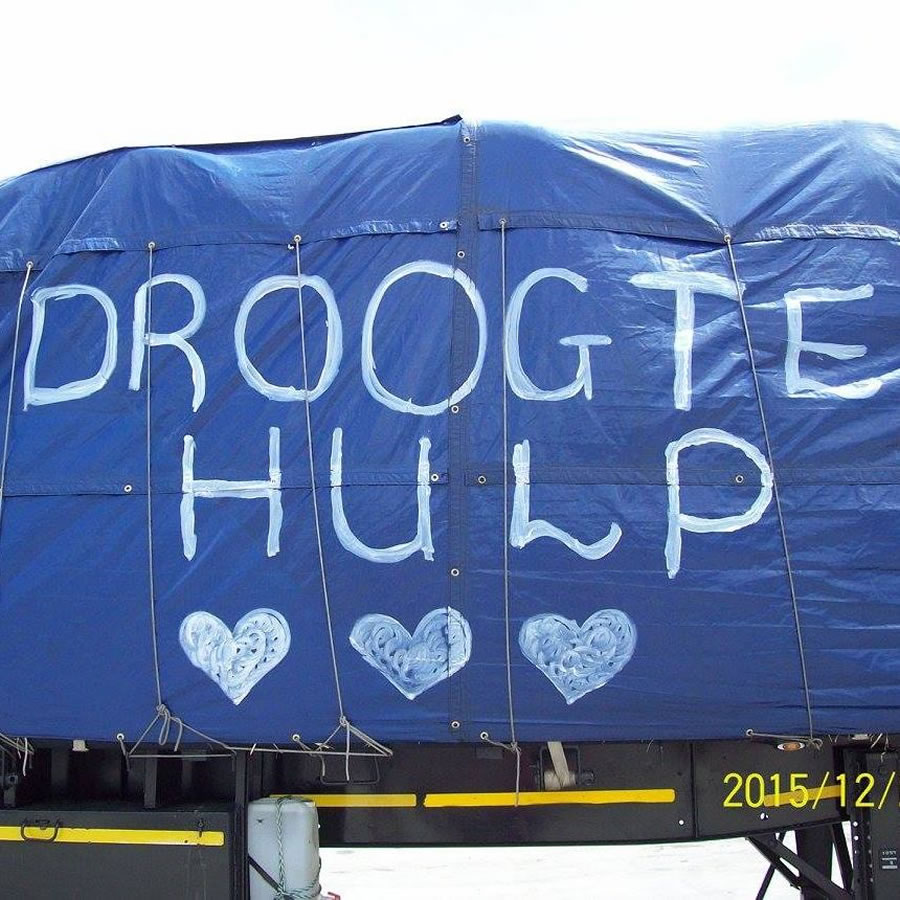 South Africa's Drought Angels Step Up
The vicious El Nino conditions of 2015 have created democratic South Africa's first truly devastating drought. Not since 1992 has so little rain fallen on the land. Never has our water supply infrastructure been so vulnerable. Six out of the nine provinces have been declared disaster areas. Just before Christmas, the Director-General of the Department […]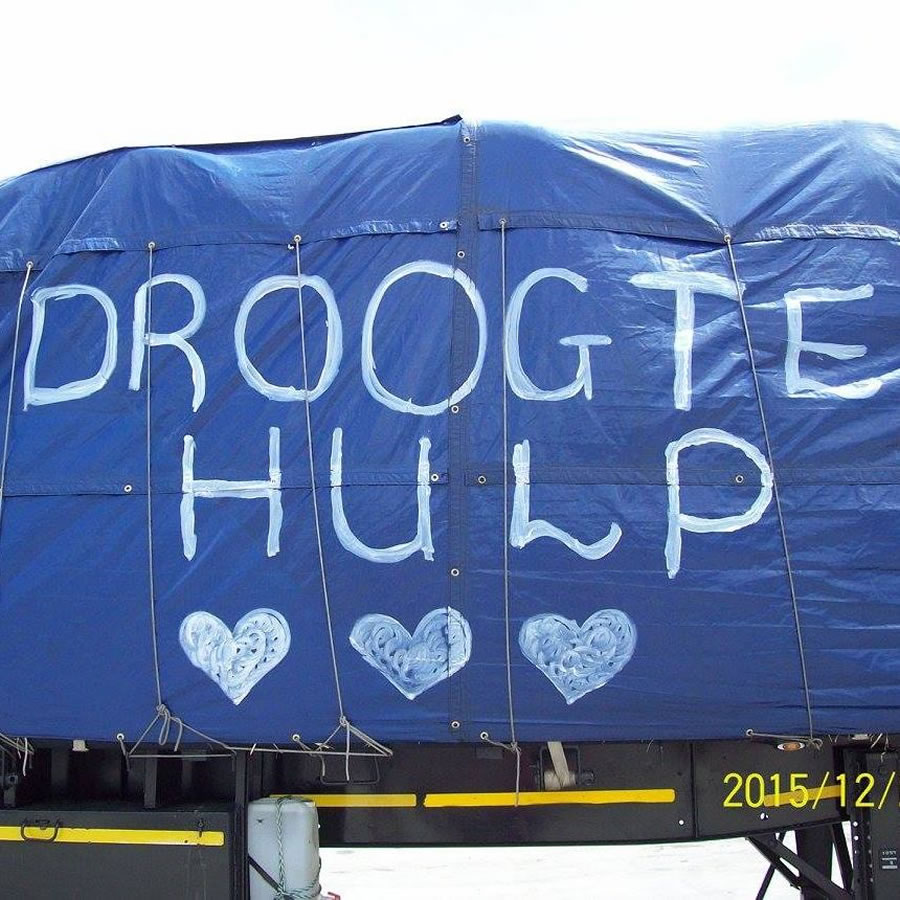 The vicious El Nino conditions of 2015 have created democratic South Africa's first truly devastating drought. Not since 1992 has so little rain fallen on the land. Never has our water supply infrastructure been so vulnerable.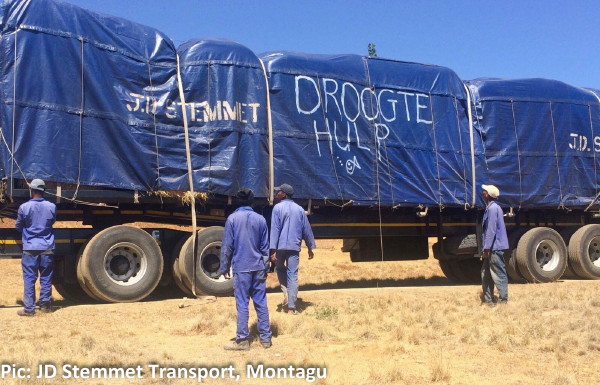 Six out of the nine provinces have been declared disaster areas.
Just before Christmas, the Director-General of the Department of Water and Sanitation authorised water to be released from Katse Dam in Lesotho after the Orange River stopped flowing at Aliwal North.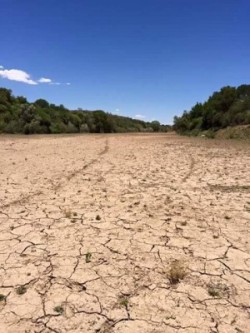 The heatwaves and unrelentingly blue skies have dam levels dropping by 1% a week, according to Water Department spokesman Sputnik Ratau.
In November, the Department called on South Africans to pray for rain.
Water quality is also plummeting. In November, the SA Institute for Race Relations published an article on the country's desperate problems with water quality in its journal, @Liberty.
Written by water specialist Professor Anthony Turton of the University of the Free State, it points out that the water shortage is also an 'induced' one.
"It stems from a lack of strategic planning, a loss of skills to 'transformation', and the fact that poorly functioning waste-water treatment plants are spewing close on 4 billion litres of untreated or partially treated sewage into the country's dams and rivers every day."
The raw sewage is creating blue-green algal blooms, and a substance this ancient algae exudes is called microcystin, a potent toxin that causes cancer as well as damage to the liver and nervous system.
But it is the sheer lack of water that has grabbed most of the headlines. The southern Free State town of Smithfield ran out of water completely in November 2015, and the army was called in with water tankers.
In December, the tinder-dry veld went up in flames near Zastron, devastating dozens of farms left without grazing for their surviving livestock. Half of the land was communal grazing land for emerging farmers.
South Africa's breadbasket is the Free State – and usually in midsummer you'd see maize and sunflowers stretching to the horizon. Now it is a dustbowl. Fences are disappearing under sand. There is nothing green anywhere, as a shocking drone video taken from Verkeerdevlei toll plaza shows.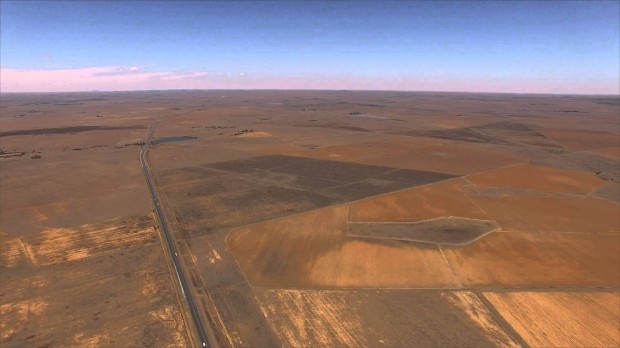 The drought is slashing the projected harvest of maize and other crops and South Africa will soon have to import – at the precise time that the rand-dollar exchange rate is at its weakest levels in decades. The price of maize has doubled in a year and is expected to increase further.
On 28 December 2015, a young farmer, Krisjan Kruger of Elliot in the Eastern Cape, committed suicide in despair over the drought.
Into this hot, dry and dusty hell, Drought Angels have appeared.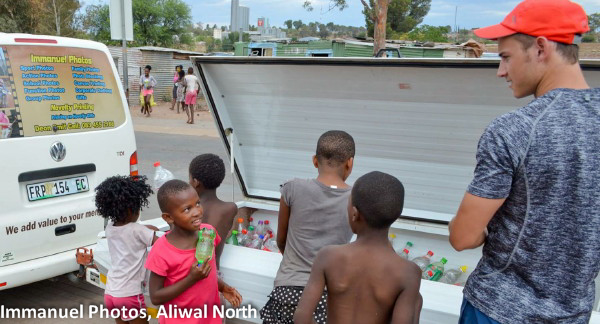 A South African Drought Angel is anyone who brings a measure of relief – in the form of bales of feed, diesel for trucks, a contribution to a central aid fund or a bakkie load of bottled water – to those desperately in need everywhere in the droughtlands: township dwellers, farmers and villagers alike.
The SA social media landscape is currently buzzing with a new and vast network of calls for help – and the many acts of kindness that follow.
World at Large, take note: this is the real South Africa at work.
A smallish trucking company called JD Stemmet Vervoer in Montagu, usually occupied with transporting fruit around the Koo region, was contacted by farmers from the Overberg area who wanted to donate lucerne and hay for the desperate Zastron farmers.
Within a few days of the fire in late December, JD Stemmet was trucking the badly needed feed across to Zastron – offsetting diesel costs by the transporting grain on the return trip.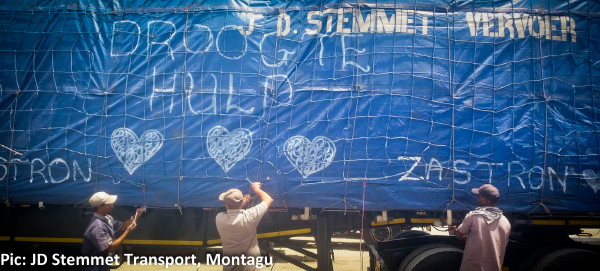 Photographs of the trucks, their tarpaulins emblazoned with hearts and the words "Droogte Hulp" went viral on Facebook.
Christa van Schoor of JD Stemmet Vervoer told Karoo Space: "You cannot believe how grateful these farmers are. We first cry for half an hour on the phone together and only then can we talk."
When Aliwal North ran out of water in December, the call went out for people to drop off bottles of water at the town's Total filling station.
The town of Cradock was one of the first to respond, with a young woman called Corne Mulder Gerber raising money for diesel to transport 800 litres of donated drinking water to the township of Aliwal North.
Deon Smit of Immanuel Photos in the town is helping to distribute water to those who need it most. "Even the smallest donations will be appreciated. The drop off point is the Toyota's Total Garage opposite the NG Kerk."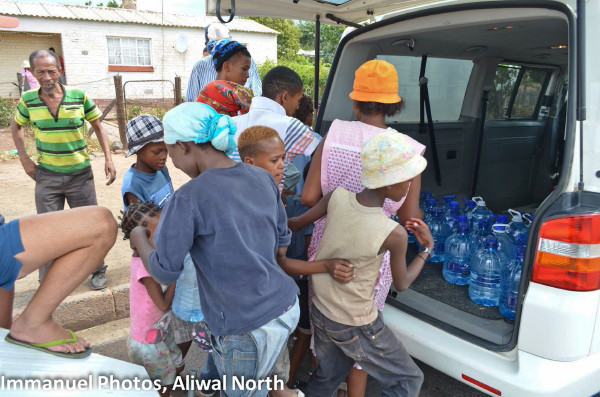 Water released from Katse dam is only expected to reach the town by 6 January 2016.
Meanwhile, a Facebook page was recently set up called Water Shortage South Africa, alerting motorists to towns that need water and listing the depots. Apart from Aliwal North, other dry towns include Colesberg, Hoopstad, Bethlehem, Postmasburg, Maclear and Newcastle.
Any water donations are welcome, even if the water is more suited for washing and flushing.
"You can survive without electricity, but not without water."
Corne Mulder Gerber is now collecting water to be sent to Colesberg. "I'm doing it because so many are suffering. You can survive without electricity, but not without water."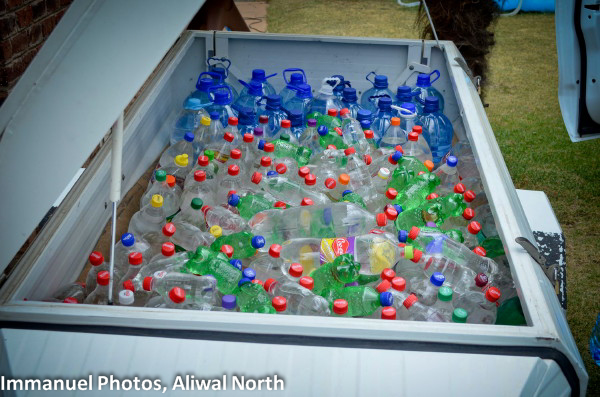 One of the biggest drought outreaches for farmers is being coordinated by an organisation called Boere in Nood/ Farmers in Distress. It was set up in November 2015 by farmers NC Schoombee and Nico Gerber. Their Facebook page gains thousands of followers every few days.
Boere in Nood are linking donations of feed and transportation with farmers who need it.
"A thousand farmers have already contacted them for help…"
Volunteer Carina Swartz explained that when farmers contacted them, they were asked to fill in an application form. A thousand farmers have already contacted them for help, and Boere in Nood are working on a first-come-first-served basis.
"We hear the most desperate stories and see heartbreaking images. But whether a farmer's land has been scorched by the sun or by fire, the effect is the same. We cannot prioritise some above others."
The farmers are being sent ten big bales of lucerne or hay each.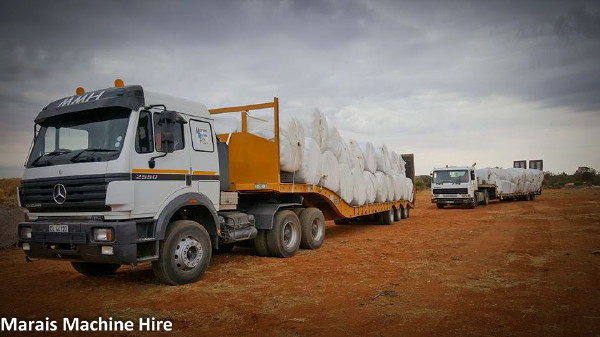 So far, the southern and western Cape farmers have donated the most feed, with Riversdal communities being particularly generous. The NG Kerk there donated their entire collection on Christmas day to buying 1,000 litres of diesel to help Boere in Nood. Farmers there have also donated many tons of feed.
"I go to bed happy, satisfied, knowing I have done something to help people. But I also go to bed scared as hell…"
"We use the funds we receive to buy fuel and bales of feed where the donations fall short," said Carina. Like the five other people at Boere in Nood, she has been working 12 to 15 hour days for the past six and a half weeks, Monday to Sunday.
"I go to bed happy, satisfied, knowing I have done something to help people. But I also go to bed scared as hell. Scared we'll run out of bales, out of funds, that we won't be able help all the people who need it.
"We don't get paid for this. I think we are paid in blessings. Nico and NC are amazing. I'm just helping – doing what God expects me to do."
HOW YOU CAN HELP DROUGHT-STRICKEN SOUTH AFRICAN FARMERS
To help Boere in Nood, donate money to their First National Bank account number 625 229 860 43, branch code 250 655. Otherwise email them on boereinnood@gmail.com if you have feed you can donate, or if you can help with fuel or transport. Donations from outside the country can be made to a Paypal account – nc.schoombee@gmail.com.
Contact Deon Smit of Immanuel Photography on 083 455 2166 if you can help Aliwal North.
Find the drop-off points for various towns you might pass through and help with bottles of water via the Water Shortage South Africa facebook page.
Agri-SA has started a drought fund. Find out more or donate via http://www.droogterampfonds.co.za.