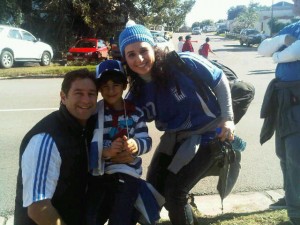 Greeks, drums and vuvuzelas
Submitted by Jimmy, from George in Port Elizabeth Hi everyone, Over the past weekend 12 of us from the Greek community of George drove through to P.E. to watch a soccer match between Greece and Korea. Other than the fact that we were beaten and that Greece played a terrible game, it was an experience […]

Submitted by Jimmy, from George in Port Elizabeth
Hi everyone,
Over the past weekend 12 of us from the Greek community of George drove through to P.E. to watch a soccer match between Greece and Korea. Other than the fact that we were beaten and that Greece played a terrible game, it was an experience of a life time.
We arrived on Friday and went straight to the Greek centre.  Everything was beautifully organized.  Everyone was wearing blue and white and then there were those who really added to the excitement by going all the way and wore the Greek flag in different ways and had painted faces, painted cloths or overalls and there were Greek flags everywhere to be seen.  It was really a beautiful sight. Everyone at the centre walked down to the stadium together.  Tremedous spirit.
The community of Port Elizabeth can be truly commended for their fantastic performance which carried on from Friday morning and ending with bouzoukia very late on Saturday evening. The spirit was wonderful.  I cannot imagine what it would have been like had Greece won. Let's hope the next games will be successful.
At the stadium, about 7 of us had seats in the front of a whole block booked out with Koreans and were sitting a few seats away from their two drummers.  I never realized how loud drums could be beaten.  We were wearing ear plugs but my ears still feel sensitive.
A Greek supporter, who we did not know, did a fantastic job of being a cheer leader for the few of us.  He did not stop for a moment and was an absolute delight to have around.  He was so enthusiastic that when we left the stadium and I had taken out my ear plugs I saw him coming towards me, I stopped him to congratulate him on doing so well.  He grabbed me and kissed me on the cheek and screamed something into my ear which hurt so much, then he pulled me away and kissed me on the other cheek and did the same into the other ear.  I swear that his decibels were twice the level of the vuvuzelas and I really cannot tell you what he said to me. My ears are still sensitive, but he poor guy was so enthusiatic that I could not but admire him.