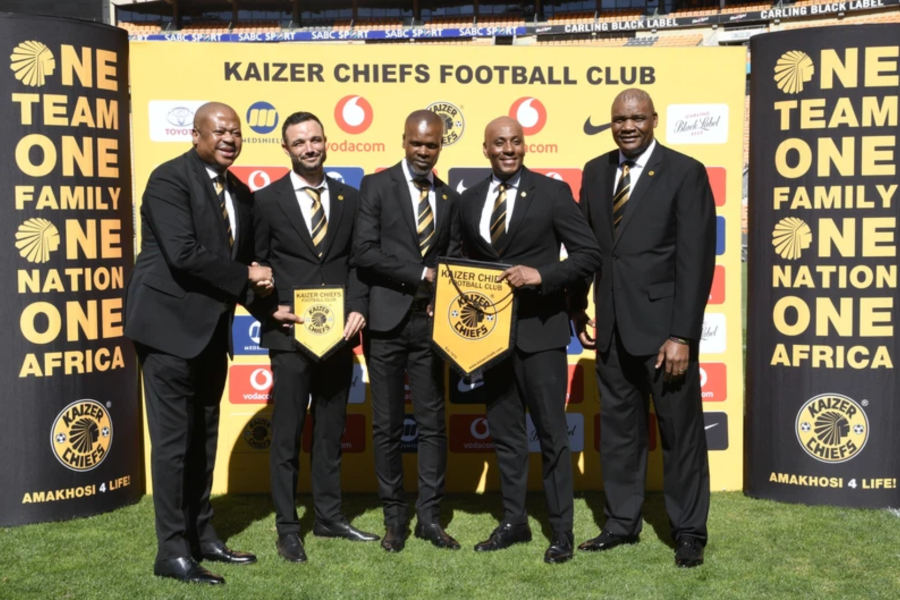 Kaizer Chiefs: Plan to change coaching structure
Kaizer Chiefs are reportedly planning to change their coaching structures next season, in what was already their initial plan. READ | PERCY TAU ATTRACTS DUTCH TOPFLIGHT INTEREST Chiefs installed two young coaches in Arthur Zwane as head coach as well as Dillon Sheppard as his assistant at the start of the season, but to little success. READ | KAIZER CHIEFS REIGNITE INTEREST […]
Kaizer Chiefs are reportedly planning to change their coaching structures next season, in what was already their initial plan.
READ | PERCY TAU ATTRACTS DUTCH TOPFLIGHT INTEREST
Chiefs installed two young coaches in Arthur Zwane as head coach as well as Dillon Sheppard as his assistant at the start of the season, but to little success.
READ | KAIZER CHIEFS REIGNITE INTEREST IN 30 GOAL SEASON STRIKER
Both Zwane and Sheppard have overseen a season of indifferent results for Chiefs, with the club once again, failing to end their seven-year trophy drought nor qualify for any tournaments on the continent next season. One top of that, the duo also saw the club slump to its record 12th loss in a Premier Soccer League era.
READ | The Special Olympics, why you should care
That has prompted many a complaints from Chiefs fans, with a great number of them now starting to call for the head of Zwane. Concerns have been raised over the inexperience of the duo, now but even when they were appointed and now over the course of the season, those fans may feel that their complaints were justified.
READ | Four Sundowns players honoured by CAF
It is now also revealed that Chiefs themselves also knew that Zwane and Sheppard are a relatively inexperienced duo, and had wanted to give them some senior guidance to begin with. Now according to Soccer-Laduma, Amakhosi had contemplated roping in Molefi Ntseki into that role, but the former Bafana Bafana mentor refused.
NTSEKI TURNED DOWN SENIOR COACH POST AT CHIEFS
"He was offered a senior coaching role where there are two coaches and he oversees them, similarly to what they did with (Steve) Komphela at Sundowns but he told them he is fine with the development structures. Chiefs have been trying to bring in an extra coach. It's not a new thing. It's new now because results haven't been coming. It's Zwane's first season and as much as he has done well, he still needs to learn a lot" said the source to the same publication.
READ | Mamelodi Sundowns Ladies regain top spot
With the pressure that has been exerted on to Zwane, it would make even greater sense to appoint that senior coach heading into the next season. If Chiefs really still believe in the long-term vision under the club legend, but also acknowledge the pressure from the fans, then this could be the best solution to shield Zwane from the immediate heat of the job.
This article was originally published by Yolulwe Qoshe.