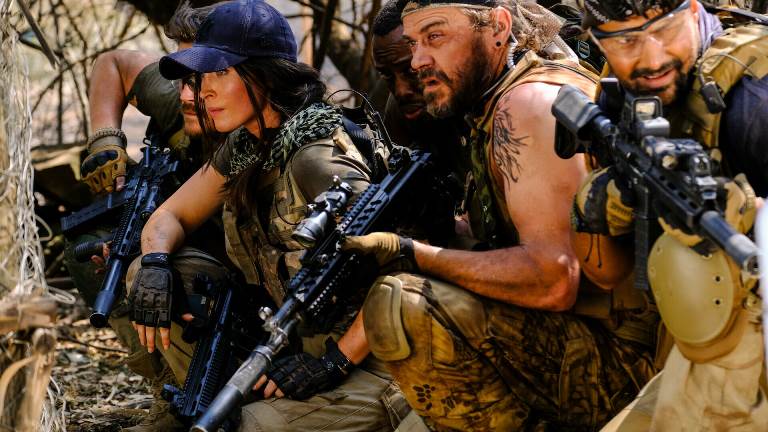 Meet Brandon Auret, South Africa's Toughest Screen Soldier Stars with Megan Fox
A team of mercenaries plunge into a rural part of Africa, rescuing a hostage from ruthless terrorists. They make quick work of the bad guys until their extraction helicopter is shot down during the firefight. The team treks to a nearby site to await rescue, but stumbles across something much worse: a rogue lion with […]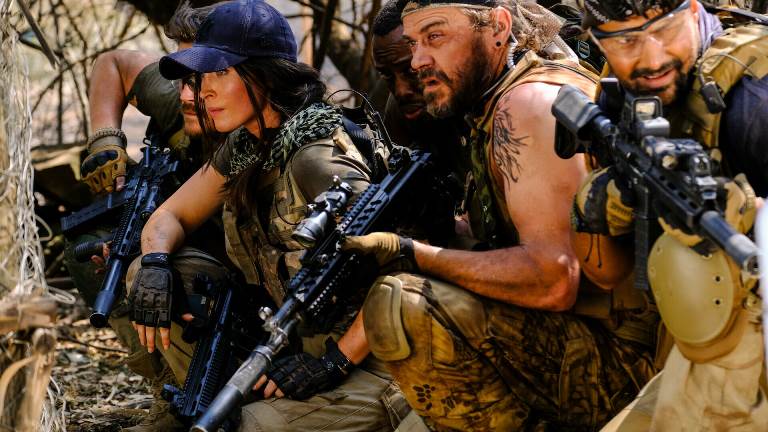 A team of mercenaries plunge into a rural part of Africa, rescuing a hostage from ruthless terrorists. They make quick work of the bad guys until their extraction helicopter is shot down during the firefight. The team treks to a nearby site to await rescue, but stumbles across something much worse: a rogue lion with a taste for human flesh…
The new movie Rogue, starring Megan Fox, is a return to the genre where people face off against dangerous wild animals. Continuing the tradition of films such as The Grey and Jaws, Rogue also takes a leaf from another famous entry to this genre: The Ghost and The Darkness. It's written and directed by MJ Bassett, who previously crafted horrors Solomon Kane and Silent Hill: Revelation; she also created the wildlife horror movie Wilderness.
https://youtu.be/hVLsHEO2Mig
Having fun with Megan
Shot partially in South Africa, Rogue also reunites Bassett with Brandon Auret, the South African actor who starred in her film Inside Man: Most Wanted. In Rogue, he returns to familiar territory, playing a former Recce who joins Megan Fox's band of rescuers. 
With Rogue now streaming on Showmax, Auret chatted to us about the movie, and about how he went from early roles in Zet and Isidingo to being one of South Africa's favourite screen soldiers.
"Rogue is an action-packed film that's laced with underlying stories and aspects," he says. "But it's not just an action movie – it also deals with canned lion hunting. What I loved is that it's told in a way that it's not in your face. If you take away the secondary story of the lion-hunting, you'll still enjoy a really good action film that's filled with Megan Fox."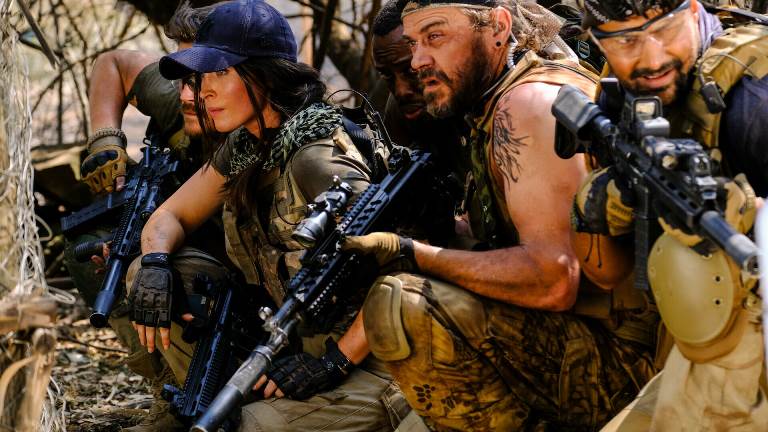 Rogue has been in the works for a while. "MJ and I started speaking about this film when I shot Inside Man 2. And she said to me, 'Look, you know, it's not the typical hardened soldier character. He's got to have a little bit of a sense of humour. He's a tough ex-Recce, and in the story he's there to be Megan Fox's character's guardian angel. She takes care of everyone and he takes care of her." 
It's not surprising that Auret looks so natural and relaxed in the role – after all, it's not his first time behind a gun. Some of his biggest international roles have been in Neill Blomkamp's futuristic actioners District 9, Elysium and Chappie. 
Is he worried about being typecast? "I don't know how many more times I can play a Recce or a soldier without trying to, you know, break away from the characters and stuff like that. But in this particular film, it was nice to play a soldier who had a lighter side," he says. 
Back to the beginning
It's no surprise he's so at home in action movies – after all, it was classic action films that first convinced him that acting was his calling. "You must be careful what you wish for," he jokes. "In 1986 when I watched Rambo for the first time, I knew those were the films I wanted to be in. But it was Return of the Jedi that made me want to be an actor. I watched it at my friend's house in Standard Five. I said to him, 'I want to be that.' He said, 'You can't be a Jedi' and I said, 'No, I want to be an actor.'" 
By the early 2000s, he'd become well-known for his role as Leon du Plessis in long-running local soapie Isidingo. Yet his career started long before that, at age 10, and – as unlikely as it may seem when you see him toting a huge gun on-screen – Auret spent several years in stage musicals before heading to other mediums: 
"I did musical theatre for seven years of my life. I was in the Buddy Holly Story and toured with that for three-and-a-half years. Before Isidingo, I was out there doing what I needed to do. When I was at Pretoria Tech I studied drama, but in my spare time I was doing tap-dancing, I was doing jazz and I was auditioning for the musical stuff. I'm like, bring it on, Hugh Jackman!" 
Believe it or not, this gun-toting soldier also did a long stint on Zet, that popular 80s kids' show. And he might not have played a Jedi – yet – but he has acted alongside some of the biggest names in Hollywood: Matt Damon and Jodie Foster in Elysium; Hugh Jackman in Chappie, and of course, Megan Fox in Rogue. 
"It's been the craziest adventure for me. I've been very blessed with the opportunities to do the kinds of films I've done, and work with the people I have. I count my blessings. Not many people get that opportunity and I'm very grateful for it," he says.
Built for action
When he's tucking and rolling and expertly handing his weapon, it's not all acting for Auret, but based on some solid life experience. "I did national service in 1991," he recalls. "That's the reason the armourers love me so much," he jokes, referring to the person on a film set responsible for all the weapons. "That sealed the deal for Neill, I think. When I auditioned for District 9, I was up for one of the big roles, and the fact that I had military training really helped. When we did those scenes, I was in heaven because I grew up around guns and hunting and those kinds of things. I'm comfortable around weapons and loud noises."
Being comfortable in tough circumstances is useful when you are shooting in the hot South African bushveld. Fortunately, the star of the production – Megan Fox – was an absolute charm to work with: 
"She's really one of the coolest people I've worked with," he says. "She's got a dark sense of humour. And she's open to conversation and chilling with us 'non-celebrities', which is cool. I had some really, really great scenes with her. Some of our scenes that were a little bit more intense actually turned out to be quite comical." 
Alongside SA's best
Yet Auret's career also includes serious drama roles, and he had a supporting role in the award-winning Still Breathing, the drama that he regards as the best show yet made in South Africa: 
"It hit every aspect of what a good series should be. The magic was the unity that they created because everybody was there to do what they needed to do. It wasn't about ego; it wasn't about who was better than anybody else. It's as close to a perfect series as we've ever had in SA, and I hope they get a season two. I really do! They deserve it. And they did it on a tiny budget. You can make things happen when you've got the right people in place."
Look after SA's talent
This year has been particularly tough on actors everywhere, and Auret firmly believes that the industry should do more to look after its actors. Counting himself very lucky, Auret is semi-retired from acting – although he assures us he'd definitely answer if MJ Bassett called! – and lives on an Eastern Cape farm with his family.
If shooting a movie about a rogue lion on a rural farm made him think twice about his new lifestyle, he's not saying! 
Watch Rogue and Still Breathing on Showmax. Subscribe from R49 per month »
MTN subscribers can get Showmax Mobile plus 1GB for just R49 per month. That's 10 hours to stream your favourite series, movies, kids' shows and more. Find out more »