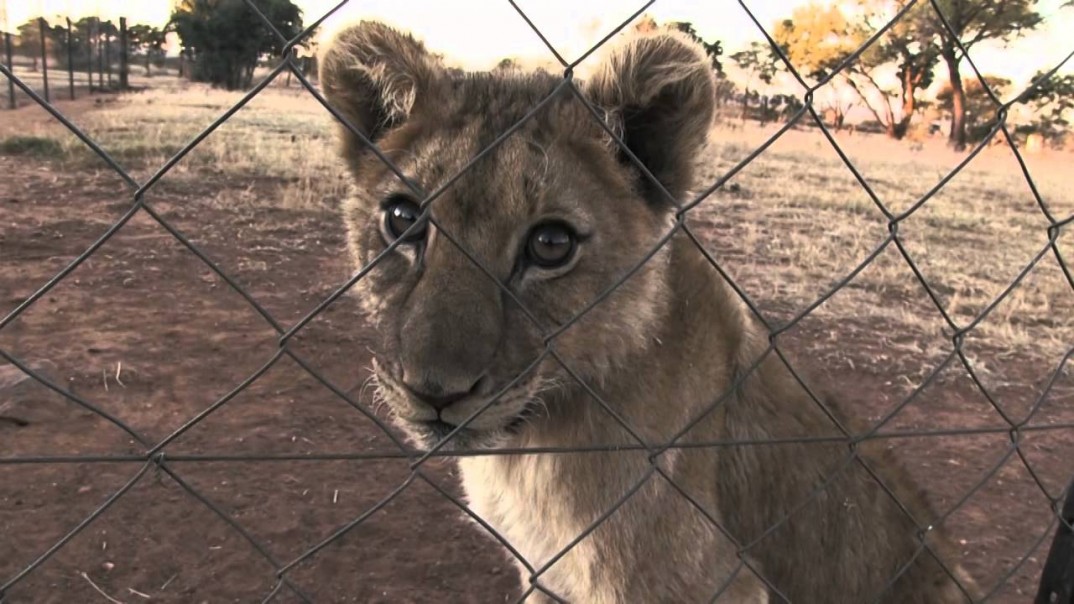 Heartbreaking Footage as "Blood Lions" Exposes Cub Petting & Canned Hunting Industries
The official trailer for "Blood Lions", an explosive documentary that claims to expose "the terrible truth" behind the breeding of lions and the canned lion hunting industry in South Africa, has been released today. (See below.) Previously two short teasers were uploaded to YouTube with one showing how visitors to petting zoos and parks, who pose happily […]

The official trailer for "Blood Lions", an explosive documentary that claims to expose "the terrible truth" behind the breeding of lions and the canned lion hunting industry in South Africa, has been released today. (See below.)
Previously two short teasers were uploaded to YouTube with one showing how visitors to petting zoos and parks, who pose happily with cubs, are obliviously taking part in a process that leads to these tamed lions being shot dead by hunters…
The other shows the horrific moments after a "canned" lion, resting peacefully in the bush, is shot without warning. (The bullet enters the side of the lion at about 35″.)
According to the filmmakers, "Blood Lions" blows the lid off the "brutal" canned lion hunting industry in South Africa and is a compelling call to action to have these practices stopped. "You have the power to stop lions being bred for the bullet," they say, with links to their website which provides steps that everyone around the world can take to get involved in ending this practice.
[quote_center]"You have the power to stop lions being bred for the bullet."[/quote_center]
There are reportedly at least two to three captive bred or tame lions being killed in these "canned" hunts on a daily basis in South Africa, the only country apparently where lions are bred for commercial reasons. Hundreds more lions are allegedly slaughtered each year for the lion bone trade. (Bloodlions.org quotes the annual figure as having risen from 287 in 2010 to over 1,000 as lion bones are being used increasingly to replace tiger bones in traditional Chinese medicine.)
According to the Blood Lions website, "almost 8 000 predators are being held in cages or confined areas, and none of this has anything to do with conservation. If we don't act now, that number could well be over 12 000 within the next few years."
The "Blood Lions" Facebook page encourages users to contact tour operators and lion cub petting facilities who may not realise how they are directly or indirectly feeding the canned lion industry.  "Remember that not everyone knows this story," they say.
Rovos Rail Message on Predator Petting and Canned Lion Hunting
Proving the point, just under a week ago (on 9 July) Rovos Rail, a renowned tour company in South Africa with the "most luxurious trains in the world", published the following message:
"After recently learning about the consequences of predator petting, a practice that we are embarrassed to say we did not know was so harmful, we have discovered and been educated on the very dark world of canned lion hunting.
"We spoke to Pippa from Blood Lions, which is a documentary made specifically to highlight this inhumane trade and the mantra is 'no petting, no trading, no breeding'. We also now know the right questions to ask wildlife rehabilitation centres: "where do the cubs come from/where are they being released?" If there is no straight answer then there is an agenda.
"One way to be an ambassador is to educate others so please visit the Blood Lions website to learn more and to get involved. We still have a way to go but would like to thank everyone for bringing this to our attention."
The 85-minute documentary follows Ian Michler, a South African conservationist, and Rick Swazey, an American hunter, on their journey to the heart of the predator breeding and canned lion hunting industry.
"Blood Lions", directed by Nic Chevallier and Bruce Young, will premiere at the Durban International Film Festival which kicks off tomorrow. Screenings of the documentary are scheduled for 22, 23 and 24 July.
Watch Video: BLOOD LIONS OFFICIAL TRAILER 2015
"The Official trailer for Blood Lions, a documentary that exposes the terrible truth behind the predator breeding and canned lion hunting industries in South Africa."
[vc_button title="Get Involved – Blood Lions Website" target="_blank" color="default" size="size_large" href="http://bit.ly/1I2PRtm"]
MORE
Read what Kevin Richardson (The Lion Whisperer) says about petting lion cubs.