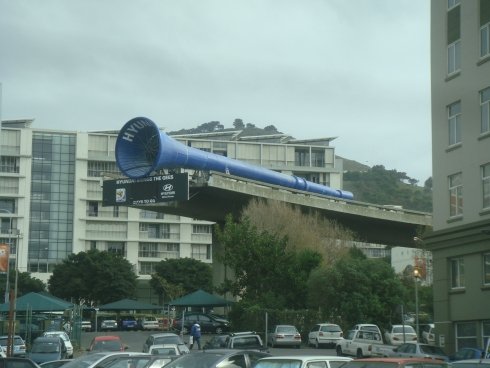 The World Cup is almost upon us. And maybe you're not really a football (or soccer) fan. Or you've been living outside South Africa for so long you've never heard of a vuvuzela. So, here's a quick World Cup for Dummies guide to help you navigate your way through the next month.
1. So what is a Vuvuzela and what's the fuss?
It's kind of an ear-shatteringly loud plastic trumpet. Coined South Africa's "secret weapon" by many in the international press, it sounds like an elephant when you're up close, or a swarm of VERY angry bees when you're sitting in a stadium crammed full of excited fans ALL blowing on them. With gusto!
It's used to excite the blower's team…and distract the opposition.
FIFA considered banning them, but decided against it as long as it's not used as a weapon. (The same goes for the "kuduzela" – a similar trumpet but in a kudu horn shape.)
"The vuvuzela is a true representation of what African culture is about, and what African culture is," said Issa Hayatou, the president of the Confederation of African Football.
Although the noise can be unbearable (reaching a reported 131 decibels!) with players and coaches often unable to hear each other, South Africans are hugely loyal to the vuvuzela that's become a symbol of so much more than just a football trend. It's become a symbol of hope and rejoicing in the Rainbow Nation.
Want more info about vuvuzelas? Click here.
2. What's the Diski Dance?
South Africa's Diski Dance is a fab jive that features township football style moves transformed into dance. "Diski" is slang for football, and this dance was created especially for the World Cup.
"The whole idea was that we needed to come up with something that is truly South African," says Wendy Ramokgadi, choreographer of the dance. "Our country's football is rhythmic, and so all the moves that we use in the dance are those same moves that are used on the South African football pitch, moves you can only find in our country.
"The Diski Dance is one of the things I am most proud of, I really am excited about it," says Ramokgadi. "When these people come to our country, let them come and feel the rhythm of Africa. We must just work, wear, eat, sleep the Diski Dance."
Watch the video from South African Tourism to see it in action:
httpvh://www.youtube.com/watch?v=kMlKb1npzQ0
And now learn the Diski Dancing Steps yourself (everyone else is!)
3. Then what's the Waka Waka?
Well, that's being touted as the 'official dance' of the World Cup and it's also pretty cool. It happens to also be the official World Cup song, performed by Shakira and featuring fab SA band Freshlyground. Full song title is: Waka Waka (This Time for Africa).
Waka Waka is a Cameroon term for 'do it' (as in 'perform a task') although others say it's a Swahili verb that means shine. The song was originally from Cameroon…
Here's the Waka Waka, performed live in Soweto at the World Cup Kickoff Concert:
httpvh://www.youtube.com/watch?v=lAGU9lxLp28
And to learn the Waka Waka song moves – watch here:
httpvh://www.youtube.com/watch?v=Bk8k-Fv1ZiQ
Click here for more about the song, Shakira and Freshlyground.
4. Why's the SA squad called Bafana Bafana, and who's in the team?
Bafana Bafana means "the boys, the boys" in isiZulu. It's a term that was yelled out by jubilant fans during the team's triumphant performance at the 1996 African Nations Cup. And the name stuck.
The team's coach is Carlos Alberto Parreira. He's a Brazilian who once led his own country to World Cup victory, in 1994.
Sadly SA is one of the weakest host teams in the history of the World Cup, ranked only 83rd, and the team has been ridiculed more than praised in previous years for its bad performance BUT things are turning around. With the mounting excitement around SA hosting the World Cup, and Parreira's choice of a mainly young, fast team there's renewed pride and hope in Bafana Bafana. And in recent matches – they've been winning!
So get behind the boys – we've got some great big pics of each player and just the briefest of info on each one to help you blag your way through any match: meet the Bafana Bafana Team
5. Which are the Top 20 teams and where does Bafana Bafana stand in the FIFA Rankings?
Hmmm. This is where your team REALLY needs you. Bafana Bafana are ranked 83rd (see above). The good news is that's 7 places better than where we were until recently: 90! The not-so-great news is that the other teams in our Group are: France (#9), Uruguay (#16) and Mexico (#17).
Here's the top 20:
1 – Brazil; 2 – Spain; 3 – Portugal; 4 – Netherlands; 5 – Italy; 6 – Germany; 7 – Argentina; 8 – England; 9 – France; 10 – Croatia; 11 – Russia; 12 – Egypt; 13 – Greece; 14 – USA; 15 – Serbia; 16 – Uruguay; 17 – Mexico; 18 – Chile; 19 – Cameroon; 20 – Australia
6. Who's Zakumi?
Um, official mascot of the 2010 FIFA World Cup…but so far not really inciting the kind of excitement and support he's meant to.
He's apparently a party "animal" (being a green-haired leopard and all) and has been launched as "the mascot with an attitude" who'll turn the World Cup into a huge party and show the guests the warmth and spirit of Africa.
He loves football (of course) and is named Zakumi after ZA (for South Africa) and 'kumi' (which translates into '10' in various African languages) – South Africa '10 (get it?).
In his biog it says he has "one striking weakness". The weakness? He uses up so much energy that he requires frequent (short) rests, and can suddenly fall asleep at random moments. But so far – he seems to have been snoozing too much.
7. What's a Jabulani?
It's the official ball of the 2010 FIFA World Cup and it's the Adidas Jabulani ball to be precise. It's been created with 'scientific excellence' – the main essence being that while a normal ball has 32 hexagonal panels,  the Jabulani has only 8 (yup, eight) panels! That's even less than the 14 which featured at the last world cup. This great 'improvement' has been criticised by many – with some teams (hmm, England?) hinting that perhaps that's why the ball is slipping out of their goalies' hands.
Jabulani is an isiZulu words meaning 'to celebrate' and the meaningfulness doesn't end there. There are 11 colours used on the ball – to symbolise the tribes of SA (11) and the number of players in a football team (yes, 11).
And now that you're acquainted with the Jabulani – make way for the Jo'bulani – which will grace the World Cup Match Final – it boasts a golden colour scheme to match the trophy and  in honour of Johannesburg – the City of Gold – where the Final will be held.
To buy a ball or read more, click here.
8. What's a Makarapa
Another uniquely South African accessory! It's a very colourfully decorated and elaborate plastic hard hat that fans wear on their heads, and that was created for…safety!
Alfred Baloyi (51), a very talented artist, created the makarapa years ago after watching a bottle flying through the air at an unruly match in Soweto.
"We used to go to the stadium without wearing anything on our heads and it was dangerous," he said. "I realised that these hard hats could protect me."
They're called 'makarapa' because that's isiXhosa for the migrant workers who wore hard hats in mines.
Nowadays most fans adorn the makarapa to immerse in the festive atmosphere at matches, and they're as vital as the vuvuzelas.
9. Oops. What are the words to the anthem? I'm feeling VERY patriotic and I want to sing along!
The anthem's called Nkosi Sikilel'iAfrika and you can print out a very easy-to-learn PDF of the words and then watch the video below and sing along!
httpvh://www.youtube.com/watch?v=qXKur2FAN7g
10. Help! I'm an expat – where can I stay?
There's some VERY cool campus accommodation available (with great facilities and the perfect way to watch the entire tournament).
Or use SouthAfrica.info's site to find:
11. Now I'm really excited. What's the match schedule?
Download it from MediaClubSouthAfrica here. (PDF, 2.3mb)
12. And when is South Africa's first match?
Friday 11th June (yes, THIS Friday!). 16:00 (or 4pm). Soccer City, Johannesburg. South Africa will be playing in the World Cup's opening match, against Mexico. Don't miss it!
UPDATE: Well done Bafana Bafana! Result: a draw: 1-1. Watch Bafana Bafana's FABULOUS goal!
14. So when's South Africa's NEXT match?
Wednesday 16 June. At Tshwana/Pretoria. Against Uruguay. It'll be the 17th match of the 2010 World Cup.
15. Where can I watch the Games from outside South Africa.
Check out overseas venues here. If you'd like to add a venue to this list – please contact us at admin@sapeople.com
16. Anything else I need to know?
Well, you should fly the flag for South Africa as much as you can! And if you want to wish Bafana Bafana good luck – you can send a personal message to the team here. Other than that, you could impress your friends with 80 pieces of World Cup Trivia…or just sit back, blow on that vuvuzela and enjoy the games!