Oh man. Wish we could have won the match – but a draw is better than a loss! The match in question is of course South Africa vs Mexico in the opening match of the FIFA World Cup 2010 at Soccer Stadium, Johannesburg today (11 June). Final score: 1-1
Watch the video of the goal and Bafana's celebratory dance:
httpvh://www.youtube.com/watch?v=NWEM4M4trto&feature=player_embedded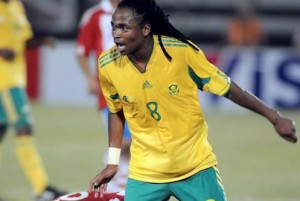 Our man of the match:
Siphiwe Tshabalala (#8): he's our STAR who scored South Africa's brilliant goal! Tshabala is 25, plays for Kaizer Chiefs and this was his 50th international game. "It was the highlight of my career!" said Siphiwe, after the game.
Siphiwe is one of the most innovative and impressive of the Bafana Bafana players. He played for SA when he was only 20, receiving the call just eight months into his professional football career. He's a speedy winger and a danger man in attack.
And we couldn't have done it without: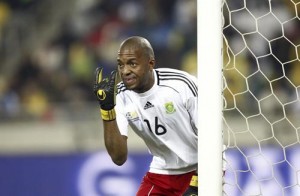 Goalkeeper Itumeleng Khune (#16). Also plays for Kaizer Chiefs. He's 23 and defended SUPERBLY! He's participated in 26 previous international games.
Khune is one of the most promising goalkeepers to appear in the past five years in South Africa. He doesn't have a lot of experience at a high level, so this is an exciting opportunity for him.