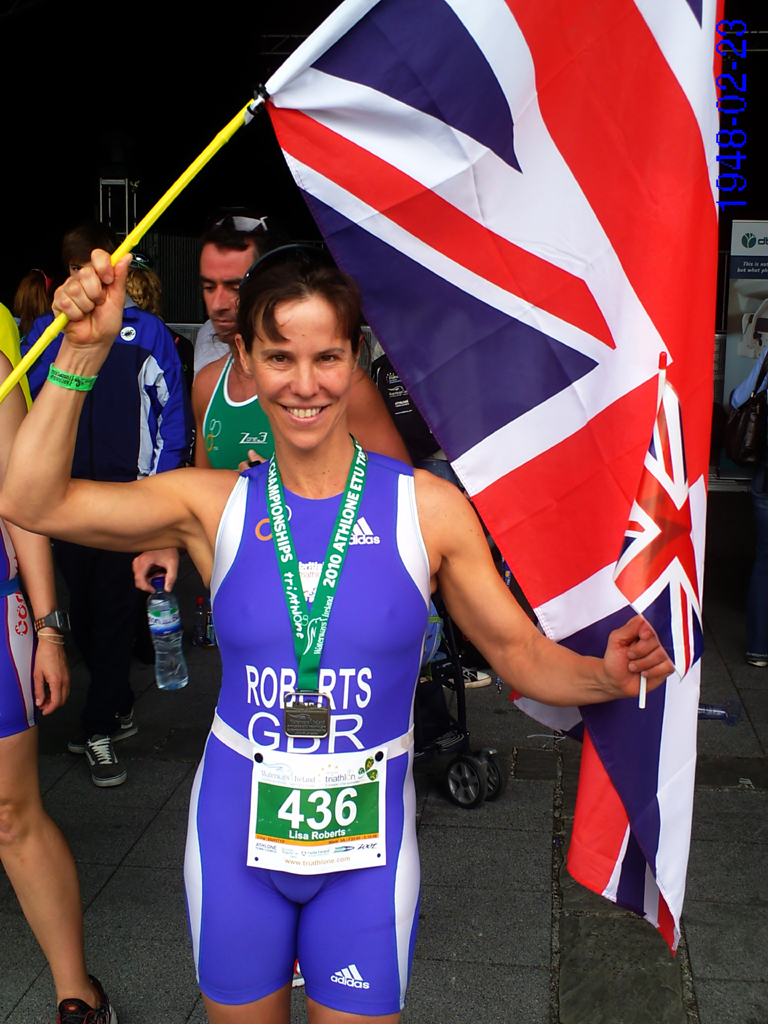 South African expat and triathlete Lisa Roberts recently won the European  Championships for her age group (running under the British banner). Lisa and her husband, former South African TV presenter Jason Roberts, live in the Alps where they own a ski chalet (Chalet Shiraz), run a transfer business, take care of their two children and stay in touch with family and friends back 'home'.
UPDATE (12 September 2010): Lisa WON the Triathlon ITU WORLD Championship for her age group yesterday, in Budapest!
Lisa spoke exclusively to sapeople about how a busy South African mother in her 40s, living in France, could run for Great Britain and win the European Championships!
1. What made you take up triathlon racing at this stage of your life?
At the start of last summer, when my youngest had just turned one, I realised that now that I was no longer pregnant/breastfeeding (which I had been since 2006), I at last had my body back again, even though it was a lot more wobbly than before! I decided to start getting fit again and when a friend of ours mentioned a mid-August triathlon in Nyon Switzerland, a few of us in Chamonix decided to do it – always nice to have a goal to train towards.
I hadn't done a triathlon since 2004, so didn't know what to expect, but I won my age group and came 3rd overall. That's when I decided to see how well I could do in my age group at a more competitive level. I found an online coach (Michelle Dillon) and started training properly from December last year, with my main goal being the European Sprint Championships in Ireland in July.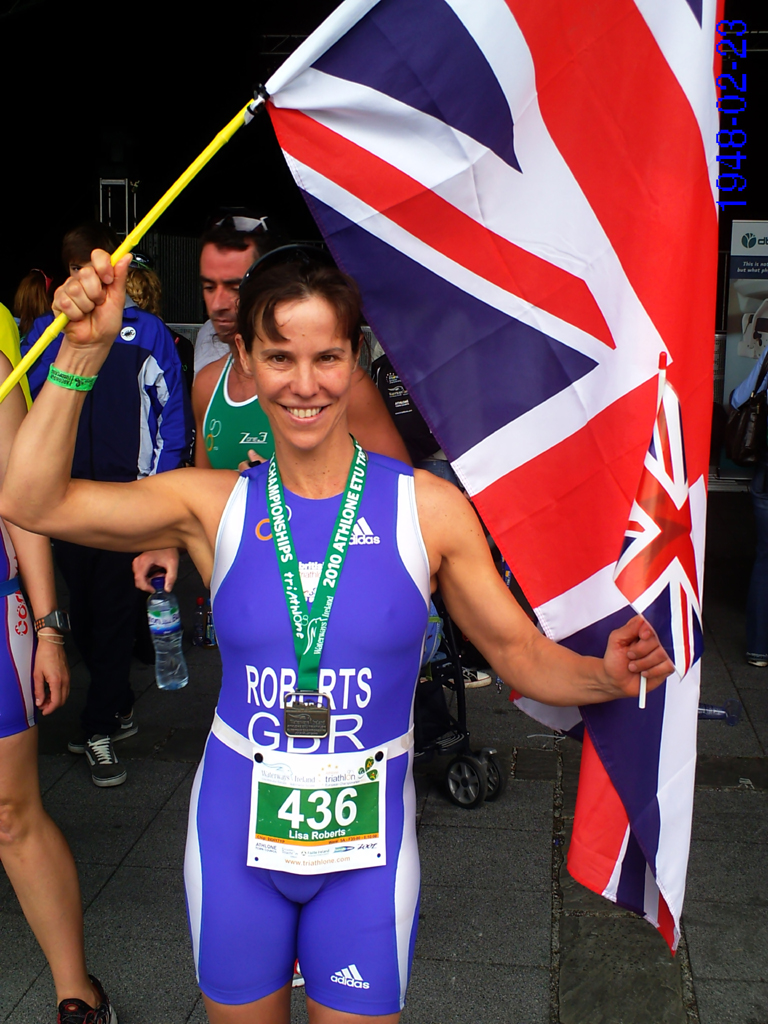 2. How difficult is it to train when you have two kids and a business to run?
In a word….VERY!! I wake up every morning thinking "how on earth am I going to fit it all in today??!" I'm lucky in that Megan (2) goes to crèche and Matthew (3) goes to school four days a week, so I can train when they're at school, or otherwise when they're sleeping (the lunchtime nap is my lifesaver, although unfortunately Matty has now decided he no longer needs it).
But I end up feeling very guilty if for some reason I have to go off and train when they're at home, as I always see that as time I should be spending with them. I'm lucky in that my husband, Jason, is an absolute star and 100% supportive of what I'm trying to achieve, so if do need to train when the kids aren't at school, he always happily takes care of them.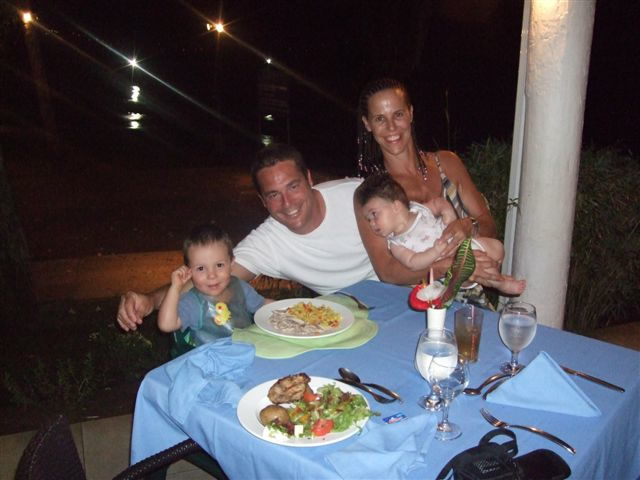 It's the same with work….I just try to fit it in when the kids are at school or at night, but I know that my work has suffered a bit as a result, which is one of the reasons why this was always going to be a short term thing for me. Another is that my family is the most important thing to me and I don't want my kids to never have their mum around because she's always out training. Also, because I am just so exhausted all the time, I end up being far grumpier than I should actually be under normal circumstances.
3. How do you keep going during the race when you're so exhausted? What's your motivation?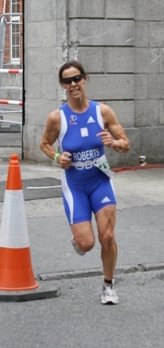 The desire to win and to be the best I can possibly be. I switch off to the pain and just keep pushing myself to the limit. I read a big banner on the side of the road at the European Championships that said "Pain is temporary….Success is forever", and that is so true.
4. What's your next goal?
My next goal is the World Championships in Hungary in September this year. However, I have ongoing calf problems which have impacted hugely on my run training and also held me back at the European Champs. If I can't get this sorted out within the next few weeks I may consider "retiring" from training and racing at top level, but would probably continue to do triathlon at a fun level.
5. Any special exercise and dieting regime?
I have an amazing online coach called Michelle Dillon. She sends me my training programme every week and then gives me feedback based on what I've done, either via email or over the phone. It's a really tough programme…her motto is "train hard, race easy", but worth it as the improvements that I've seen in my performance thanks to her programme are enormous. Dieting regime is non-existent, but one of the benefits of training so hard is that you get to eat what you want (within reason) and still stay in shape. In an ideal world I should be following a healthy eating regime and probably not drink, but I just like my food (and wine) too much!
6. How much does physical racing help you mentally handle daily challenges?
The training (and having two small children) makes me so exhausted that I actually battle to handle daily challenges and often end up being irritable and less tolerant than I should be, BUT the focus that I need to have in a race has spilled over into other aspects of my life where I find I'm able to make decisions quicker because I can focus on just what's important, and I'm a lot more disciplined so I procrastinate less than I perhaps used to.
7. Did you used to race in South Africa?
I didn't really train or race seriously in SA, but did one season of triathlon about 10 years ago. However, I was plagued by the same calf problems which held me back from achieving my full potential. I ended up having an operation on my calves, after which I moved to the UK, so didn't get a chance to do any more triathlon in SA.  In the season I did, I came second in my age group and third overall at the South African Championships.
8. How weird does it feel to win the race for Team GB (Great Britain) rather than for South Africa?
As I have a UK passport I did my qualifying races in the UK and I compete for Great Britain. It does feel a bit weird as I am still a South African at heart, and I would be proud to compete in South African colours. However, British triathlon is huge and they have an amazing support structure in place, so it is nice being a part of that.
The Promo Spiel