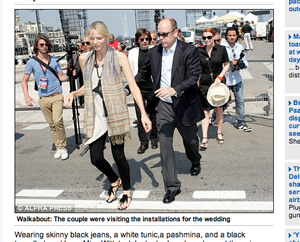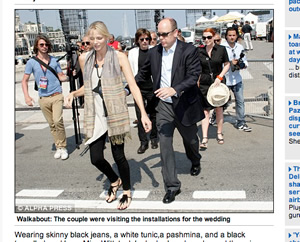 Charlene Wittstock and Prince Albert have made a public display of affection this morning in Monaco, showing that they are still very much together and eagerly anticipating their wedding on Friday and Saturday.
Pictured in the UK's Daily Mail, Charlene is seen happily touring the principality with her husband-to-be. The couple are pictured chatting to lighting enthusiast Jean-Michel Jarre, who'll be singing on Friday night; as well as visiting various installations that have been put up for audiences (the whole of Monaco is invited to enjoy the show!).
Following the rumours that Charlene tried to escape to South Africa after learning of more scandals surrounding the Prince (who has already fathered two illegitimate children); the Prince is apparently in a legal battle to discover who started the rumours.