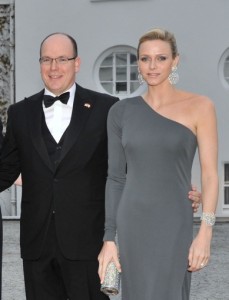 Some dreadful rumours were being whispered around Monaco yesterday morning that Charlene Wittstock's fiance Prince Albert of Monaco has been "caught with his pants down again".  Our source in Monaco told us that apparently it had surfaced that he's fathered yet another baby…and that Charlene had left the principality and gone into hiding.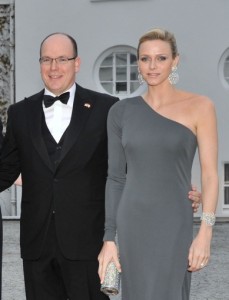 We didn't print the story yesterday in the hope it was just idle gossip, but the story has been published in media around the world today. Prince Albert has previously fathered 2 illegitimate children (a son and a daughter, with different women).
According to reports, former Olympic swimmer Charlene (33) bought a one-way ticket home to South Africa to get away from Prince Albert and the imminent wedding. It's alleged in French magazine L'Express that police, acting on royal order, stopped Charlene at Nice Airport on Tuesday.
The magazine claims that the police managed to convince Charlene to stay, with the help of a billionaire property family who acted as a go-between.
The magazine claims that Charlene has reluctantly agreed to go through with the wedding but "may not fulfil all her official functions as princess".
Prince Albert (53) vehemently denies the claims. His lawyer, Thierry Lacoste, said the story is "madness" and that "everything is false". He said he was with the Prince and Charlene in Paris a few days ago and that "I can promise you that all is well". He confirmed he will be taking legal action against L'Express.
If these rumours are totally untrue, it's shocking that somebody would make this up just before their wedding at what is meant to be the best time of Charlene's life. Perhaps the stories were started by a jealous inhabitant of Monaco where some people were upset when Charlene told a magazine that she only had two friends and that the people she mixes with in Monaco "didn't relate to my South African mentality or humour".
Rumours have been circulating on the French Riviera for some time though that all was not perfect in the principality of Monaco. Another source who spent an evening with Prince Albert last month claimed that Charlene was nowhere to be seen because Prince Albert "didn't want Charlene around".
We certainly hope the rumours are untrue and that Charlene can live her fairytale without intrusive media reports that will always seek out the gossip.
The Monaco Palace released this statement: "These rumours, spread a few days before the wedding ceremonies of H.S.H Prince Albert and Miss Charlene Wittstock, have only one purpose – to seriously damage the Sovereign's image and by consequence that of Miss Wittstock and to cause serious prejudice to a happy event."
The wedding guest list includes European royalty, presidents from around the world including France's own President Nicolas Sarkozy, supermodel Naomi Campbell, designers Karl Lagerfeld and Giorgio Armani, business mogul Richard Branson and South Africa's Archbishop Desmond Tutu. Tonight The Eagles will perfom at a concert to celebrate the weekend wedding.
Update: Prince Albert and Charlene have gone on a public outing through Monaco which will hopefully dispel rumours that she's anything but excited, and certainly not in hiding.