Louis Oosthuizen has responded in typical gentlemanly fashion to the surge of support he's received after narrowly missing out to Bubba Watson at the Augusta Masters last weekend.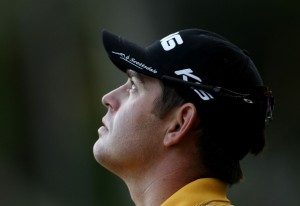 The South African golfer has been besieged with messages from his growing legion of fans who were blown away both by his demeanour and his extremely rare Albatross (or 'Double Eagle').
One supporter wrote:
"I watched you miss out on a Green Jacket on Easter and saw a man with class and dignity that have been brushed aside in the last few years. Golf always prided itself on being a Gentleman's game and you Sir have displayed more class in the face of defeat than anyone could possibly imagine. You did not stomp your feet and pout off the course like some others have done. You gave me hope that Young Players and Old can take a lesson from your impeccable display of Sportsmanship and class. I salute you and hope you can continue to be a Champion in your future matches. Good luck and Great Job!! You made my day."
An American family declared themselves official "Louis fans" after watching him share his special moment (when he shot the Albatross) with his fans. Scott Leshko wrote:
"The double eagle you hit was one of the greatest shots I have ever seen, and that ball belonged in a shrine. The fact we could see you lob it out to a fan just showed us how awesome you are. That is a real professional in our opinion. After seeing that gesture on National TV we were jumping up and down for you. Our family looks forward to routing for you at the US OPEN as we live near Philly. Look for our kids on the practice range! Your signature belongs in our hall of fame! All the best to you and your family!"
A young Australian called Tom wanted to know when Louis will visit Australia. He wrote:
"G'day Louis, Congratulations on your play at Augusta. I am an 11 year old junior golfer from Victoria, Australia and would love to know if you will be coming to Australia in the future? We would love to watch you play one of our tournaments in Melbourne! You are my favourite player, good luck for the rest of 2012!"
And of course South Africans have been lending their praise and support too. Lourens van Rensburg summed it up for most when he said:
"Hallo Louis! First off: congratulations on a brilliant Masters! And that shot!!! We are immensly proud of you! You will win many more Majors, I'm sure! Ons hou jou dop en geniet elke oomblik van jou spel! Groete uit SA!"
Louis has posted the following response on his blog:
Hi everyone,

It's been a few days since the Masters and I'm now in Kuala Lumpur for the Maybank Malaysian Open.

Obviously I am still a little disappointed that things didn't go my way at Augusta but it is just one of those things.

The albatross at the second hole was my first one ever. When something like that happens so early in your round, you can't help but think it might be your day.

But I played well. It was not a tournament where I felt like I played badly. And congratulations to Bubba Watson, he deserved it.

Losing in a play-off just makes me want to win that Green Jacket even more now. Before last weekend I had never even made the cut there, so my performance has given me a lot of confidence. I know I can play the course well.

Finally, thank you to the golf fans from around the world who have sent me messages of support. There have been too many to reply to them all individually, but I just wanted to let you know how much I appreciate your kind words. They really mean a lot.

Louis
Louis is joined at the Malaysian Open by fellow South African and good friend Charl Schwartzel. Both excelled in the opening round yesterday. After a 30-hour journey from Augusta to Kuala Lumpur, Charl managed to finish the first day in the lead, whilst Oosthuizen tied for third place.
In an interview with the official European Tour website Charl said: "Louis and I got off to a good fast start at the beginning and it is always nice when there are a couple of you in the group playing well and pulling each other a long a bit."
Referring to Louis' performance both yesterday and last weekend at Augusta, Charl (another great South African gentleman!) said "Louis is playing so well right now that it is impressive to watch and it helped me on."