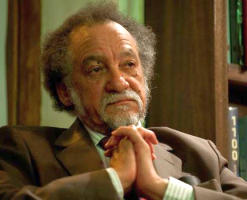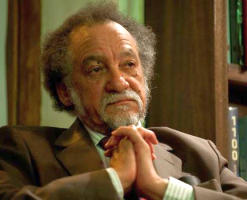 Humanitarian, businessman and academic Jakes Gerwel, a close friend of former president Nelson Mandela, will be remembered for his humility, and as an icon of the freedom struggle and a literature teacher who inspired hundreds of students.
The memorial service for Gerwel, who never recovered from a heart bypass operation and passed away on 28 November, will take place on 1 December at 15h00 in the main hall at the University of the Western Cape (UWC) in Bellville. He was an alumnus of the university, having received a bachelor's and an honours degree in Afrikaans-Nederlands and worked his way up from senior lecturer to dean and beyond.
Gerwel was appointed rector and vice-chancellor of his alma mater in 1987. He held the positions for seven years and was viewed as instrumental in the university's gradual shift in focus from an exclusive apartheid institution to a university for all, with an emphasis on social and political issues. He remained committed to the university and at the time of his death was professor of humanities.
"We have lost a great intellectual at a time when our country sorely needs critical voices of reason and steadfast optimism like Jakes," said Brian O'Connell, current rector and vice-chancellor. "Our vibrant relationship dates back to the 1960s when we were both student leaders."
Gerwel was considered an expert in Afrikaans literature and was particularly known for his 1983 scholarly book Literatuur en Apartheid, which examined the way so-called coloured people were portrayed in Afrikaans novels up to 1948. Other publications included Keer-Punt, Grape – Stories of Vineyards of South Africa, and Stroomversnelling.
He was an icon of Steve Biko's black consciousness movement and later, as a member of former president Nelson Mandela government, Gerwel played a crucial role in leading the country into its new democracy.
"We will sorely miss the tenacity and dedication of this distinguished academic and leader of our society," said President Jacob Zuma in a statement. "May his soul rest in peace."
Gerwel's other formal academic achievements include a licentiate in Germanic philology and a PhD in literature and philosophy from the former Free University of Brussels.
He was the chancellor of Rhodes University for 13 years. The university, one of a number of local and international institutions which bestowed honorary degrees on Gerwel, is flying its flags at half-mast until after the memorial service as a mark of respect – as is the UWC.
He was "always a source of wise counsel," said Rhodes' vice-chancellor Saleem Badat. "He will also be warmly remembered for the dignity with which he officiated at the University's graduation ceremonies and capped thousands of graduating students."
A leader of men
Gerwel held many non-academic positions in the business world and civil society. Since 1999 he was the global chairperson of the Aurecon Group, a building and engineering consultancy, as well as the non-executive chairman of the Life Healthcare Group, a non-executive director of media house Naspers, and the chairperson of the Human Sciences Research Council, among numerous others.
He chaired the Nelson Mandela Centre of Memory and served the Mandela Rhodes Foundation as its founding chairperson since 2003.
"We will miss his wisdom and calm guidance," said the centre's CEO Achmat Dangor.
From 1994 to 1999 Gerwel held the position of director-general in the office of then-president Nelson Mandela. He received the Order of the Southern Cross from Mandela in 1999 – this was part of the previous system of National Orders, which was replaced in 2002/2003 with the current set. Other laureates include pioneering heart surgeon Christiaan Barnard, liberation heroes Oliver Tambo and Albert Lutuli, literary icons Nadine Gordimer and Es'kia Mphahlele, and renowned palaeontologist Phillip Tobias.
Also in 1999 Gerwel received the Libyan Order of Good Deeds from the late Muammar Qaddafi, for his part in the successful extradition to Scotland of Libyan suspects in the Lockerbie bombing
"We worked closely together for five years – it was the very first time that a person who was not white was given such a senior position in government," said politician Ahmed Kathrada in a statement. "He acquitted himself with distinction and his association with President Mandela continued almost literally until a couple of months before his death."
Kathrada described Gerwel as "brilliant, caring, modest and committed", saying that his rich legacy should be emulated by all.
Gerwel left the office of the president at the same time as Mandela so that they could continue to work together. He later became the new democratic government's first cabinet secretary.
He is described as a fan of rugby and cricket, and served as the chairperson of the policy committee of the 2003 Cricket World Cup, held in South Africa.
By: MediaClubSouthAfrica.com reporter
Read more: www.mediaclubsouthafrica.com