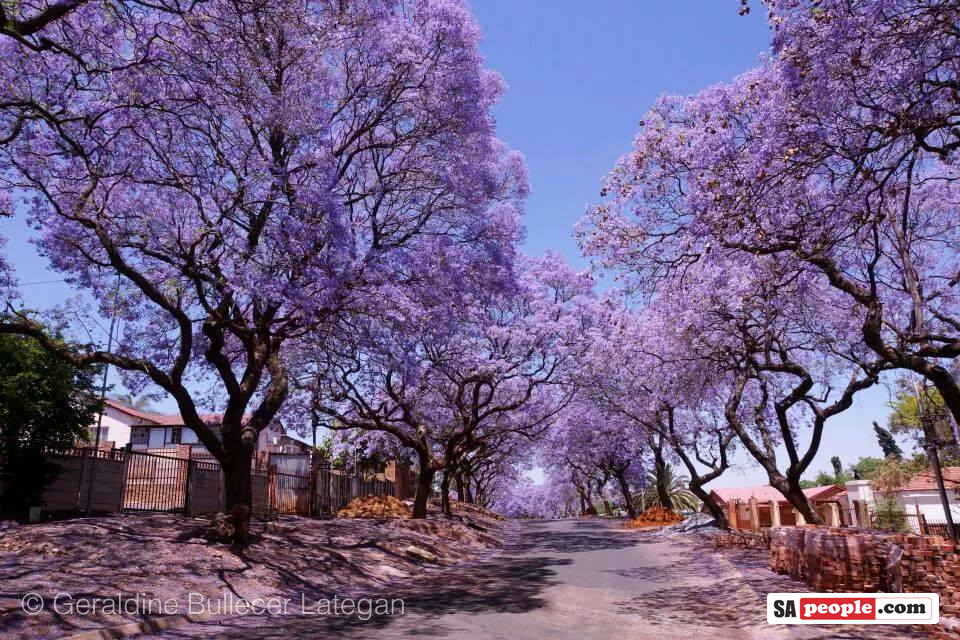 Apart from the Protea, there's probably no other plant that evokes as much emotion in a South African as the sight of a Jacaranda tree in full bloom – and it's not just because of its beauty.  It's thanks to the memories it triggers: The times your family drove to Pretoria so that your mother could take photographs of the exquisite purple-lined avenues…

The moment they first bloomed each year and your professor warned that if you hadn't already started studying for exams this was a signal it was too late! The times you and your friends drove over the fallen petals with your VW Beetle so you could hear the flowers 'pop'. The occasions you walked back and forth under the falling petals, hoping one would land on your head because local legend said it was a sign you would definitely pass…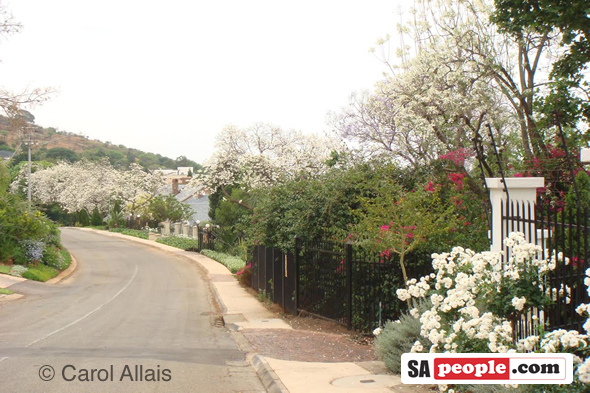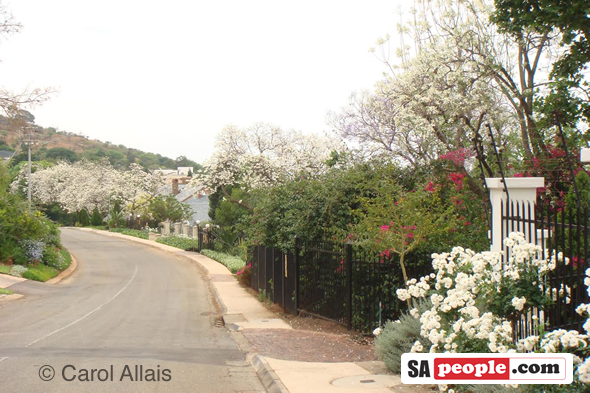 In fact, the jacaranda is so beloved that even though it's on the government's Hit List, it has not been forcefully removed like other invasive foreign plants…although it is forbidden to plant new ones. (The jacaranda was first imported from Brazil in about 1829, and is therefore included on the government's list of banned non-indigenous plants.)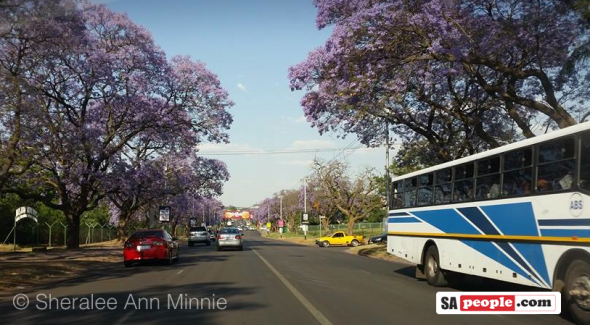 South Africa's former President Nelson Mandela wrote about the iconic jacarandas in Pretoria in his book 'Long Walk to Freedom'.
He said that during the Treason Trial, he and the others on trial were allowed to eat lunch in a nearby garden, and that "those moments under the shade of the jacaranda trees on the vicarage lawn were the most pleasant of the trial."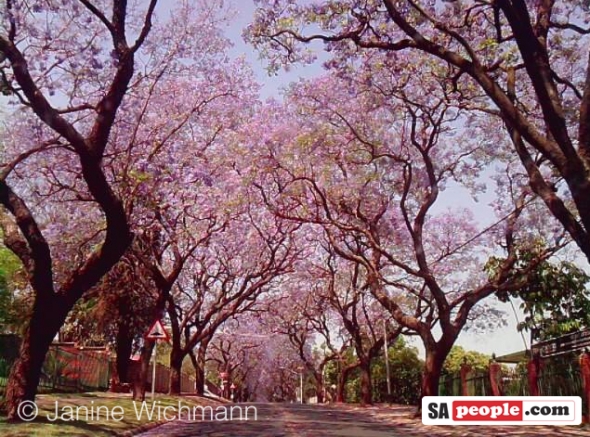 And again, during his inauguration speech in May 1994, Mandela said "To my compatriots, I have no hesitation in saying that each one of us is as intimately attached to the soil of this beautiful country as are the famous jacaranda trees of Pretoria and the mimosa trees of the bushveld."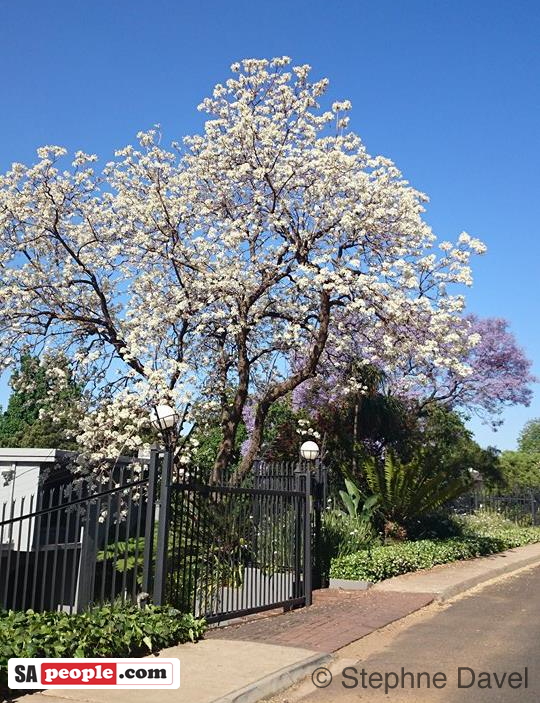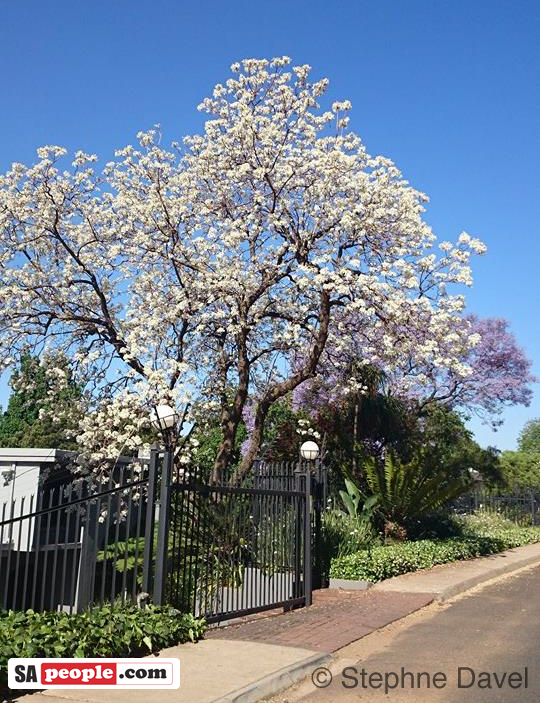 And luckily, it appears that those in charge of the city of Pretoria* share the late President's view that the jacaranda is as attached to South Africa as are its people. (*For those who've asked, Pretoria is still officially called Pretoria whilst Tshwane refers to the metropolitan municipality which includes Pretoria, Centurion, Winterveld and Temba.)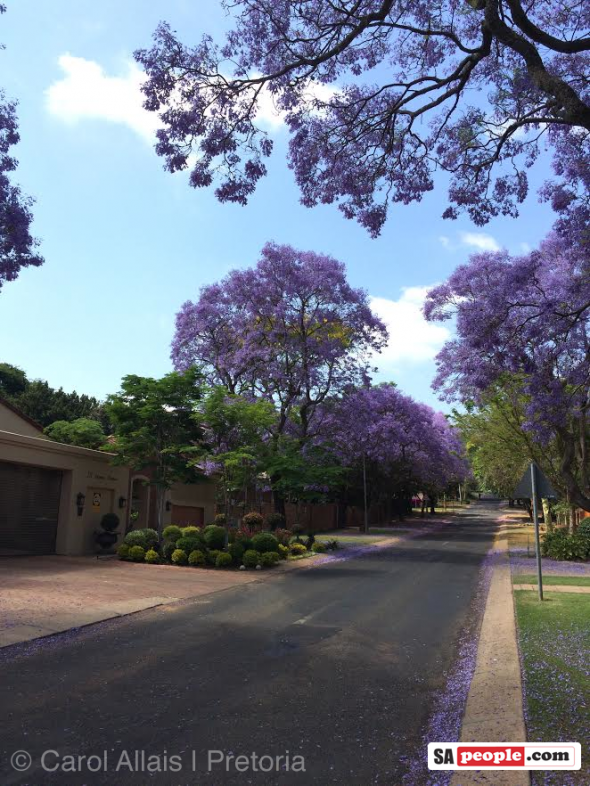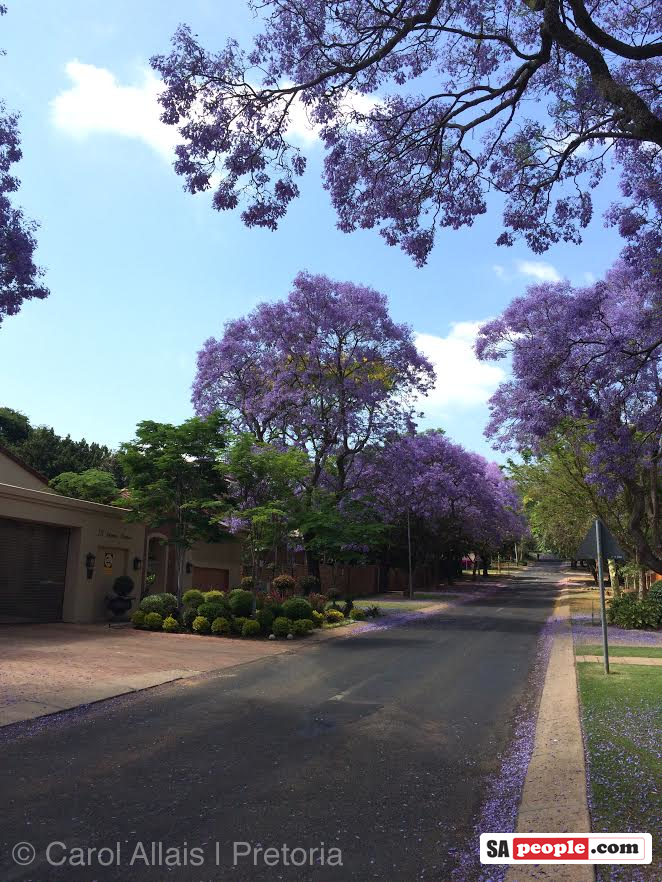 According to Carol Allais, who sent in many of the photos on this page, "despite being declared aliens, jacarandas are still alive and kicking in Pretoria. A large part of George Storrar Road in Groenkloof has been lined with jacarandas that were removed from other roads which are being widened in the city."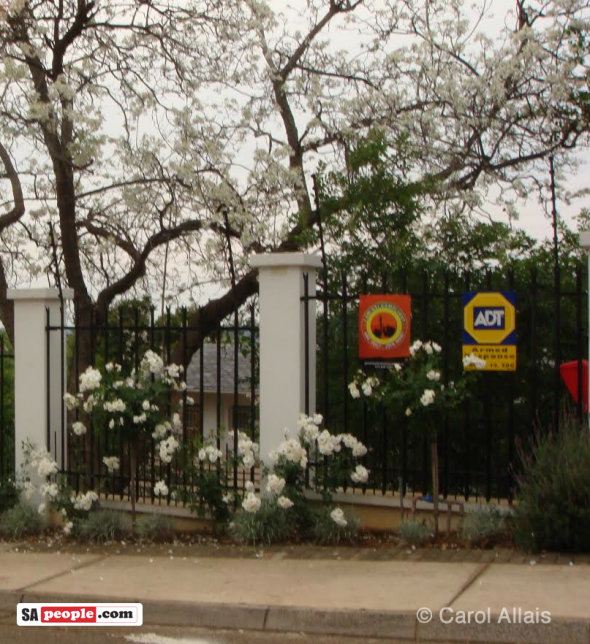 When we posted a few of Carol's jacaranda photographs – taken in Premier Street in Pretoria – on Facebook a few days ago, she was besieged with requests for more…as well as for photos of the more unique white jacarandas. She – and Stephnè Davel – have very kindly obliged (thank you!)…and you will find both purple and white jacarandas on this page.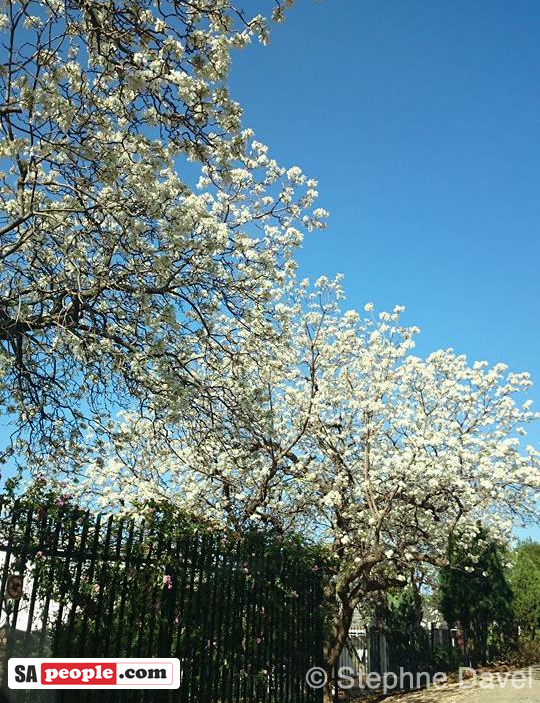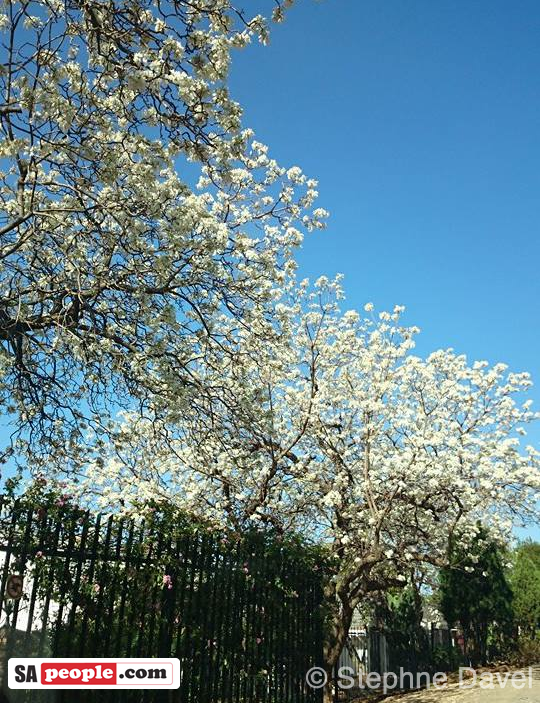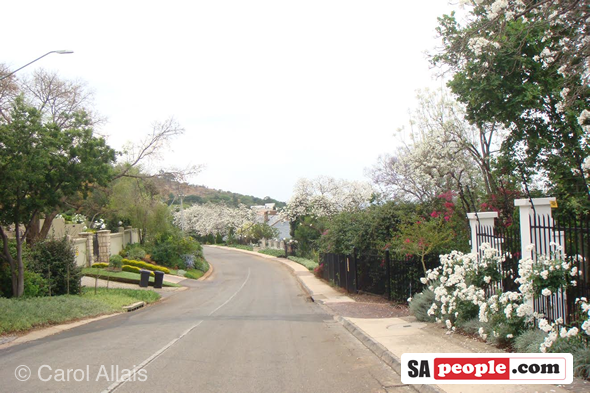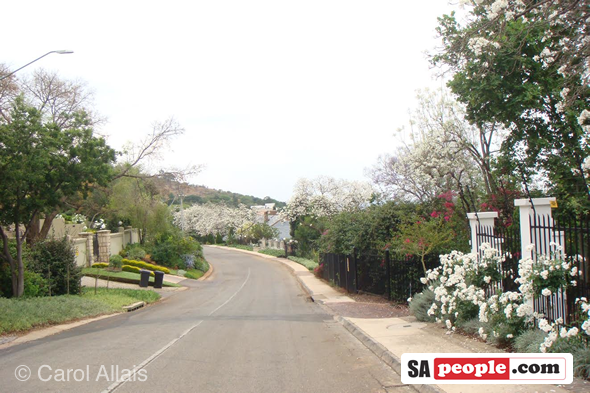 Upon seeing the photos on Facebook, South African expat Judith Petrou summed up what many others felt when she wrote: "carpets of purple in the land of my heart…Some day my soul will return to be the underlay. Oh happy day, Oh happy day!"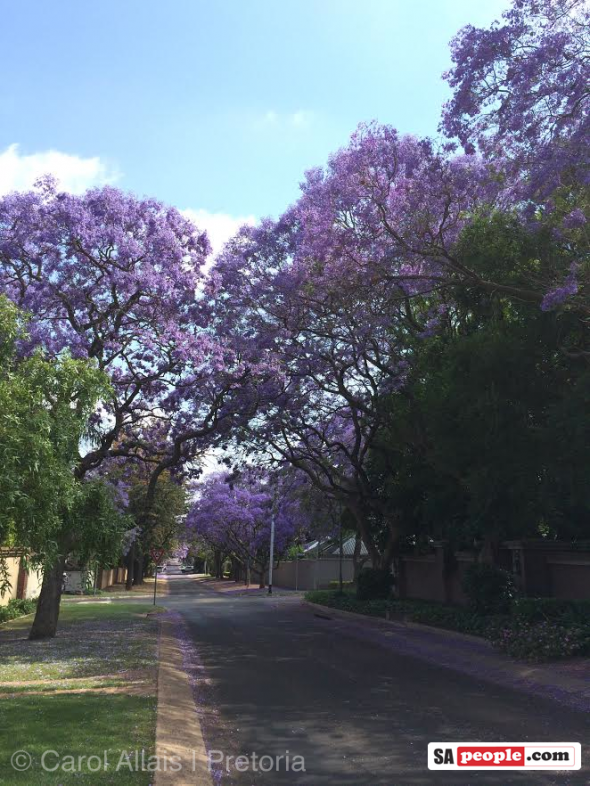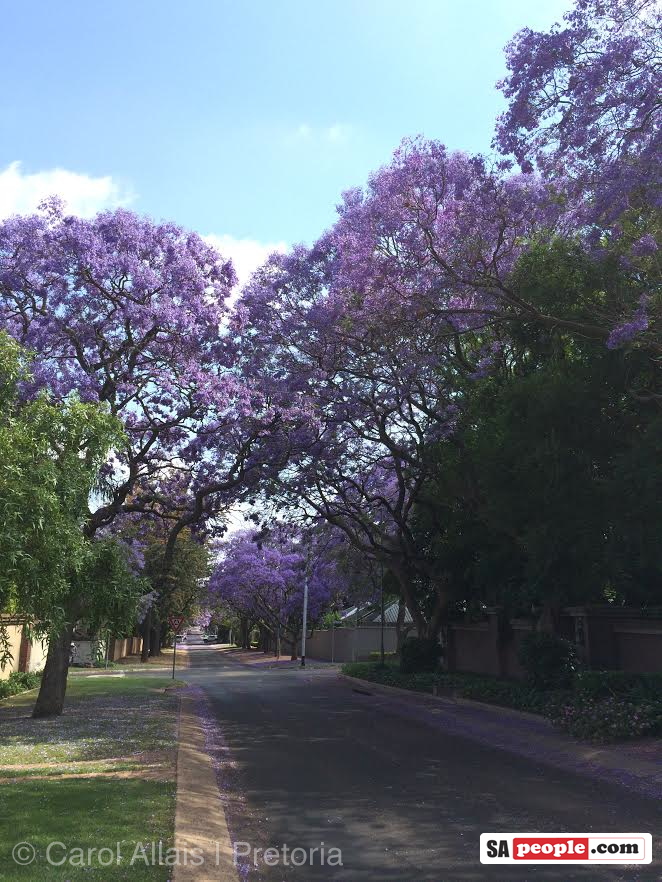 Fellow expat Connie Ibbetson-Kennedy reacted similarly, saying "this has brought me to tears. Oh how I miss all this in my beloved Country South Africa…the most beautiful place on Earth." (For those who are curious, Connie fell in love with and married an Englishman 20 years ago…so her heart belongs in two lands.)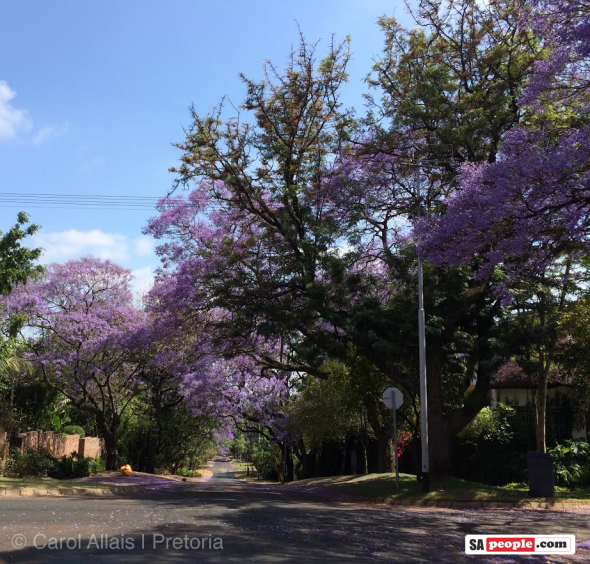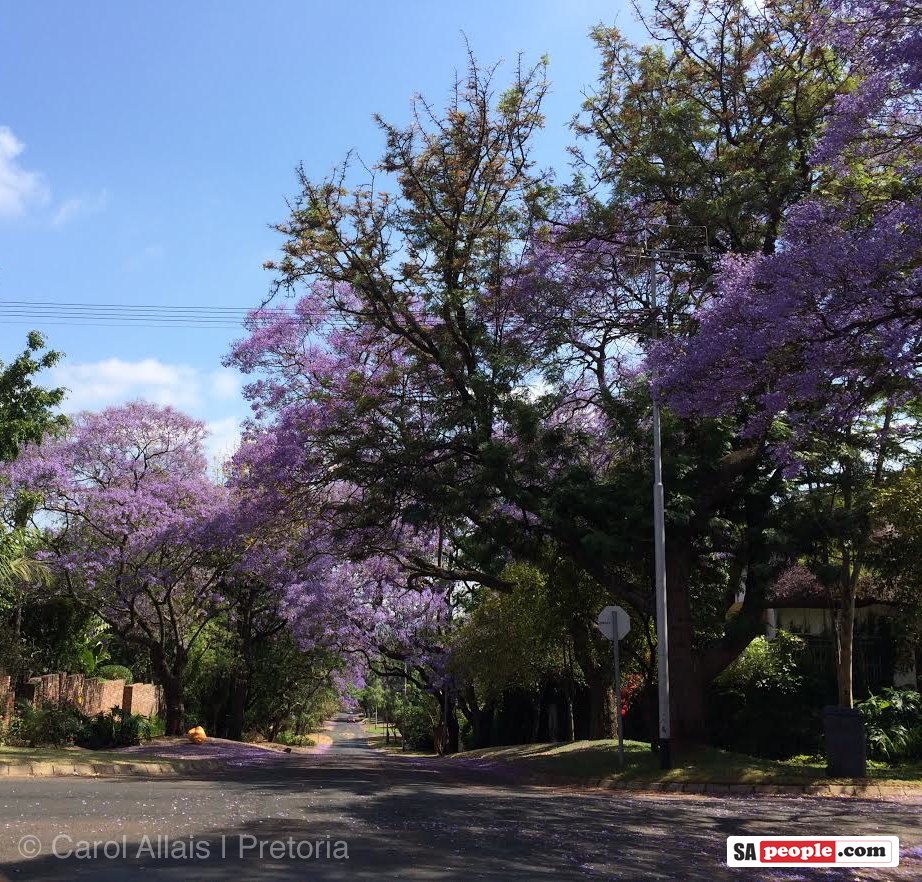 Of course the jacaranda, which has a slight smell rather than a strong perfume, doesn't just belong in Pretoria. Its bright purple petals bring an annual splash of colour to avenues from Johannesburg to Pietermaritzburg, Paarl and Durban…and even Israel, Botswana, Zimbabwe, Australia and Portugal.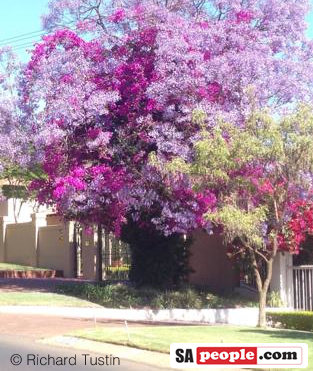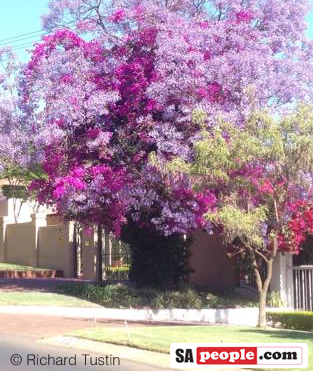 Andrea Chorn Barr, who now lives in Israel, sent in the photo below. "Love jacarandas!" she said.  "I think of Paarl and Bellville when I see them. This is our town in Israel in the spring…"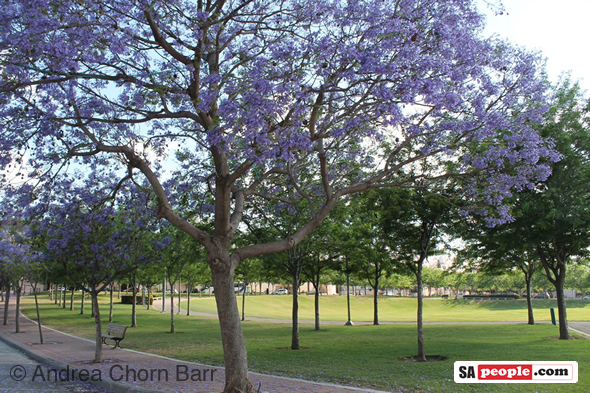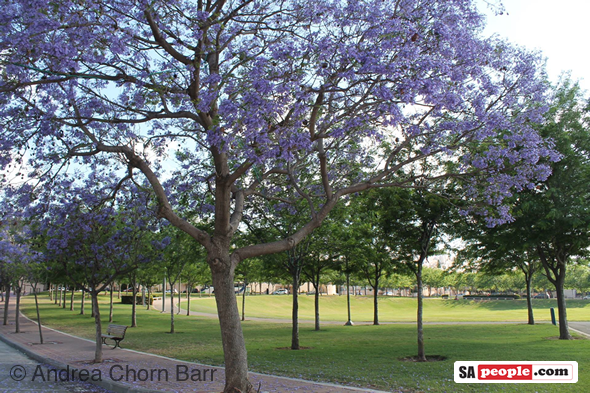 But you won't find them in Moscow.
Jeanie van der Merwe, who now lives in Russia, wrote "I studied at Tuks for two years and loved riding my bicycle through those Jakaranda strate! I am now studying in Moscow and here they also have something which students do for good luck before exams – there is this one metro station called Ploshad Revolutsia with many statues in it. The tradition is that you need to rub the nose of the dog statue…and then you will pass all your exams!"
She added: "I miss South Africa!"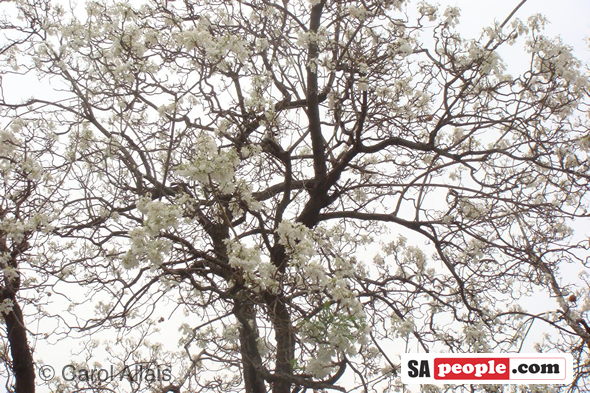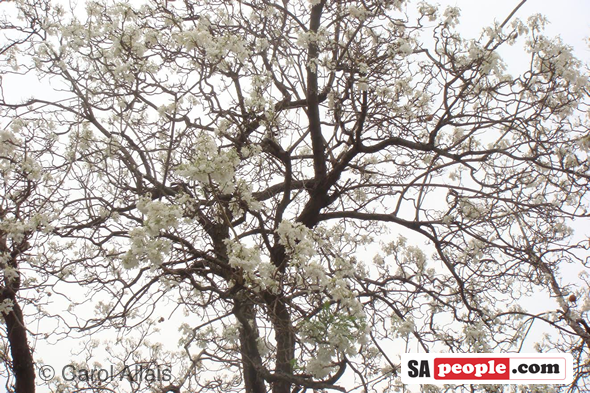 Kira Sparkles sent in this photo below from Yeoville, Johannesburg, this morning where she was avoiding the traffic jams.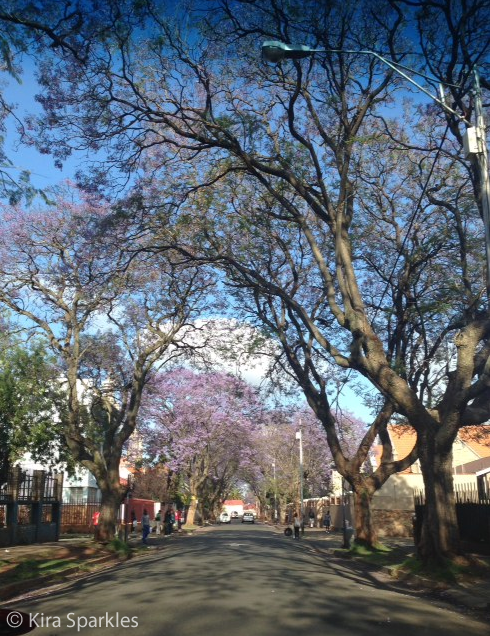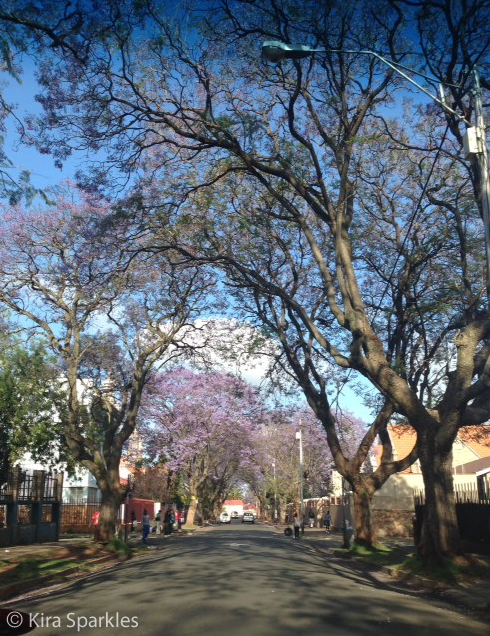 Of course not everyone's a fan of the jacaranda.
Dave Prentice admitted "Jacaranda blooms give me the creeps…remind me of year-end exams!" and Thami Nkunz Ebomvu Cele said "aliens makes us sick! They're pretty for nothing and they destroy our indigenous plants."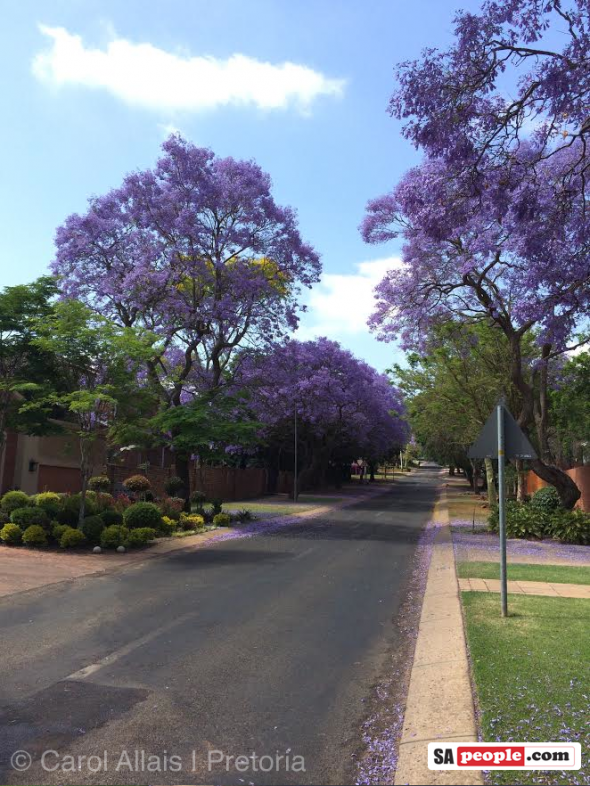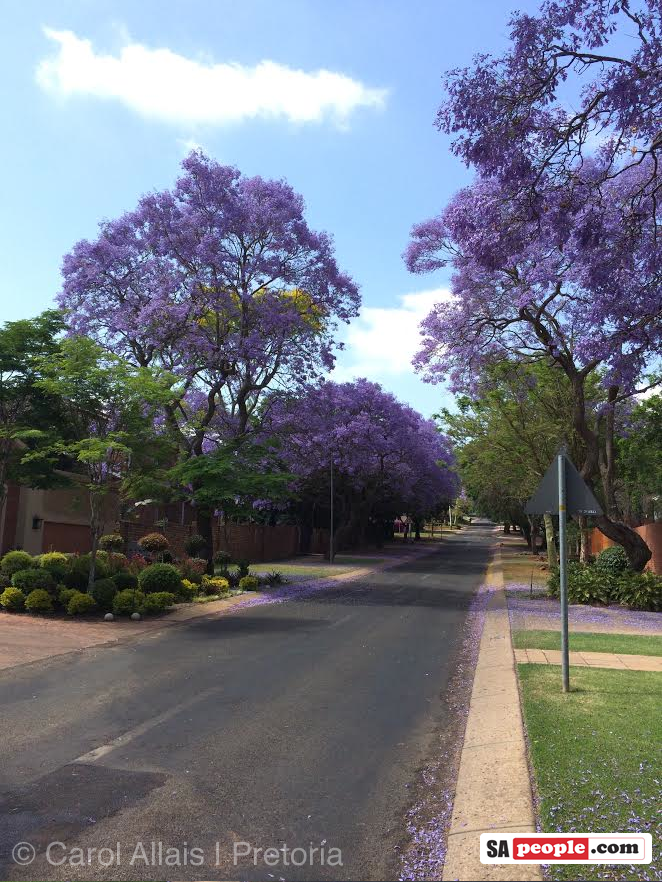 But we're sticking with Richard Tustin: "The bougainvilleas and jacarandas in Pretoria are a sight to behold."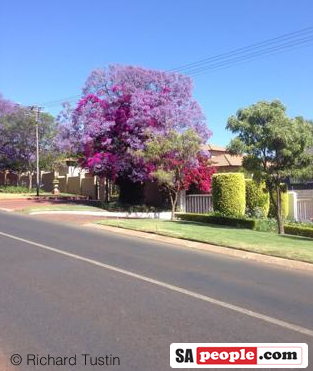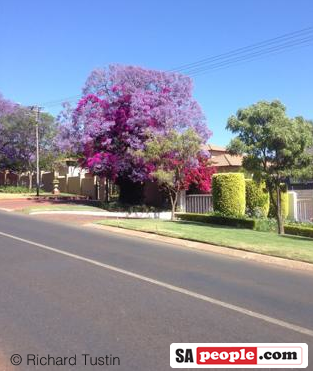 Btw – for those who started their matric exams today, President Jacob Zuma stressed that "we urge the learners to study hard but also to give themselves time to rest.
"We also appeal to parents not to put too much pressure, but to provide support and encouragement. We want all our learners to do well in the exams.
"However, there are many opportunities for learners who do not do as well, such as rewrite schools and colleges where they can learn all sorts of skills."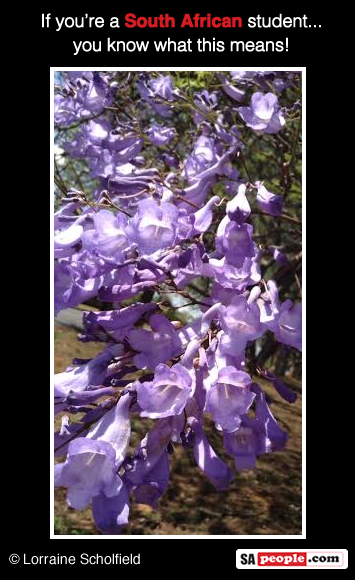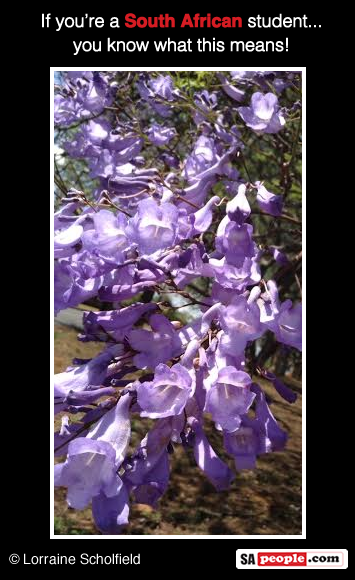 And for those at university and other colleges – those blooming jacarandas definitely mean it's time to cram, cram, cram! Good luck!!!
UPDATE (28 October 2014) – BONUS EXTRA PHOTOGRAPHS OF JACARANDA TREES IN SOUTH AFRICA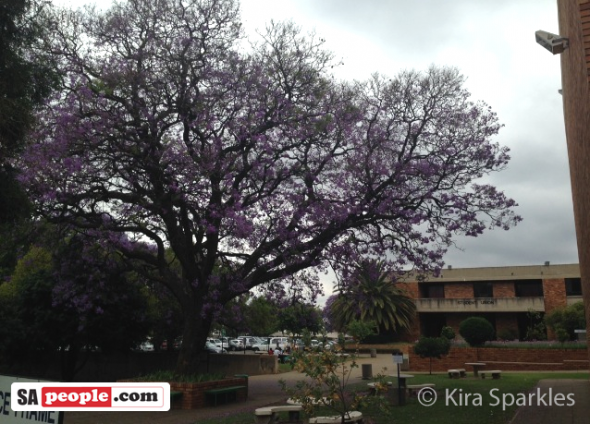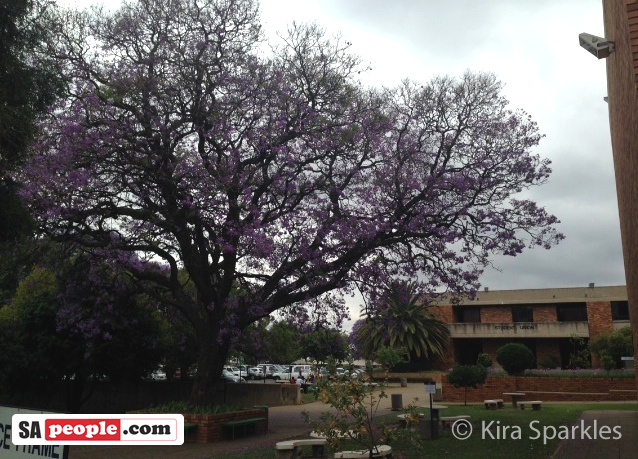 Kira Sparkles – "The photo above is an old picture at the Wits School of Education during exams. I can totally identify with Jacaranda trees for exams! It's the first year in my life that I'm not studying! And usually at this time of the year, especially at Wits University where Jacarandas are seen everywhere around you…it means stress! However these trees manage to let you enjoy nature's beauty in a calming manner as well :)"