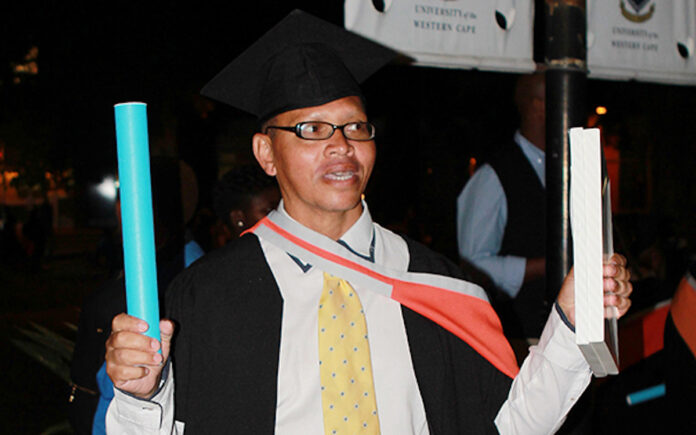 A man from Hanover Park in Cape Town is inspiring young students with his long and dedicated journey to education. Eric van der Byl spent four years walking 34 km every day to get to university and home again. His long walk ended with his graduation this week. And already he is employed and teaching the next generation at a local school.
Eric began his studies at the University of the Western Cape (UWC) in 2010. He walked the 34 km to campus and back each day because he couldn't afford transport. For him, it didn't matter if it was raining, freezing or boiling hot. He was determined to get his Bachelor of Education degree.
His perseverance has paid off. The mature student – now 44 – not only graduated this weekend, but was listed on the university's website as a "graduation highlight" because of his display of "true spirit and determination in pursuing his goals".
Eric says he felt compelled to persevere because "I had to become the source that could provide encouragement and help. My view is I could help and I did. In my second year, I became a mentor and tutor [at the university]."
He chose to study education because "teaching is the mother of all professions". Eric is now teaching Grade 7 at Parkfields Primary in Hanover Park.
Ever humble, he admits that he still has lots to learn. "The first month has been very hectic. I feel like a blind man. There is something new every day."
Fortunately, he says, the other staff members (whom he would like to emulate) have been very helpful and the school is "wonderful".
Eric told the Cape Argus that he believes in holistic eduction. "It's not just about teaching subject knowledge," he said. "It's about opening [students'] minds to all the possibilities that are out there for them. I see it as my main role – to open their minds to the skills and talent and other potential that they possess."
Eric's next dream is to pay off his study loans and perhaps pursue his postgraduate honours degree. "But I am not sure if I could balance everything now," he said. He's a man with perseverance; we're sure he'll get there in the end!
Based on Source: www.mediaclubsouthafrica.com