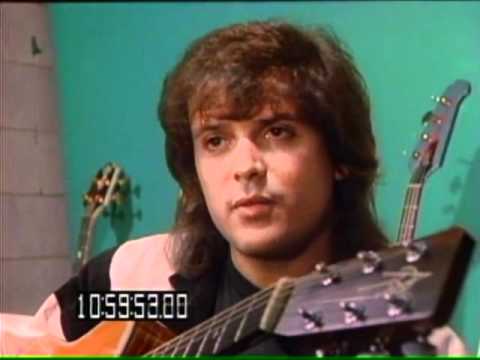 Trevor Noah isn't the only South African 'Trevor' export to hit US shores. First there was Trevor Jones (now 66), an orchestral film score composer from Cape Town whose credits include 'The Last of the Mohicans'. And then there was fellow musician and film score composer Trevor Rabin (now 61) who is again making news this week.
Rabin is featured in, amongst others, two articles in Hollywood's entertainment 'bible' Variety this week, to coincide with the release on 26 June of his new film 'Max' (about a military dog returning to the US from a traumatic event in Afghanistan) for which he did the music.
As anyone who lived through the '70s knows, Trevor was the former guitarist, songwriter and vocalist with South Africa's biggest rock band ever, Rabbitt. He left the band in 1978, after two albums, to pursue a solo career, and later joined English super group 'Yes' for whom he wrote their number one hit – "Owner of a Lonely Heart".
Rabin is still very close friends with Yes bass guitarist Chris Squire, announcing on Facebook a month ago "I'm devastated to tell you that Chris Squire, my dearest and closest friend, has been ill [with cancer]. I love Chris like a brother and our friendship only grows…"
For the last couple of decades Rabin has been living in California and become one of Hollywood's most successful and in-demand film composers, with movies like 'Armageddon' and the 'National Treasure' films to his name.
Johannesburg-born Trevor – whose father was a lawyer and respected violinist, and mother was an actress and classical pianist – fell into composing by accident. After giving Steven Seagal a few guitar lessons, the grateful – and impressed – movie star offered him the opportunity to compose the score for 'The Glimmer Man'.
Nearly 20 years later and Rabin has scored over 30 movies.
Legendary producer Jerry Bruckheimer, who has used Rabin for a whopping 13 of those films, tells Variety that Trevor "can do just about anything".
Apart from being naturally gifted, Bruckheimer says "Trevor is very easygoing. He doesn't get rattled. He's somebody you love working with because, no matter what, he's there to please the director and give him exactly what he wants."
During his career Rabin has notched up various accolades, including collaborations with Michael Jackson, Tina Turner and Bob Dylan…and he'll be remembered in American history for his inspirational theme from 'Remember the Titans' being played when Barack Obama finished his US presidential acceptance speech.
Right now Trevor's working on the musical score for presidential TV series 'Agent X' starring Sharon Stone, and will soon be scoring on season two of '12 Monkeys' as well.
'12 Monkeys' producer Terry Matalas says "there are times when [Trevor's] music has been so good it's improved the lighting or the scripts themselves."
Rabin's son Ryan, who plays in his own band Grouplove, says "I am always in awe of his abilities, technically and creatively, so he inspires me to apply the same kind of effort and work ethic to whatever I am interested in musically…"
In 2012 Trevor released a solo jazz album 'Jacaranda' and is currently in the middle of writing a new rock album.
And – good news for all those South African fans from the '70s – he's thinking of going back on stage…
Rabin told Variety – "I miss the interaction, and this place where time stands still, (where) I'm not worrying about mortgages or ISIS. All I'm trying to do is play the best I can and communicate. So if anyone's interested, I'd love to play live again."
Watch Video: Trevor Rabin A ROCKUMENTARY, 2011
Trevor Rabin talks about Rabbit, being a solo artist in London in the late '70s and  Yes.
Watch Video: Rabbitt – Hold On To Love
'Hold On To Love' – written & sung by Trevor Rabin – from South African band Rabbitt's second album, 'A Croak & A Grunt In The Night', on Capricorn Records, in 1977.
More Info
www.trevorrabin.net