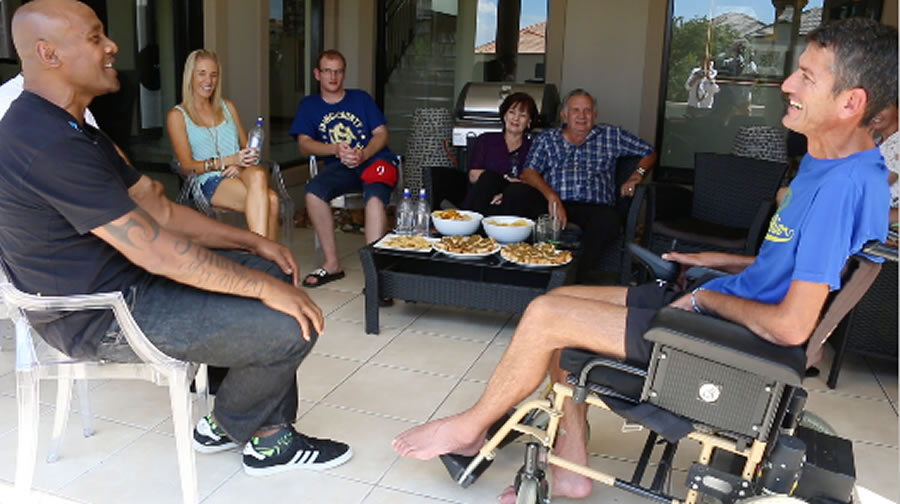 Update

06 February 2017: One of the most searched for videos on SAPeople today is the one below, when New Zealand rugby great Jonah Lomu went to South Africa and visited his rival and close friend, Springbok player Joost. Jonah Lomu passed away in November 2015. Joost van der Westhuizen died today. Watch the wonderful video below. We hope they're playing rugby in heaven tonight…
Watch Johah Lomu meeting Joost van der Westhuizen in South Africa…
If you are unable to view the video above, please visit this page instead to view Jonah Lomu / Joost van der Westhuizen.
The below article was published on 25 September 2015.
Just as we recovered from the incredibly moving hymn sung to South African rugby legend Joost van der Westhuizen by the Samoa rugby team, another video has surfaced on social media this week to bring out the box of tissues again.
Facebook user Mike Limã uploaded an excerpt from Jonah Lomu's documentary "Back to South Africa" which aired on Supersport last month. Twenty years after the 1995 Rugby World Cup, the doc follows global rugby star Lomu's return to South Africa, where it began, to meet up with old and new friends.
Mike wrote: "Just watched the most powerful rugby documentary to date, Jonah Lomu – Back To RSA. Visits his old rival, Joost Van Der Westhuizen, who suffers from motor neurone disease."
One of Mike's favourite sentences in the video is when the former All Blacks player Jonah Lomu says to the former Springbok player: "You know what, the most satisfying thing is that I can call you a friend."
Mike added the hashtags #Rugbybrotherhood #Lifelongfriends.
Tweet from Joost van der Westhuizen after Jonah's visit in February:
Thank you so much for the visit my friend. You are in my prayers. @JONAHTALILOMU pic.twitter.com/qdNJWFpRE0

— Joostvdwesthuizen (@9Joost) February 8, 2015
Watch Video: Jonah Lomu – "Back to South Africa" Trailer
Here's the trailer of Jonah Lomu's "Back to South Africa". It forms part of a new seris around the world called "The Book of Jonah L". The film is directed by Benoit Pensivy (@pensivy on Twitter) and the full movie is available on iTunes Store (TV series).
MORE
Watch the Samo Rugby Team sing a hymn to Joost van der Westhuizen video