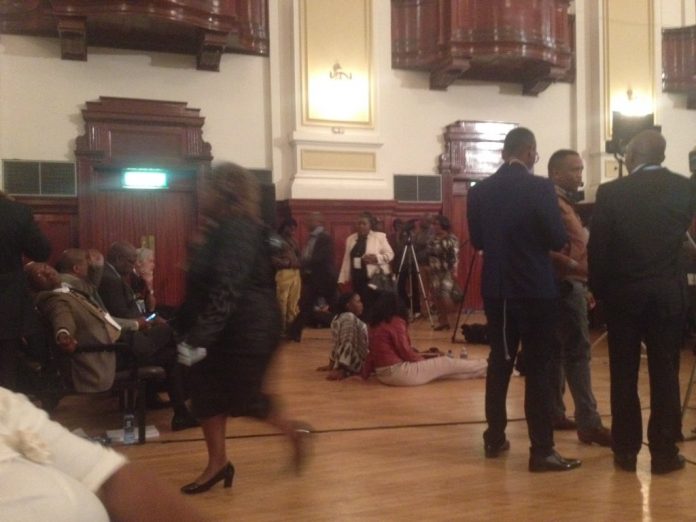 JOHANNESBURG – A female councillor for the ANC has sadly passed away during the Joburg Council meeting today.
The inaugural meeting – in which the Speaker, Mayor and Chief Whip are being elected – was adjourned when the councillor fell ill and collapsed, apparently battling to breath. She was led out of the chambers by medics shortly after nominations were announced for Joburg's mayor – Parks Tau (ANC) and Herman Mashaba (DA).
Confusion later ensued as the SABC announced that she had passed on after having a heart attack, while eNCA claimed she was still receiving medical treatment.
Unfortunately the former was true and former MMC for Finance Geoff Makhubo officially informed Council that the Councillor who collapsed earlier had died.
The EFF's Julius Malema said: "Our deepest condolences to the @MYANC and the family of the departed ANC councillor."
The DA added: "We are deeply saddened to hear of the passing of an ANC Councillor in #JHBCouncil. We send condolences to her family, loved ones & @MYANC."
A moment of silence was observed and the atmosphere has turned sombre after a day of chaos that included ANC and EFF struggle-song sing-offs and even a scuffle.
Some have reported that the ANC attempted to use emotional blackmail to ask councillors to vote for their party's nominated mayor in honour of the woman who passed away.
Newly elected Speaker, Vasco da Gama, announced that voting would continue.
Some ANC members are reportedly leaving after casting their votes, as – under the sad circumstances – Council agreed they can vote and go.
@glissonniekerk observed that "Whole room has been humbled by the councillor's passing. At least they realise lives are more important than egos."
And voting continues. Learning a lot from this. Priorities. Concentrate on things that matter. Myself. My family. Then my job. #Joburg

— Disa Mjikeliso (@disamjikeliso) August 22, 2016
#Joburg As voting commences, mood is sombre, ANC councillors speaking in low tones, singing has stopped & members look on @AfriNewsAgency

— Sphelele (@SpheDludla) August 22, 2016
I've always compared politics to Game of Thrones, but tonight's events have blown me away. The show goes on, just like that. #Joburg

— Mnisi (@LesegoMnisi_) August 22, 2016
Whole room has been humbled by the councillors passing. At least they realize lives are more important than egos. #Joburg

— Glisson (@glissonniekerk) August 22, 2016
#Joburg Some ANC members leaving after casting their ballots @News24 pic.twitter.com/hqfVb6exGX

— Matshidiso Madia (@tshidi_lee) August 22, 2016
https://twitter.com/SocialSA_/status/767769784238870528