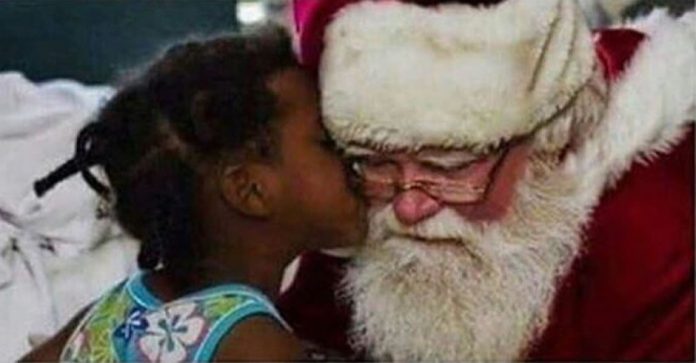 EFF leader Julius Malema remains unapologetic for his racist comments yesterday, posting a tweet today saying "We want our Land now" and sharing a shocking video that appears to show a white farmer pushing a black worker into a coffin.
On Monday, Malema told a crowd of hundreds of EFF followers in Newcastle that the land in South Africa – and Africa – did not belong to the white people, adding: "We are not calling for the slaughter of white people' at least for now…"
He then sang the contentious 'Kiss the Boer' (reworded from 'Kill the Boer').
His comments were widely condemned for being racist, hate speech.
Tuesday morning, an unrelenting Malema posted a photo of a black child whispering to Santa Class that she wants "LAND" for Christmas.
Above the photo, Malema wrote, on his official Twitter account: "The children of the black nation should take a stand, it's now or never. We want our Land now."
Malema also retweeted the shocking video of a black man being pushed into a coffin by a white 'landowner' (speaking Afrikaans and Zulu), which has gone viral and been reported in international media.
The footage, which appears to be filmed on a mobile phone by the farmer's assistant (who threatens to put a snake in the coffin), first surfaced in Zimbabwe last week. The worker is allegedly being 'punished' for a crime.
It is suspected by many that the video is a set-up… released deliberately to stir racial tensions. The person talking can be heard as he's about to burst out laughing at the end, when the video is quickly cut off.
Whether it was set up or not, most people who are watching it believe it to be true and are upset, no matter the colour of their skin. UPDATE: Following the coffin video going viral, two men appear in court in Middelburg on assault charges – #CoffinAssault
The Democratic Alliance (DA) strongly condemned Malema's "unconstitutional comments" and said "South Africa belongs to all those who live in it".
The children of the black nation should take a stand, is now or never. We want our Land now pic.twitter.com/2YZo4gSVVO

— Julius Sello Malema (@Julius_S_Malema) November 8, 2016
Our people are still being treated like animals….This is heartbreaking pic.twitter.com/ZUID5Xx7zV

— The Instigator (@AmBlujay) November 4, 2016
If your device cannot view the video above, try below: