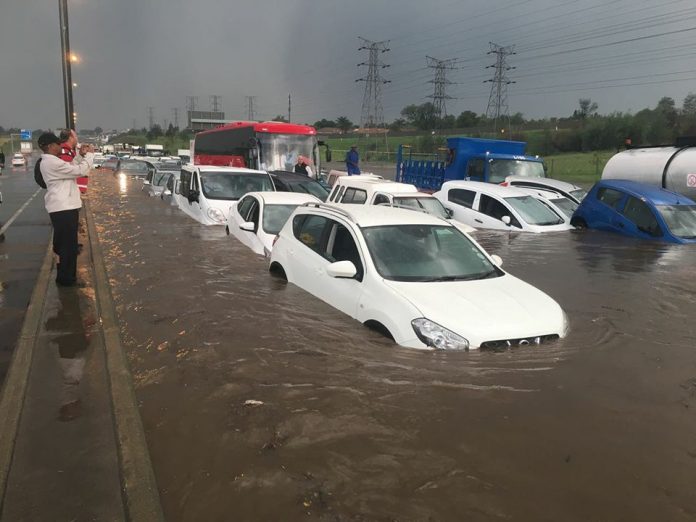 Heroes are starting to emerge from the devastating flash flood that hit Johannesburg 09 November 2016, leaving at least six confirmed fatalities. It wasn't only those in vehicles who were affected by the flooding, but even people at home in Joburg, especially in low lying areas.
Netcare911 praised a paramedic this evening who rescued a family and an elderly lady from their flooded homes even though he hadn't been dispatched to do so. They didn't release his name.
Netcare911 reported: "This afternoon at about 17h00, a Netcare911 paramedic was driving along Oaklands road in Orchards, Johannesburg, when he noticed a flooded area along the road.
"As he was about to make a u-turn, he was approached by a man [clearly distressed] who told him that his house was submerged in water and his wife and children were still inside.
"The Netcare 911 paramedic rushed to the scene, where he found that the house was submerged in water.
"He then broke a window to gain entry into the house."
He found the five children and their mother huddled on top of a bunk bed, petrified and clutching each other.
The water was apparently already so high that it reached the paramedic's chest.
"But this did not deter the brave paramedic from saving the children and their mother," said Netcare911.
"He managed to carry all five children between four years old and twelve years old and their mother out to safety.
"Once they had reached an area without water, the paramedic then assessed them and found that they did not require medical care."
And he didn't stop there. He then returned to one of the houses to rescue an elderly woman and also carried her to safety.
"Netcare911 would like to salute this brave paramedic who despite not being dispatched to the call, went beyond the call of duty to save a mother and her five children as well as an elderly woman," said Netcare911 in a statement Wednesday evening.
Photos have also shown scenes of fellow travellers trying to help each other to safety, a civilian even trying to resuscitate someone. We won't know all the stories of all the people who stepped up today to help those in need, but THANK YOU!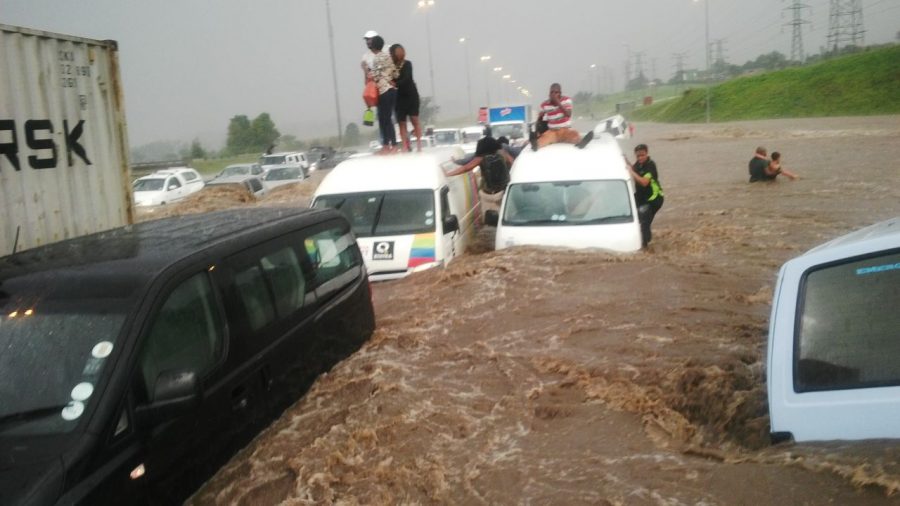 Netcare911 has strongly advised those living in low lying areas near rivers, dams and storm water drains to please be careful.
Motorists are also advised to avoid roads that have been flooded.
Videos of Flooding and Floods in Joburg today, 09 November 2016:
The power of Humanity. pic.twitter.com/xwh8ct1NLi

— Tendai Joe (@Tendaijoe) November 9, 2016
Insurancecompanies looking at the #floods damage through media right now. pic.twitter.com/hTgvExmT4f

— LUNGA♒MDLETSHE (@loobangs) November 9, 2016
This is how Kempton Park looked like after the torrential rains #floods pic.twitter.com/45BAYK0hoo

— Jonas Zitha (@jonas_zitha) November 9, 2016
This is serious #Floods pic.twitter.com/ELdL67LFtv

— African (@ali_naka) November 9, 2016
Such levels of chill ?? #floods pic.twitter.com/MBIpbvXAus

— Minister of Strokes (@kulanicool) November 9, 2016
Lightning strikes a tree during the storm in Joburg:
⚡️?? Lightning bolt strikes a palm tree in Bedfordview this afternoon. More here: https://t.co/sj8bNC37HJ pic.twitter.com/SnNuAqnutP

— Dennis Georgiannis (@dengeo) November 9, 2016
Jozi #floods at Melrose Arch today. pic.twitter.com/1XzNlilCoh

— Christelle Colman (@StillChristelle) November 9, 2016
Emer-G-Med paramedics are on-scene N3 Linksfield, where upwards of 70 cars have been flooded – some pushed off the road. One person has died pic.twitter.com/iw5cmgkHbw

— EMER-G-MED (@EMER_G_MED) November 9, 2016