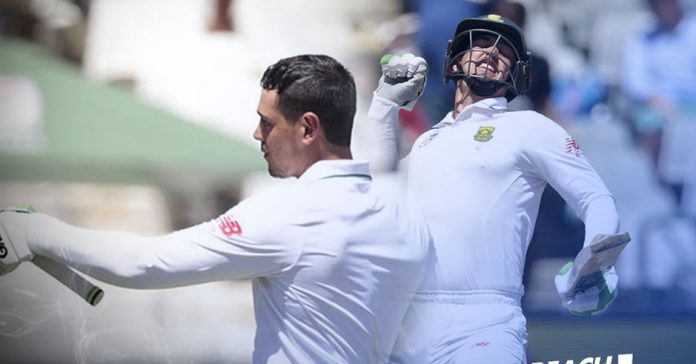 Congratulations to Proteas wicket keeper Quinton de Kock for breaking the record for the fewest innings taken by a keeper batsman to reach 1,000 Test runs… which he accomplished in Cape Town, South Africa, yesterday.
He reached the mark during his knock of 101 on Tuesday, on day two of the Test against Sri Lanka. It was his 21st innings as a keeper-batsman, thereby surpassing the previous record of 22 innings. It was De Kock's 25th innings of his Test career, the 23rd in which he batted, and the 21st in which he played as a keeper-batsman.
The left-hand batter was also the fastest to reach 1,000 ODI (one day international) runs (in reportedly the same number of innings), and a couple of weeks ago he was named ICC ODI Cricketer of the Year, becoming only the second South African player to scoop the award since it was started in 2004. (AB de Villiers won in 2010, 2014 and 2015).
The young 24-year-old has scored tons of runs for South Africa in the past couple of years and has been marked as a player to watch.
Yesterday Cricket South Africa tweeted that it was De Kock's third Test century, and said: "take a bow, you little biscuit!" Some fans pointed out he's not so little anymore.
On reaching his third century, the usually reserved De Kock yelled with delight. Afterwards he told South African media: "Ja – I don't know what happened, but it just came out."
Unfortunately today, Day three of the Test, he perished for 29. South Africa declared at 224/7 (51.5 overs) with a lead of 506. By Tea this afternoon, Sri Lanka was 17/1 and needed 490 to win.
Quinton De Kock reached 1000 Test runs in 21 innings!
He took same number of innings to reach 1000 ODI Runs! @OfficialCSA #ProteaFire pic.twitter.com/E6X2cTCRqZ

— NoLifeWithoutCricket (@NLWC07) January 4, 2017
Sri Lanka 17/1 at Tea. Philander 1/10. Need 490 to win. #ProteaFire pic.twitter.com/eFlNWL1tex

— Cricket South Africa (@OfficialCSA) January 4, 2017
This morning in Cape Town:
Oo Newlands you beauty! Let's go #ProteaFire … The boys looking good today! #cricket #sscricket #TableMountain #nature #sport #summer pic.twitter.com/c94UpH9ySL

— Eden Classens (@EClassens) January 4, 2017
This afternoon in Cape Town as winds blow smoke from fires in the Somerset West area:
Where there's smoke there's #ProteaFire @OfficialCSA #newlands @QuinnyDeKock69 @faf1307 pic.twitter.com/nL1XzMnw0G

— Nick Green (@Nick_GreenArch) January 4, 2017
The 400-run lead comes up for SA. 119/3 after 33.1 overs with a 401-run lead. Duminy (24) and du Plessis (9) at the crease #ProteaFire pic.twitter.com/YnUNXhzlim

— Cricket South Africa (@OfficialCSA) January 4, 2017
Only fire we want in the W Cape today is #ProteaFire. Best wishes to the brave firefighters battling #somersetwestfire. Best to the Proteas

— Mandy Laemmle (@MandyLJozi) January 4, 2017
A boundary and that's a 3rd Test century for @QuinnyDeKock69! Take a bow, you little biscuit! SA 333/7 #ProteaFire pic.twitter.com/PbqVkKFR7L

— Cricket South Africa (@OfficialCSA) January 3, 2017
Yet another hundred and yet another record for our #DilliBoy, Quinton de Kock! pic.twitter.com/xPFVofezYH

— Delhi Daredevils (@DelhiDaredevils) January 4, 2017
MASSIVE shout out to the #HashimArmy! You guys have brought fire to #Newlands! #ProteaFire pic.twitter.com/9694SNuywM

— Cricket South Africa (@OfficialCSA) January 3, 2017