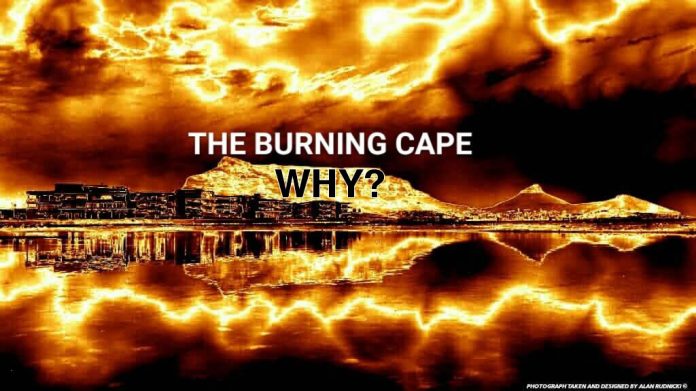 Why are there so many fires in the Western Cape? This is the question so many South Africans are asking at the moment, with rumours and accusations swiftly doing the rounds on social media and around dinner tables from Cape Town to Stellenbosch.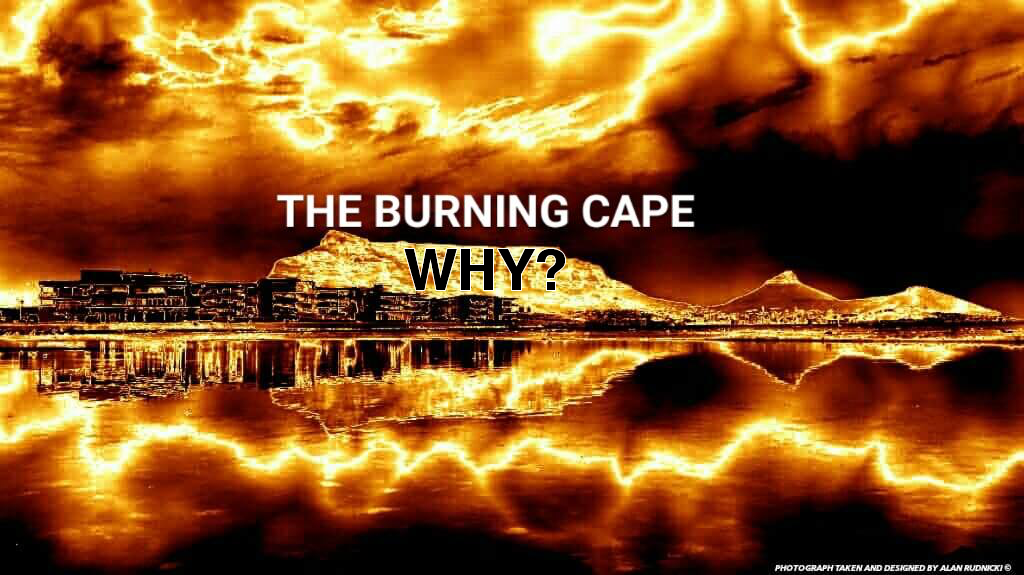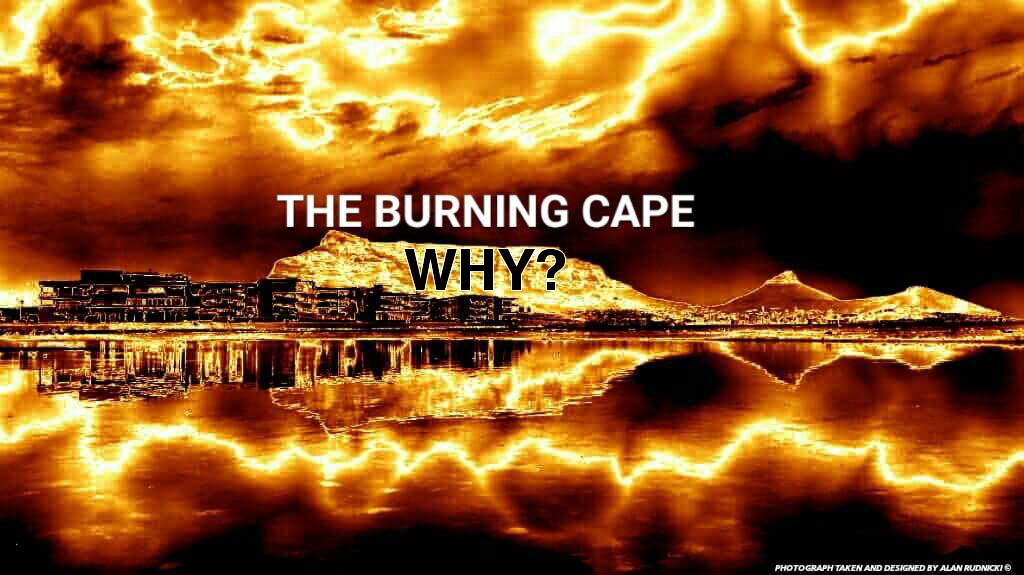 Many locals feel that the fires were never this bad, this persistent, this long-lasting.
There were fires in the past for sure, but they were put out quickly or – since a certain amount of burning is vital for the rejuvenation of the region's flora – managed in a way that never encroached on private property in the way they now do. Three farm houses in Stilbaai have been destroyed by fire in the past 24 hours, and multiple houses evacuated; and Stilbaai Fire has been declared a Local Disaster.
It's becoming a pattern. Wild fires ravage the mountains. Incredible photos are splashed across the media… and in a wonderful outpouring of selflessness, locals unite to donate food and funds to support the firefighters, many of them volunteers.
But what – or who – is to blame for this perceived increase in fires, and increase in the length of time it takes to put them out?
Some theories behind the Western Cape Fires are:
Global warming
Many of the fires have taken place on days when there's a heatwave, temperatures soaring into the high 30s, as happened last week. And as happened last year and two years ago – in fact on 3 March 2015, Western Cape firefighters were battling over 14 separate fires that had been ravaging the mountain for three days on what was declared the hottest day in Cape Town's recorded history, reaching 42 degrees Celcius. Yesterday, with fires burning in Paarl, temperatures were forecast to reach 36 in Stellenbosch and 38 in Wellington.
2. Gale Force Winds
Capetonians reported stronger than usual winds in the last week as fires raged out of control, the gale force winds fanning the flames. Videos were uploaded showing the incredible winds from the fires in Paarl to the beaches of Bloubergstrand. On Monday night helicopters were unable to water-bomb the #DeerParkFire because of winds. Even today, Cape Town resident Mary Lewis captured the below photo and told SAPeople: "Looks like the South Easter just won't give our Fire fighters a break…" and the Stilbaai fire was, according to officials, blown out of control by strong Easterly winds of approximately 40kms per hour.
3. It's Nature's Way
A certain number of fires are naturally expected… and required for the regeneration of vegetation, BUT as Volunteer Wildfire Services (VWS) tweeted yesterday morning: "Fynbos is fire-adapted, but too frequent fires mean not enough plants mature to make seeds which leads to loss of species & ecological damage."
4. Bored and Reckless Youngsters
Bored young rebels and people with pyromaniac tendencies are blamed around the world for arson attacks, including those in the Western Cape. In fact on Saturday a 14-year-old teenage boy was arrested on suspicion of starting the Signal Hill fire deliberately. He allegedly managed to run away.
5. Irresponsible Smokers and Braai Masters
Motorists have been blamed for carelessly throwing cigarette buts out of their car windows; and people cooking braais have also been warned about embers that go flying in the winds and cause flames to flare up.
6. Irresponsible Property Owners
The lack of management of alien plants has been blamed for the Somerset West fires getting so out of control by Dr Guy Preston, Deputy Director-General in the Department of Environmental Affairs. Dr Preston, who is also responsible for the Working on Fire (WoF) and Working for Water programmes, says: "Landowners who have not managed invasive alien plants on their properties must be held accountable for that impact on the fires that have ravaged areas around Somerset West."
Preston says all 80 of the structures that burned in the January 2000 fires on Table Mountain were surrounded by invasive plants like pines, wattles and gum which can burn with "an intensity of ten-fold that of the indigenous plants they displace".
He says with the clearing of invasive plants in the intervening years only eight structures burned in the March 2015 fires on Table Mountain, of which seven were surrounded by invasive plants.
Preston says "it is wrong that we and our partners should have to fund fire-fighting efforts, when land-owners have not taken the necessary steps to prevent or mitigate intense wild fires.
"We risk the lives of our fire-fighters and pilots, to fight fires that spread because of the neglect and indifference of some of the land-owners."
Preston claims: "The National Veld and Forest Fire Act of 1998, and its Regulations, are very clear about the accountability of land-owners. Some of the land-owners in the area, such as Vergelegen and the Lourensford Estate, have taken responsible precautions, but may have suffered losses as a result of the neglect of their neighbours.  It will be interesting to see these laws being applied, particularly in civil cases.  The costs could run into many millions of Rands."
He says so far this season "we have been lucky with the winds.  We cannot count on being lucky all the time.  The kind of catastrophic impacts that have been recorded in Australia, the USA, Chile, Canada and elsewhere, will happen here, if we do not ensure that land-owners take the necessary precautions to negate the spread of wild fires."
7. City of Cape Town's Building Expansion
Some say the City of Cape Town has allowed properties and suburbs to sprawl a little too close to the forests and mountain slopes, where fires arise.
8. Racist Attacks or a Planned Plot
Some facebook and twitter posts have alleged the fires have been deliberately begun as a plot to take land from the property owners.
Some talk of something "sinister" and of an unidentified "plot", as can be seen in this comment – one of many seen on Facebook today, 18 January 2017: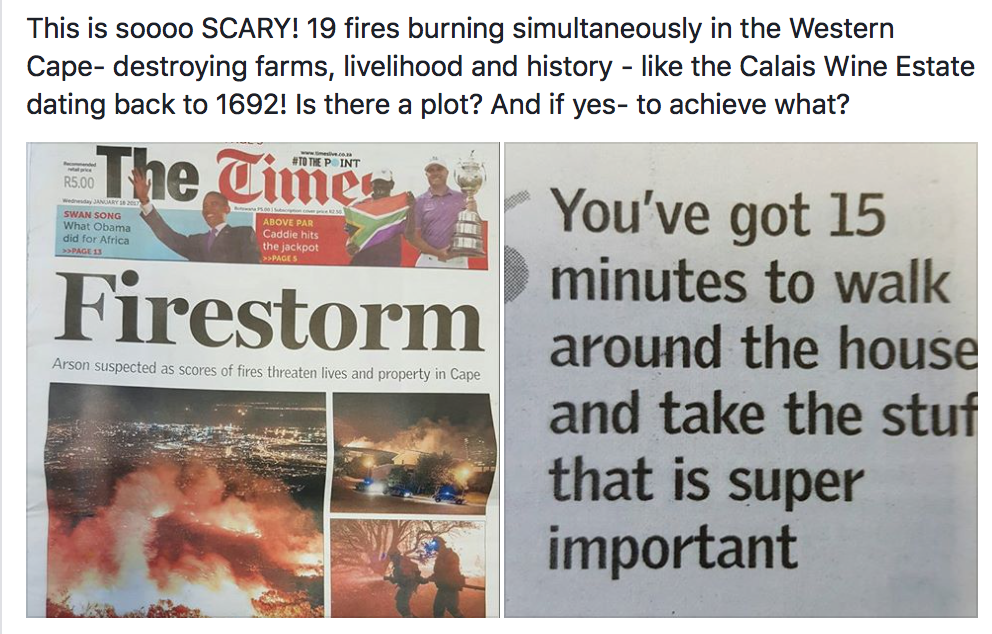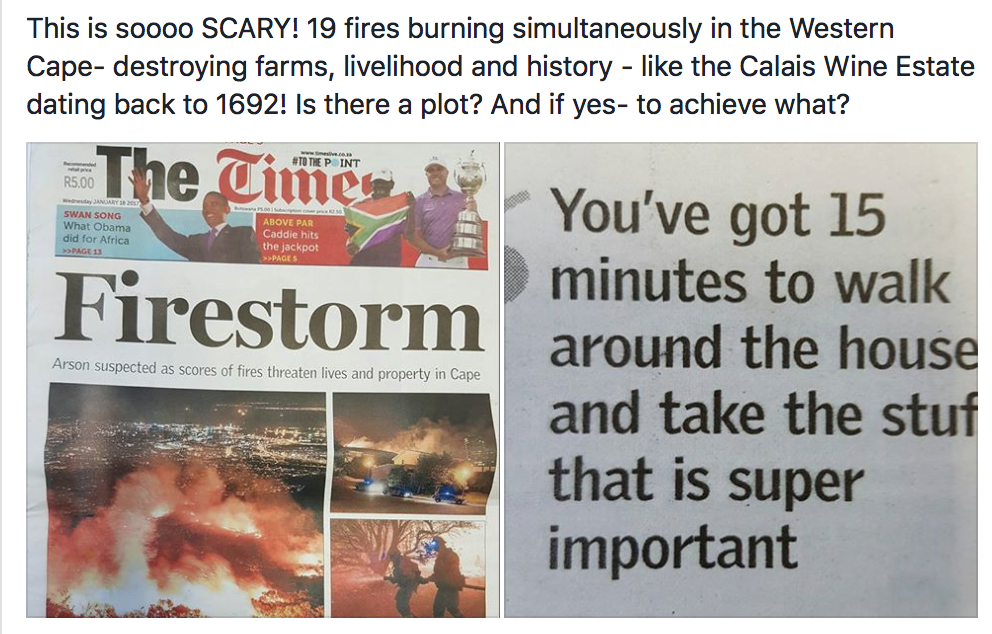 On Tuesday the City of Cape Town's Safety and Security member JP Smith said in a statement: "The spate of fires is truly suspicious and we have an investigations team that is looking into it."
9. Poor Management and Too Much Red Tape
There have been accusations that new fire trucks bought from donations are gathering dust, and over 150 City of Cape Town trained volunteers are sitting unused because of too much time wasted on protocol and red tape rather than urgently deploying as many resources as possible to the scenes of the fires.
The City of Cape Town has not yet officially responded to SAPeople queries. We will update if and when they do.
10. Contracts and Money
There have been several claims that there were never this many fires, raging for this long, until a few years ago when the City of Cape Town engaged in contracts with Working on Fire (WoF) in which they get paid per days spent fighting fires; and Volunteer Wildfire Services (VWS) who are volunteers that get cash donations.
SAPeople was contacted by several people – ranging from freelance journalists to firefighting insiders – who wanted to tell their story. They all mentioned the same thing – the contracts, the politics, the egos.
We turned to a trusted source who works full-time for the City of Cape Town for their feedback. They pointed us to a facebook message by someone who questioned Kishugu Group's role.
As per its website Kishugu is "internationally acknowledged as the implementer of the award-winning South African Government's Working on Fire Programme (WoF)".
On its website page, Kishugu claims to provide the most effective Fire Management System in the world, and says its WoF Programme is the "most successful job creation and skills development programme in the history of South Africa". It says WoF is one of over nine aligned subsidiaries within Kishugu.
In the post on facebook – which has since been removed by the poster after he allegedly received threats of legal action, he asked "who stands to benefit from these fires that could possibly be Arson" and claimed that Kishugu had won a government tender worth "Millions of Rands worth of business".
He added that according to a chopper pilot "20 odd years ago there were hardly any fires this big around the Western Cape".
In an email last week to various City of Cape Town councillors, including City Manager Achmat Ebrahim, a person claiming to be a freelance journalist from Stellenbosch said he was on the scene of an out-of-control fire in the area last week and was informed by the incident commander that there were "no more resources available". The commander allegedly said they were waiting for more resources from the Eastern Cape (which would be WoF or VWS crew).
The person wrote: "Looking at the inner side to these fires we ask: is the City of Cape Town able to handle these fires and who is really in charge?
"Following the Fires that are currently burning… Most are arson, but the real kicker is the politics that follow…"
He said many fire fighting groups have been formed – Volunteer Wildfire Services (VWS), Working on Fire (WOF), Vulcan Fire, Enviro Fire, NCC Fire etc. – and asked "when a fire breaks out why are all the resources not called?"
The email writer claimed – after speaking to several insiders on condition of anonymity – that he discovered stories of financial corruption and wasteful expenditure on unused fire trucks for the volunteer units who "sit by and watch, and are not used because of 'boundary lines'.
"Volunteers from Newlands, Southern Suburbs,  are sitting at home and watching the devastation… they're ready to help but will not be used because of red tape and ego from the Incident Command Centre," he claimed.
The email ended with: "Questions should be asked by the Public: where is the help and if they were sent to the fires would property be saved? And secondly, are these fires started by people in the fire services?"
These rumours have been spreading on social media – just like the wildfire on the Western Cape mountains – for a while now… with some arguing that it's not fair to point the finger of blame to the very people who are risking their lives to save other people's homes, properties, pets and lives.
Firefighting insiders are quick to stress that they are not pointing fingers at the individual fire fighters who are heroes, but to those pulling the strings – those who are benefiting from government funding and the Expanded Public Works Programme (EPWP).
According to Environment ZA, over 1,000 firefighters have now been deployed for the #CapeFires "with some mobilized from as far afield as bases in the Eastern Cape and Free State".
Environment ZA says "WoF falls under the Department's Environmental Programmes where unemployed young men & women are trained in various fire management sectors."
Kishugu's National Communication Manager, Linton Rensburg, referred SAPeople to the City of Cape Town for comment as "these are operational matters and the City of Cape Town's Fire and Rescue Services are the mandated fire authority and we are providing support as and when requested." At the time of publishing, the City of Cape Town had not yet responded officially to SAPeople's queries. When and if they do we will update.
Kishugu also supplied SAPeople with several facts and figures on the latest fires – during January 2017 alone, ground and aerial support were instrumental in the suppression of 53 fires and limited the areas burnt by an impressive 31,000 hectares throughout the Western Cape. Firefighting aircraft have racked up more than 300 flying hours.
The hours and the hectares are likely to climb as unfortunately the fires are still burning (10 yesterday) and the weather conditions are not favourable… with no rain in sight. High temperatures and especially windy conditions are forecast for the rest of the month… and February is renowned as a very dry month, receiving only 2% of the region's annual rainfall. (For more facts, figures and updates on the Cape Fires, please click here.)
As mentioned above the City of Cape Town's JP Smith said in a statement yesterday that: "The spate of fires is truly suspicious and we have an investigations team that is looking into it."
According to Enviro Wildfire Services the first meeting of the Fire Investigation Task Team (consisting of SAPS, the City of Cape Town, and Enviro Wildfire Services) was held yesterday. Any members of the public who can provide information they feel could assist in the identifying and apprehending of those responsible for starting veldfires is invited to send info to: enviro@absamail.co.za
In the meantime, for all the work from all the firefighters, and those who manage and support them – we can only say THANK YOU.
On Twitter
@wayne601122 Fiends of mine lost their homes, winery, vineyard in Paarl, and three children of +-14 started that blaze. Such sadness 🙁

— Dawn Jorgensen (@DawnJorgensen) January 17, 2017
Vredehoek, Table Mountain even Paarl ?.. Something is fishy here .. I smell arson. #CapeTown #capetownfire #CapeFires pic.twitter.com/4tXOqyJHpu

— OkMalumkoolSamps (@ClintonSamps) January 17, 2017
Fire raging in #paarl @KFMza @ewnupdates @liezelv wind is crazy. Part of town covered in dark smoke #capetownfire pic.twitter.com/7HVLq1jzva

— Celeste Adonis (@PepperCE) January 17, 2017
@vwsfires any update on the Paarl fire? It looks really bad this morning. Strongs to you guys battling out there #realheroes pic.twitter.com/oPFJHyCJ3k

— Elizabeth Moll (@lizmoll) January 17, 2017
WoF falls under the Department's Environmental Programmes where unemployed young men & women are trained in various fire management sectors. pic.twitter.com/3K6U4zOAza

— Environmentza (@environmentza) January 13, 2017