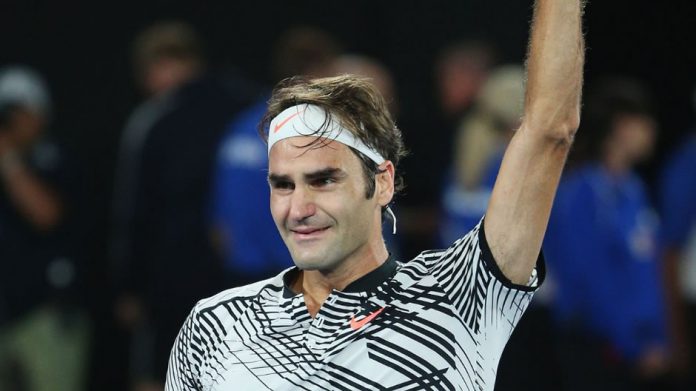 For the first time in five years Swiss tennis player Roger Federer (who credits his South African mother for much of his success) is a major champion again, after beating Spanish sportsman Rafael Nadal in an epic nail-biting five-set battle at the Australian Open.
Federer danced with joy when he realised he had won (watch below).
After the match he said of his longtime friend and rival, Nadal: "Tennis is a tough sport, there's no draws but if there was I'd be happy to share it with Rafa tonight."
Federer (35) claimed this – his 18th Grand Slam title – in his first major tournament after having been away for six months with injury.
He won 6-4 3-6 6-1 3-6 6-3 at Rod Laver Arena on Sunday night. He last won the Australian Open in 2010, and his last major singles title was Wimbledon in 2012. The last time he beat Nadal in a major was Wimbledon 2007.
According to the Australian Open website, this victory puts the 35-year-old at number 10 in the world… and makes him the first man in history to win five or more titles at three different Grand Slam events.
Click here for more about Roger Federer and his South African mother, Lynette, his Foundation and trips to South Africa.
HE'S DONE IT! ?

Roger #Federer has defeated Rafael #Nadal in the #AusOpen 2017 final to bring up his 18th Grand Slam singles title. pic.twitter.com/0Y1kM79KIc

— #AusOpen (@AustralianOpen) January 29, 2017
#Federer: "Tennis is a tough sport, there's no draws but if there was I'd be happy to share it with Rafa tonight."#AusOpen pic.twitter.com/PbmQObhoq4

— #AusOpen (@AustralianOpen) January 29, 2017
For the first time in 5 years, Roger Federer is a major champion again. pic.twitter.com/um97wVCkDj

— SportsCenter (@SportsCenter) January 29, 2017
A man of the people.@rogerfederer visits the waiting crowd on @MCourtArena! #ausopen pic.twitter.com/ZcFgoUnMEU

— #AusOpen (@AustralianOpen) January 29, 2017
Good things come to those who wait. #AusOpen #Be18ive pic.twitter.com/nAdLaUiBJg

— #AusOpen (@AustralianOpen) January 29, 2017
??? #AusOpen #Federer pic.twitter.com/8sGRAqbDYy

— #AusOpen (@AustralianOpen) January 29, 2017
#Federer: "Keep playing Rafa please. Tennis needs you. Keep doing everything you do." #AusOpen pic.twitter.com/lwH7EPiw1t

— #AusOpen (@AustralianOpen) January 29, 2017
"Well done, congrats, I feel very happy for you." #Nadal to #Federer. @RafaelNadal thank you for a terrific @AusOpen 2017 pic.twitter.com/NOVECgkVSk

— #AusOpen (@AustralianOpen) January 29, 2017