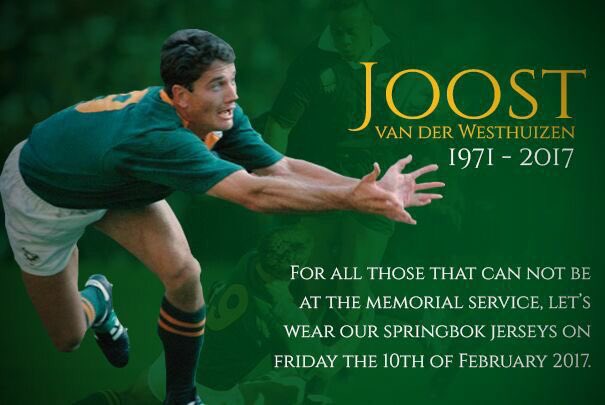 The memorial will be held at Loftus Versveld (Kirkness street, Pretoria) at 12h30pm on Friday 10 Feb 2017.
For those who cannot attend, but would like to pay tribute to Joost, they are urged to paint the world green and gold on Friday. Wear a rugby jersey, or even just green.
Feel free to send any photos to SAPeople of yourself – wherever you are in the world, paying tribute on Friday. Send to admin@sapeople.com or inbox us at www.fb.com/sapeople (thanks!).
Expats in the UK had expressed a wish to honour Joost in London, with a memorial or tribute of some kind. Several people have even said they'll be wearing Springbok colours tomorrow. Veronica Borrageiro, in Cape Town, sent a message to SAPeople saying: "More gaan ALMAL springbok klere dra ter na gedagtenis vir Joost!!!! Stuur aan almal en ons verf die land, die Wêreld groen en goud vir Joost, ons S.A. Legende!!!!"
UPDATE: South Africans Around the World Pay Tribute to Joost van der Westhuizen 10 February 2017
May this legend and his legacy live forever! #RIPJoost #joostvanderwesthuizen #ALS #springboklegend #bokrugby d pic.twitter.com/6vENmHp88D

— Bernard vdWesthuizen (@drgatto82) February 6, 2017
The legendary rugby player who fought for South Africa on the field, and courageously for his life off the field, passed away at the age of 45 on Monday 6 February, after a long struggle with amyotrophic lateral sclerosis (ALS), a form of Motor Neurone Disease (MND), for the past six years. He leaves behind his two children, Jordan (13) and Kylie (10), as well as his father Gustav, mother Mariana, and brothers Pieter and Gustav.
Many of Joost's fans are not only South African. Hugh Laurie from 'House' fame tweeted a beautiful tribute (about Joost being so excellent, he was more like a 'dagger than a thorn' in the side of English players), and an expat's husband – Richard Skalski, from Texas – left this tribute on Facebook: "I became a Springbok fan when I married the love of my life Fatima who is a South African native. I learned the game watching the great Joost play and had the honor of meeting him when the Boks came to Houston for a match against the Eagles. A great player and even greater gentlemen. I can not imagine anyone else as the number 9. God rest."
Watch the heartwarming 'Jonah Lomu meets Joost van der Westhuizen in South Africa' video. 
Special photos from Joost van der Westhuizen's life