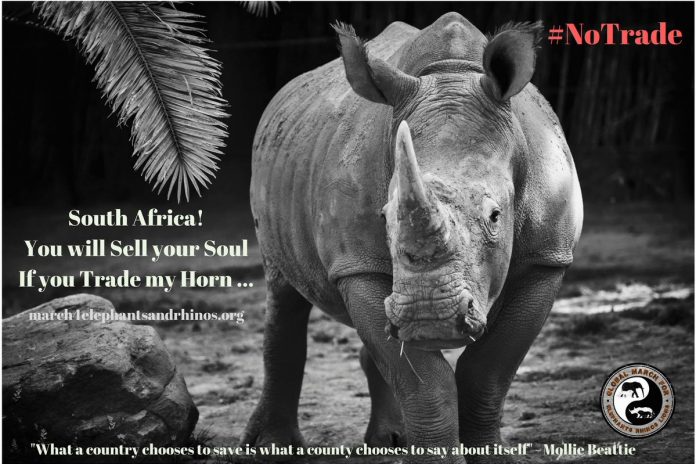 Conservationists are asking the public to make their voice heard by signing a petition for CITES to help assist in stopping the South African government from allowing the national and international trade in rhino horn.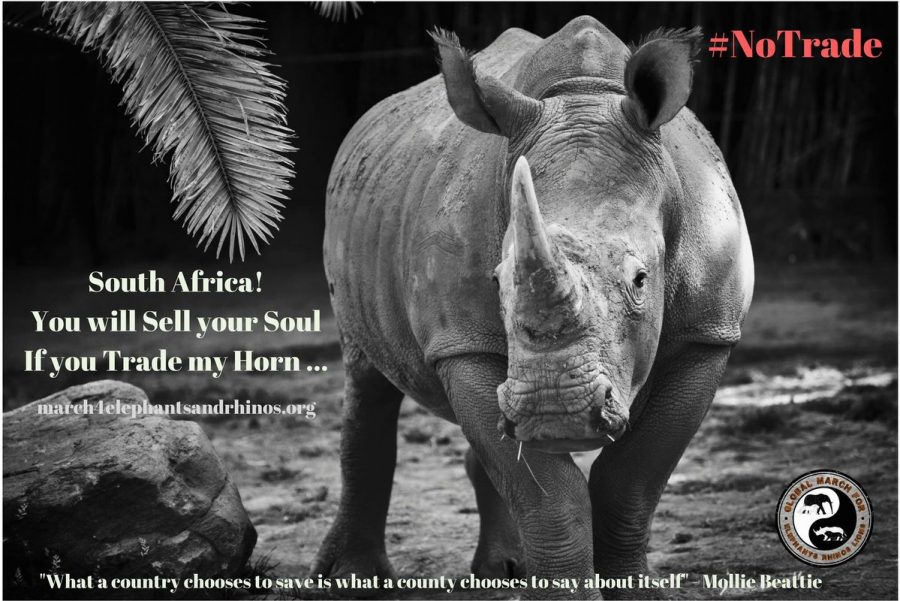 Megan Carr from Rhinos in Africa said: "South Africa is reaching yet another critical turning point in its turbulent history" as the risk of extinction of one of South Africa's most iconic 'Big Five' animals – the rhino – could be speeded up if the Department of Environment goes ahead with its plan.
The petition has been set up on Change.org by Global March for Elephants and Rhinos.
They say: "South African Environmental Affairs Minister Edna Molewa has declared that she plans to permit the trade in Rhino Horn domestically and to allow the export internationally of Rhino Horn for 'personal purposes'.
"The South African Government has in the past been accused and found guilty of corruption at the highest levels.  Informed conservationists fear that the implementation of the proposed permits for trade will be less than perfect…
"Rhino in South Africa are facing extinction. Conservationists have confirmed figures that on average three Rhino per day are losing their lives to Rhino poachers. Opening of trade in horn will escalate the extinction of this iconic species.
"The South African Government are curators of an enormous Rhino Horn stockpile. The black market value of Rhino horn is £51 000 per kilogram. This black market value makes Rhino Horn more valuable than Gold, Platinum for Diamonds per gram.
"At CoP17 held in Johannesburg in October 2016 the international community voted overwhelmingly AGAINST the trade in Rhino Horn."
In an update last week on the rhino poaching stats and the government's efforts to protect the rhino, the Minister said three notices had been published on 8 February proposing regulations for the domestic trade in rhino horn, prohibitions on the powdering and shaving of rhino horn, and the removal of the Eastern black rhinoceros (Diceros bicornis michaeli) from the list of invasive species so as to include it in the list of protected species to ensure that all rhino sub-species are covered by the proposed legislative provisions.
Members of the public were invited to respond within 30 days.
If you wish to, sign the petition here or email mboshoff@environment.gov.za Please share.
#NoRhinoHornTrade ?? please retweet and sign petition https://t.co/E53QlVh4dU @EleRhinoMarch @WildlifeAtRisk @Our_DA @EIAinvestigator pic.twitter.com/AJdJolj4BJ

— Rhinos in Africa (@RHINOSINAFRICA) March 8, 2017
We have sent in our public comment to oppose Notice 74 of 2017, the legalization of #rhino horn trade in #SouthAfrica by the DEA. @CITES pic.twitter.com/i6vr9OcnRs

— Tusk Task Force™ (@tusktaskforce) March 6, 2017
MORE
Debate: Should the global sale of rhino horn be legalised?