Another cheetah attack in South Africa has emerged, making world news this weekend with Britain's tabloid 'The Sun' headlining it "cheet-ing death".
A Chinese exchange student, Peggy Lio from Macau, was attacked during an arranged cheetah encounter at Emdoneni Lodge and Cheetah Project. Watch video below.
The attack reportedly occurred last month, the day before another attack at the same lodge… bringing the total known cheetah attacks in South Africa during March to three. One of those attacks was tragically fatal – a cheetah mauled and killed a three-year-old boy on John Varty's farm in the Free State, after workers allegedly left the gates to an enclosure open by mistake.
Lio's attack only came to light after the attack on New Zealand teen Isaac Driver made news around the world. Driver suffered mild injuries when a cheetah attacked him as he and his family left the petting enclosure at Emdoneni. Driver's father told reporters the Lodge never mentioned that there had been an attack the day before – "I was quite shocked. That's not really good," he said.
It was apparently the same cheetah, named Dew, according to international reports.
It has raised renewed awareness of the dangers of petting animals that are essentially still wild, regardless of whether they are in an enclosure or not. It's also provided new fodder for conservationists in their quest to have petting banned as something that is not ever beneficial to animals… and which often (although not in this case) is because the cubs are being bred for the bullet (in an industry called 'canned hunting', lion cubs from petting zoos are often sold on to hunting farms).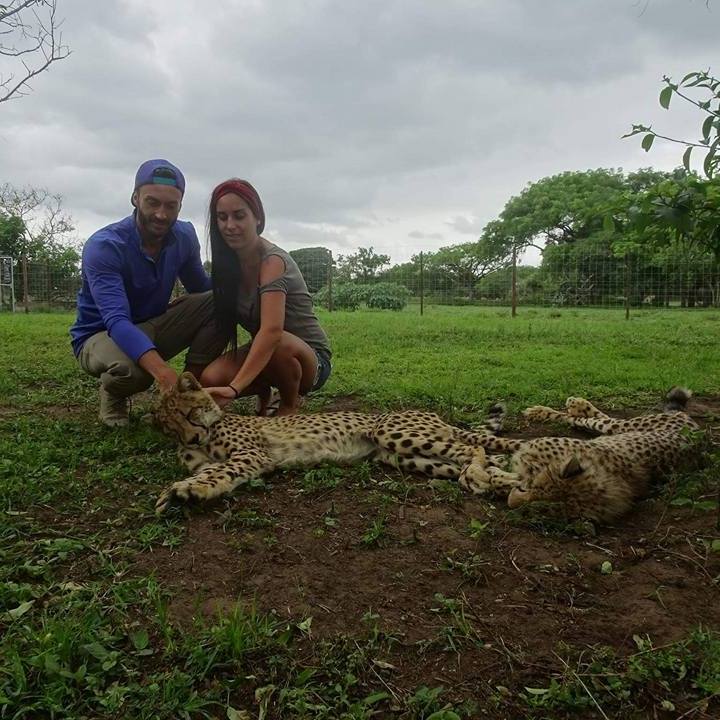 However, those who have visited Emdoneni point out that all their cheetah, serval cats, African wild cats and caracal (lynx) have been rescued after being orphaned or injured – and that the Lodge releases rehabilitated animals back into the wild.
The funding for this conservation project is made possible by the ticket costs for the personal experiences that visitors are able to enjoy with the two cheetah. These two cheetah are allegedly unable to be released back into the wild as they would not survive.
In a post a couple of weeks ago, award-winning Emdoneni Lodge said: "Emdoneni Cheetah Project is a unique project in Zululand, a project that is not focused on the quantity of cats held, but on the quality of existence for the few cats we do have and giving their offspring the opportunity to be re-wilded and to live a free life back in their natural environment, caring and hunting for themselves.
"In South Africa there are very few institutions of this nature that are willing to dispense of their cats without being compensated for them. Emdoneni's policy has always been not to sell any of our cats and the aim of the project is to rehabilitate areas in Zululand and other areas that these cats were previously indigenous to, but became extinct…
"Our first cheetah is in the process of being re-wilded and was donated to Gondwana Game Reserve in the Cape. This cat's market value is currently about R130,000, but we chose to release her free of charge, as this is what we stand for…
"The reasoning behind doing 2 daily tours of the project is to raise funds so that the project can be self-funded… This is all funded by visitors, including the running cost of food, salaries, veterinary bills, etc…
"We see the guided tours as a necessity to keep the project alive, as other institutions rely on donations and or the sale of their offspring to fund their projects, not mentioning animals that are being bred for hunting purposes." (Read the full statement on their Facebook page.)
National Geographic says that the cheetah is dangerously close to extinction, with just 7,100 left in the wild.
Watch Video: Cheetah Attacks Student in South Africa
https://youtu.be/w68ypBhN6xU