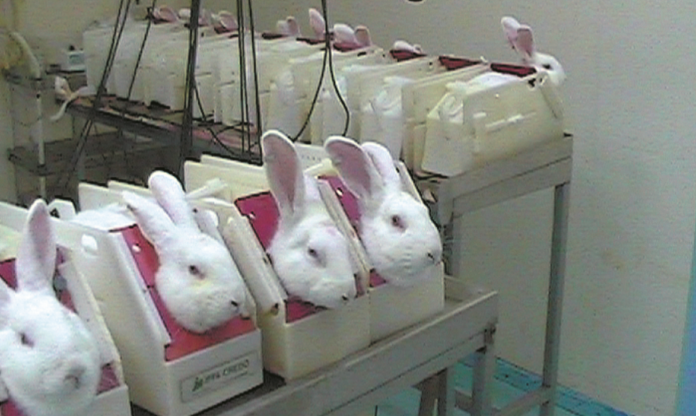 Hollywood filmmakers and movie stars have joined forces with Humane Society International (HSI) to produce a powerful short film, #SaveRalph, to end cosmetic testing on animals around the world, including South Africa.
Although banned in 40 countries, the practice of testing on animals is still legal in most of the world, and is even making a comeback in some regions! Thousands of animals are being subjected to needless suffering and death.
Taika Waititi, Ricky Gervais, Zac Efron, Olivia Munn, Pom Klementieff, Tricia Helfer and others have come together to help HSI change that by providing the voices for the #SaveRalph film.
The film is written and directed by Spencer Susser (Hesher, The Greatest Showman), and is being launched in several languages worldwide.
Ricky Gervais says:
"Animal testing just makes me angry. There's no justification for dripping chemicals in rabbits' eyes or force-feeding them to rats just to make lipsticks and shampoo. Science has evolved enough to give us non-animal solutions to end this terrible cruelty—it's time for our humanity to catch up."
The campaign is focused on 16 countries including Brazil, Canada, Chile, Mexico, South Africa, and 10 Southeast Asian nations, with partner organizations focused on the US and a European loophole that some are trying to exploit.
Joseph Mayson, HSI-Africa's campaign manager, says: "Sadly, there's no happy ending for animals like Ralph, but by working together we can ensure that no animal is ever again made to suffer in the name of beauty. It's easy to assume that companies are the problem, but the truth is they are a vital part of the solution. It's laws that need to be changed, and industry leaders like Lush, Unilever, P&G, L'Oréal and Avon are working with us to secure meaningful animal testing bans in many of the world's most influential beauty markets. We've recruited Ralph as our spokesbunny to help get these laws over the finish line.
"Over 90% of South Africans support a ban on animal testing for cosmetics, so with industry and the public on our side, we believe it is only a matter of time before South Africa joins the 40 countries that have already banned this practice."
WATCH Save Ralph – A Short Film Showing No Animal Should Die in the Name of Beauty
Find the short film and educational materials on the current status of animal testing and how you can help at hsi.org/Ralph
Follow HSI on Twitter, Facebook and Instagram.
Fast facts:
Recent polling shows that 90% of South Africans support a ban on cosmetic testing on animals.
In some parts of the world, rabbits like Ralph are locked in neck restraints and have cosmetic products and ingredients dripped in their eye and on to the shaved skin on their back. Guinea pigs and mice have the chemicals spread on their shaved skin or on their ears. None of these animals are given pain relief, and all of them will be killed at the end.
Animal testing for cosmetics is banned in 40 countries. HSI and partners were instrumental in securing bans in India, Taiwan, New Zealand, South Korea, Guatemala, Australia and 10 states in Brazil. Such testing is also banned in Turkey, Israel, Norway, Iceland, Switzerland, and in the U.S. states of California, Illinois, Nevada and Virginia.
More than 2,000 "cruelty-free" beauty brands are available worldwide, including Lush, Garnier, Dove, Herbal Essences and H&M. These companies produce safe products by using ingredients with a history of safe use, together with modern animal-free safety assessment tools.
No single global shopping guide yet exists, but HSI recognises LeapingBunny.org,  BeautyWithoutBunnies, Logical Harmony, ChooseCrueltyFree, and Te Protejo as useful resources.