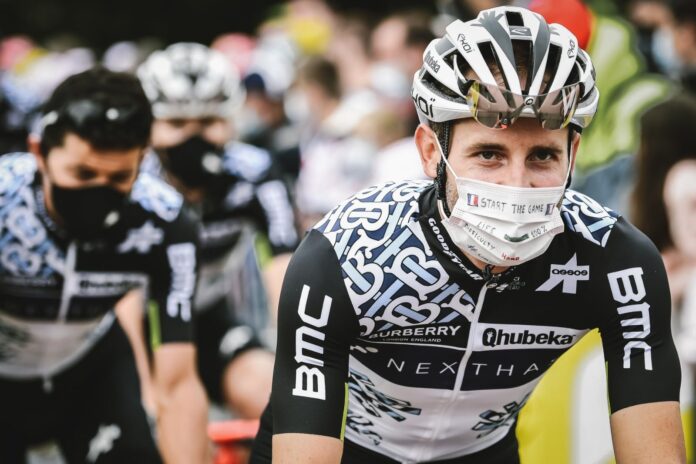 South Africa's cycling team at this year's Tour de France – Team Qhubeka – successfully navigated today's dramatic start to the famous annual race, managing to escape the accidents without serious injury.
Team Qhubeka said: "Thankfully all of our riders came through today's stage of Le Tour de France unscathed. ? We want to wish all the affected riders and teams a swift recovery. To the fans, please keep yourselves safe so that we can continue to entertain you! #BicyclesChangeLives."
The team said on its website that the opening stage – a 198km loop around Brittany – was a "dramatic affair, but not always for the most positive of reasons".
The main drama began 45km from the end when a fan got in the way of the peloton and caused a mass crash at the front of the race… and then another mass crash took place 7km from the end.
"Fortunately, all Team Qhubeka NextHash riders got through the (first) carnage to continue racing. As the break was caught and the peloton raced toward the finishing climb, another high speed mass-crash occurred with 7km to go. Once again, luck was on our side as all our riders managed to escape without serious injury.
"The crashes had obviously shattered the peloton, leaving just 25 riders to contest for stage honours. The World Champion, Alaphilippe, took a brilliant win while Michael Gogl and Sergio Henao were the first riders home for Team Qhubeka NextHash, finishing in the 2nd group on the road.
"Our remaining six riders, including Le Tour debutants Nicholas Dlamini, Sean Bennett, Carlos Barbero & Campenaerts all managed to finish the stage safely," said Team Qhubeka.
Dlamini said afterwards:
I think it was one of the first stages of a race that I've done in a while where there were so many big crashes but I think we can be happy that nobody really was too badly hurt, it could have been work. The race was everything that we expected, first stage always was like that, with a lot of stress in the bunch.

It was really good to make my debut, the race started pretty fast… I think that we can really look forward to the next stage now and take it day by day.

I just want to again thank everyone for the incredible support that they've given to me and the team. It's been incredible, and we will continue to strive to make everyone proud as we continue to change lives with bicycles.
This year marks the seventh appearance of South Africa's Qhubeka World Tour Cycling team. The team's motto is 'Bicycles Change Lives'.
The SA team is represented by eight riders, including Nicholas Dlamini, a Cape Town born athlete who makes history as the first black South African cyclist to participate in the 108th Tour de France.
In a statement on Friday, Sports Minister Nathi Mthethwa, said:
"Allow me to first congratulate Nicholas Dlamini rising from humble beginnings to the international stage. This is a demonstration that tenacity, determination and selflessness are indeed virtues that birth greatness, as long as one remains focused at all times.

"To the entire South African registered team that will be carrying the country's flag high, go out there and represent us well. You have stood the test of time, especially during these difficult times when the COVID-19 pandemic is still wreaking global havoc.

"We agree with your motto that bicycles change lives, as they serve as an instrument of promoting a healthy lifestyle. All the best to the team. We are behind you all the way."
The Tour de France consists of 21 day-long stages over the course of 23 days, and ends on Sunday 18 July 2021. The event started in Brest, France, today and participants will cycle 3,470 kilometres to Paris.