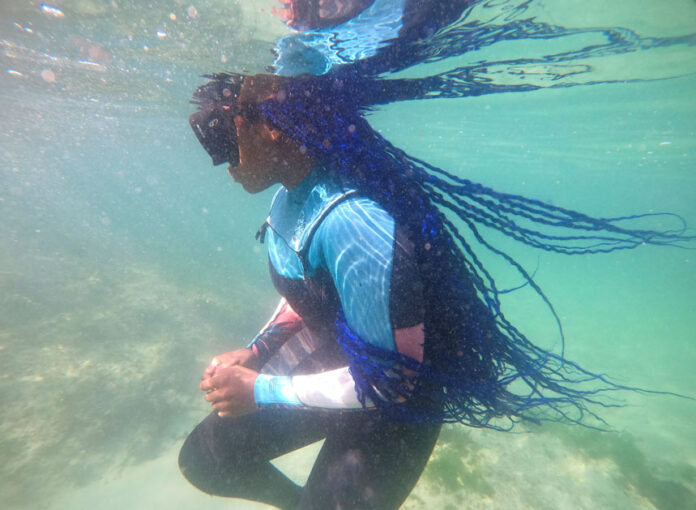 "My journey in the Water has taken me to places I never thought possible, exploring in ways I never thought possible… as a Black girl, as a Zulu girl, as someone who doesn't come from Wealth, I remain in awe daily, of the things that happen… when we lean in, enjoy ???‍♀️" says Zandile Ndlovu… aka Zandi The Mermaid, South Africa's first black free dive instructor.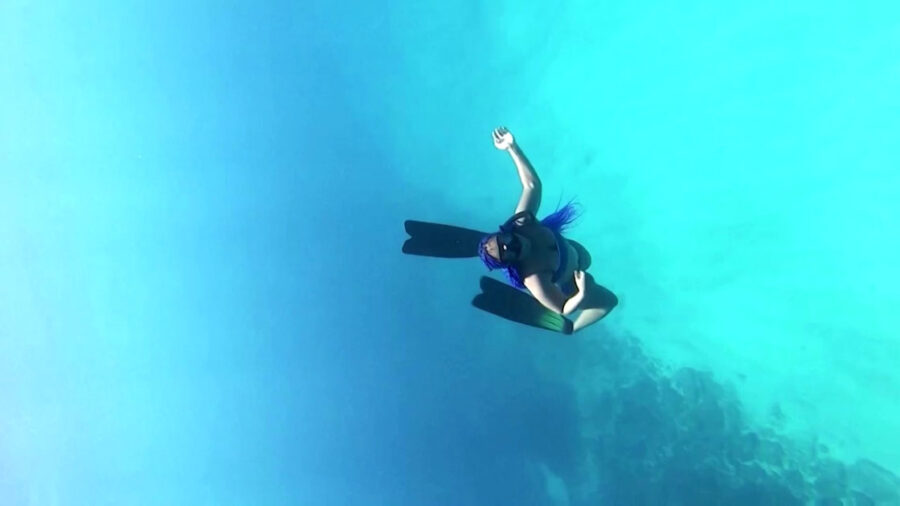 Zandi is not only diving deep, but is also testing new waters in South Africa… changing the narrative of who belongs in the water. She's creating diversity in women's diving and has established the Black Mermaid Foundation to introduce the ocean to the country's black youth, millions of whom live in impoverished shanty townships, where beach trips are a luxury and swimming skills in short supply.
"The water space has not always been diverse, and I wanted to create a space where diverse representation in the ocean is possible," she told Reuters. Zandi gave up her own consultancy business which she ran for five years, after being employed in the corporate services sector.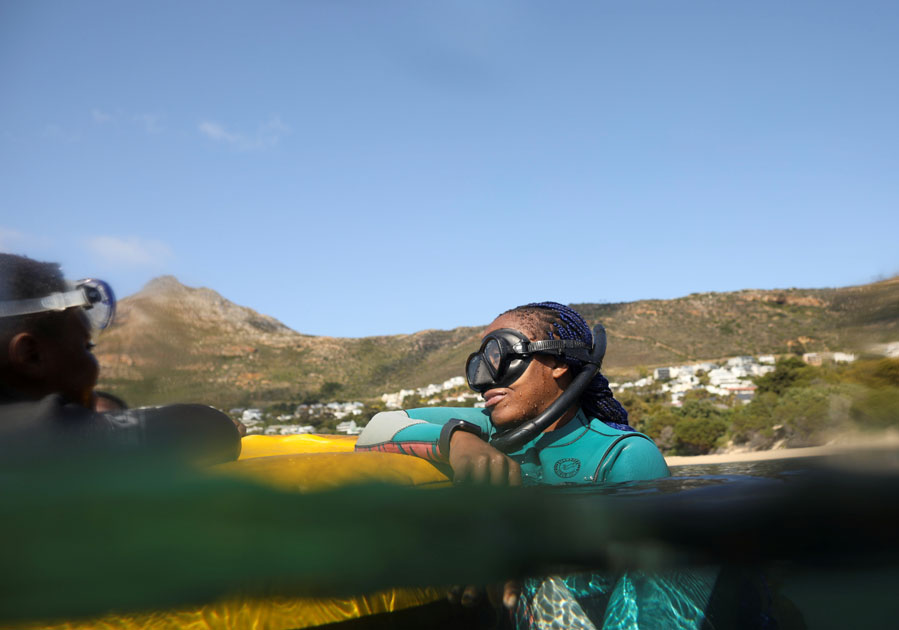 Reuters visited Zandi on a day when five youths from Cape Town's Langa township were squeezed into wetsuits for a snorkelling lesson with her in the icy Atlantic Ocean off Cape Town's Long Beach. Reuters says Zandi is "turning the tide on decades of apartheid history in which water sports were reserved for wealthy whites" with segregation laws keeping beaches reserved for whites only.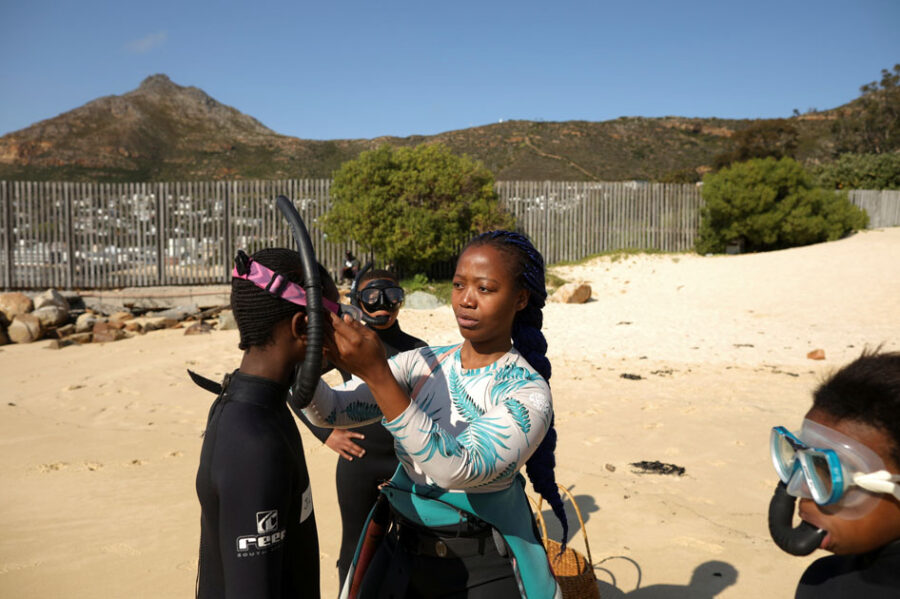 Sitting around 33-year-old Zandi now, young children learn how to bite down onto the snorkel mouthpiece when breathing face down in the water, among other skills.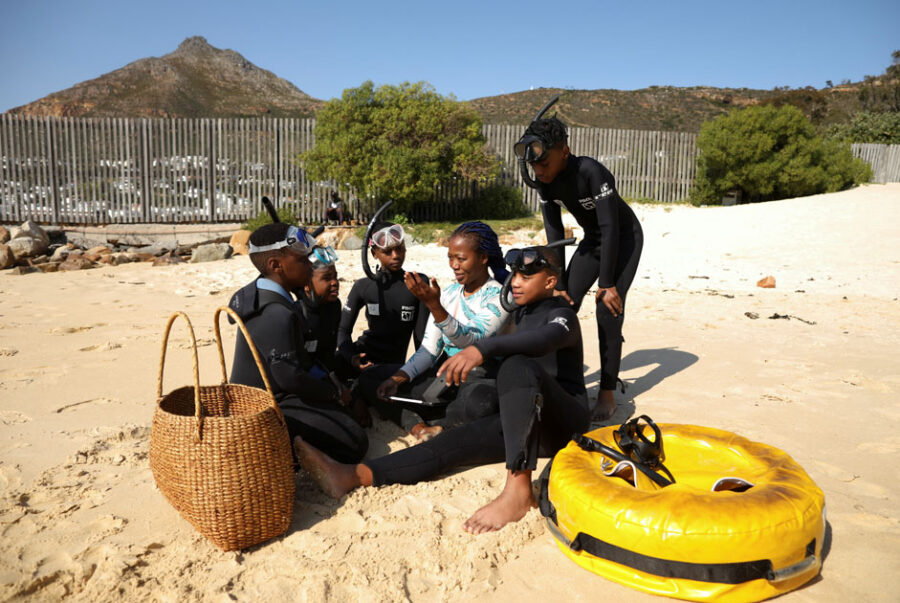 "My joy is the moment when one of the kids says, 'Oh look it's a fish, oh look it's a starfish,' because it means that they have transcended the fear to actually look beneath the surface," Zandi said after the lesson. . She was speaking after a lesson in which students entered shallow waters behind a flotation ring in the placid but icy Atlantic Ocean off Cape Town's Long Beach.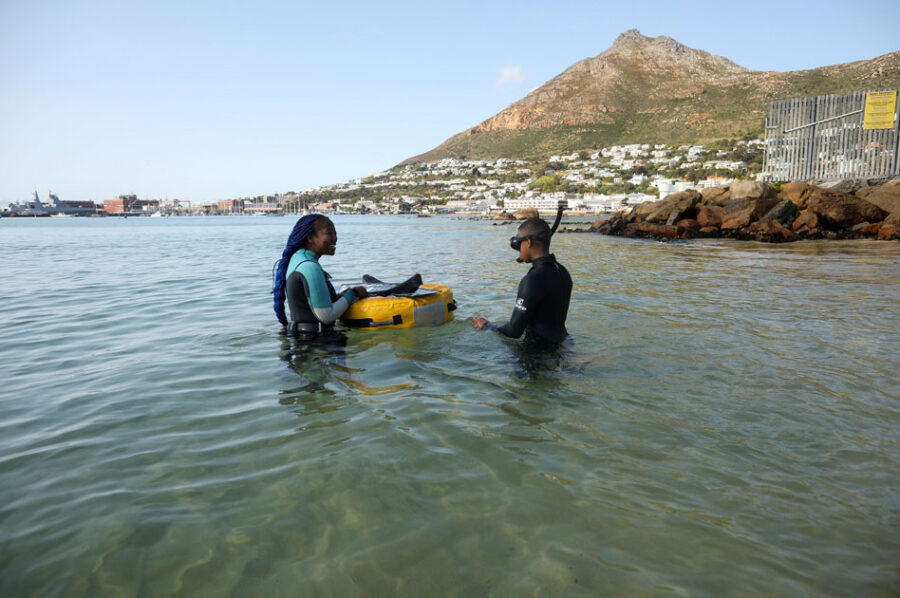 "I'm happy and I enjoyed it," said Somila Tise, a 12-year-old grade six student from Langa as she emerged shivering from the water.
Zandi fell in love with the ocean when she tried snorkelling while on holiday to Bali in 2016. She swiftly got her scuba diving certificate the following year. Last year, she received an instructor's certificate in 'free diving', with no equipment. She's loving it, admitting that every single time she sees a whale it moves her to tears – "the overwhelm escapes through my mouth, and within seconds, sobs".
On Friday, to celebrate Heritage Day, Zandi posted a photo to Instagram saying:
"May we always celebrate the beauty of who we are and where we come from ?"
She explained that the picture, which featured her with some of the kids "was at the end of our last Snorkel Excursion, I've always been hesitant about sharing the kids on social, and then decided that Black joy must be seen, continuously, also us, in wetsuits and snorkel kits… joyous… changing narratives, exploring and leaning in to the unknown, gratitudes ?"
Visit and support The Black Mermaid Foundation here.
Written by Wendell Roelf / Reuters (Editing by Tim Cocks, William Maclean / Reuters and Jenni Baxter / SAPeople)
WATCH Zandi the Mermaid, South Africa
WATCH VIDEO: A World Unimagined – Written & Directed by Zandile Ndhlovu
View this post on Instagram
An amazing pic: SA's Black Mermaid
View this post on Instagram