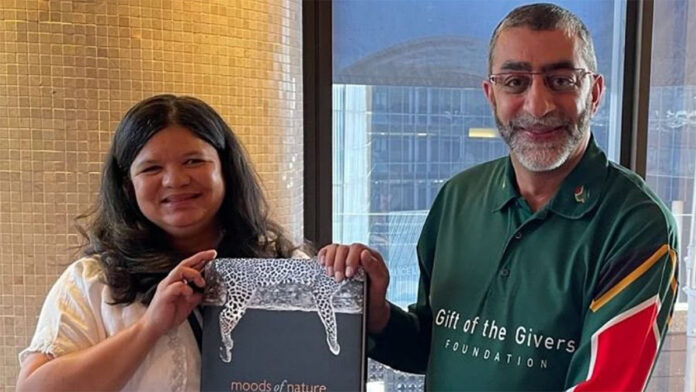 Unsurprisingly and absolutely fittingly, the incredible, devout, devoted and huge hearted Dr Imtiaz Sooliman, founder and chairperson of Gift of the Givers, has been named the Daily Maverick's 'South African Person of the Year'.
The title is bestowed on "a person who has had the broadest or most significant impact on the country as a whole", says the DM.
Fans rushed to congratulate Dr Imtiaz with many adding that he should be Global Person of the Year because his organisation's kindness reaches far beyond SA's borders. Others said he should be Person of the Decade and SA's next president. One supporter pointed out however that while the award is well deserved, Dr Sooliman has said countless times "he does not want any recognition or applause for the work he and his team are doing. Stay humble and keep the heart on the task at hand."
The Gift of the Givers page said: "Bagging yet another win?, Dr Imtiaz Sooliman named SA's Person of the Year 2021! #GiftoftheGivers #MakeADifference #ForTheGreaterGood #SocialUpliftment #SouthAfrica"
The runners-up in the annual competition were Justice Raymond Zondo, and The Vaccinators.
In its own words, Gift of the Givers Foundation serves humanity, existing as the "largest disaster response non-governmental organisation of African origin on the African continent. The essence of our presence is to bring hope and restore dignity to the most vulnerable".
According to its website, the foundation has provided R3.9-billion in aid to people in 44 countries over the past 29 years.
Eskom GM Shares Key Takeaways from Breakfast with Dr Sooliman
Eskom's General Manager Marion Hughes has shared her thoughts on Dr Sooliman being announced as winner of SA Person of the Year 2021, as well as Newsmaker of 2021.
In a message, shared by Gift of the Givers, Hughes said:
"Dr Sooliman was acknowledged in many ways in the past, including the presidential Order of Baobab (silver), and this year he was named Social Justice Champion of the Year – an award coordinated by Professor Thuli Madonsela as law trust chair in social justice at the University of Stellenbosch. The Twitterverse nominated him for everything from the president of the country to a Nobel Peace Prize.
"We had the privilege to spend breakfast with our hero and listen to his story and mission. It is all about spirituality!!!!!!! (Exactly what we as South Africans took out of our institutions……made me think ? and may it make you think too)."
She says she was truly touched and felt that she and her team had been "in the presence of greatness".
Hughes says these were some of the key takeaways from her breakfast meeting with Dr Sooliman:
1. The dignity of man is foremost;
2. Serve people with kindness, love and mercy;
3. His emphasis is on mankind;
4. Everything you do is through you and not by you;.
5. When the heart and soul is connected things become understandable;
6. When it feels ethical and good connect; but if it does not, walk away.
According to the Daily Maverick, Dr Sooliman hasn't slowed down despite having had two heart operations recently (Oct and Nov). The DM says he "grew up the son of a grocery and clothing shopkeeper in Potchefstroom in North West. He says he helped out in the shop and was always a good, disciplined child – one of seven. He went on to finish high school in Durban and qualified as a medical doctor in 1984 at what was then the University of Natal Medical School."
His heart wasn't in it though, and it was in 1991 when he met a spiritual guide in Turkey that his life – and those of all he has subsequently helped – changed forever.