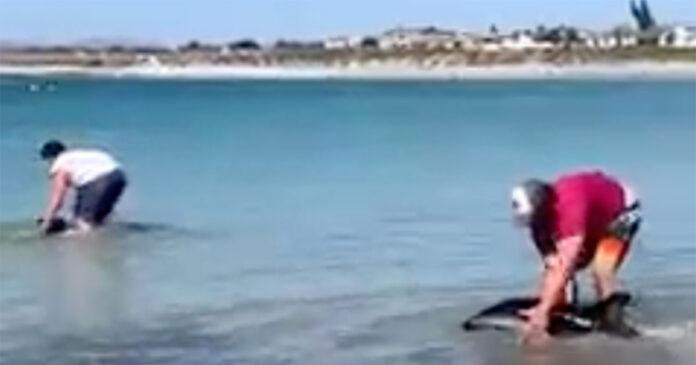 Three locals from Lamberts Bay fishing town in the Western Cape were out for a walk on Friday, when fortunately they were in the right place at the right time to not only make their own dreams come true… but to rescue three dolphins who had got stranded in the bay.
Devilliers Uys posted a video on Facebook and said: "So this amazing thing happened today…"
He said they had been watching some dusky dolphins in the bay chasing and feeding on baitfish when he told his friend and girlfriend that it would be his dream to swim with the dolphins in the bay.
They then wandered off for lunch, but from the restaurant, towards the end of lunch, they noticed three dolphins swimming into the shallows.
"They were in close proximity to the corner of our small harbour wall. We assumed that they were hunting and hurdling some baitfish together.
"As we got our bill I noticed that they were particularly shallow and mentioned that we should go and have a look. We rushed down and soon realised that these guys were in trouble and they had somehow managed to beach themselves."
Devilliers said they were apprehensive to intervene with nature "but our instinct to save kicked in and we knew we had to help these guys."
And so the three humans got in the water and guided the dolphins to deeper water, and watched them swim away safely… but not before witnessing the amazing communication and bond between the dolphins.
Devilliers said: "As they were getting stranded they did their best to stay close to one another. We took the first two to deeper water; however they refused to swim off and hung around until the third one had been safely moved to deeper water and they could regroup – after which they swam off safely together."
He said: "What a totally out of this world experience for us with such amazing animals!"
Lamberts Bay is in the Cederberg Municipality, about 280 km north of Cape Town. It's known as the Diamond of the West Coast thanks to its beautiful white beaches, wildlife and lobsters. It should now also be known for the town folks' hearts of Gold.
WATCH Locals rescue stranded dolphins, Lamberts Bay, South Africa