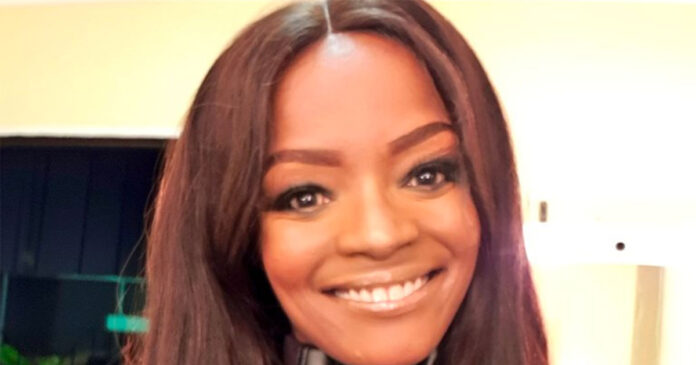 Kuli Roberts' family has confirmed that the popular South African media personality, who was known for being the life and soul of the party, tragically and unexpectedly passed away last night.
"It is with profound regret and sadness that we confirm the untimely passing of our dear daughter, mother, grandmother, sister and aunt Nomakula 'Kuli' Roberts (49). She sadly passed away late last night (10th February) in Johannesburg," said the Roberts and Mboya family in a statement on Thursday.
According to City Press she was on the set of her new show "when she allegedly had a seizure and collapsed". She had reportedly arrived at 7pm and was filming with other artists.
Kuli became a well-known journalist on the SABC, where she was famous for her straight talk. She first co-hosted Real Goboza on SABC1 and then appeared on SABC3 talk show Trending SA.
Today the SABC extended its heartfelt condolences and said: "Thank you for your immense contribution to the entertainment industry. #RIPKuliRoberts"
Kuli also acted in Mzansi Magic's The Queen (available on Showmax, for South Africans abroad too). Her sister, actress Hlubi Mboya-Arnold (Isidingo) shared the family statement an hour ago.
— Hlubi Mboya-Arnold (@HlubiMboya) February 10, 2022
Tributes have poured in. Leanne Manas said: "Hlubi please accept my deepest sympathies. I am devastated to hear about your sister's passing. I absolutely loved her as much as I love you. Be strong for the family my friend."
The family statement said:
"Affectionately known and loved by her friends, family, and the South African entertainment industry at large, Kuli Roberts was an all-round media personality who was always the life of any gathering.

"Her love for family, friends, work and very importantly her community is well known.

"Kuli leaves behind her two children, her beloved grandchild, her parents and three siblings."
Current affairs show Carte Blanche said: "She was unflinching, outspoken, controversial, kind, a mother. It is with a heavy heart that we learn of Kuli Roberts' passing. May her loved ones find healing in this difficult time."
BBC News Correspondent Pumza Fihlani remembered: "First met Kuli as a starry-eyed 18-year-old intern at the Sowetan. She'd swoosh into the newsroom, larger than life, big voice and laughter in tow. Believed in me said to use my big voice for good. The perfect mix of sunshine, love and courage. What a ride. #RIPKuliRoberts"
Comedian Marc Lottering said: "Rest Fabulously, Crazy Girl. Wow. Never thought I'd be posting this. Farewell Kuli Roberts ?"
News24's legal journalist Karyn Maughan tweeted: "Kuli had a huge heart and a big soul that made any room she was in immediately feel full of love and energy. Now the space she leaves behind feels massive and very empty. Sincere condolences to her loved ones. May she rest in eternal peace."
"I don't want to be remembered. I just want you guys to look after one another…"
One of the videos going viral on Thursday included an interview with podcaster MacG in which he asked Kuli what she'd want to be remembered as. She replied: "I wanna be remembered as, no actually I don't want to be remembered. I just want you guys to look after one another…"
WATCH Kuli Roberts on how she wants to be remembered
[WATCH] Kuli Roberts talking about what she wants to be remembered as when she is gone. pic.twitter.com/hrx8RpHu8T

— Advovolicious  (@advovolicious) February 10, 2022
WATCH Kuli Roberts on downsizing her life
What some of us should learn from Kuli Roberts. pic.twitter.com/ME9QCg6F3h

— m a s h e s h a ? (@_mashesha) February 10, 2022
She was unflinching, outspoken, controversial, kind, a mother. It is with a heavy heart that we learn of Kuli Roberts' passing. May her loved ones find healing in this difficult time. #CarteBlanche pic.twitter.com/VPOIftoDVl

— Carte Blanche (@carteblanchetv) February 10, 2022
Bow out my dear sis, yours was a life lived a 100 times better than how most of us wish we could, those who loved you, loved you for your truth and resolve and same as those who didn't! Consistent to the end! We will meet again for that coffee!#RIPKuliRoberts Rest in #PEACE! pic.twitter.com/OHRWAmHZPy

— Sello Maake KaNcube ?? #TheVoice_Play (@sellomkn) February 10, 2022